Teach MAM: An Exciting Partnership to Strengthen Arts Education Across Louisiana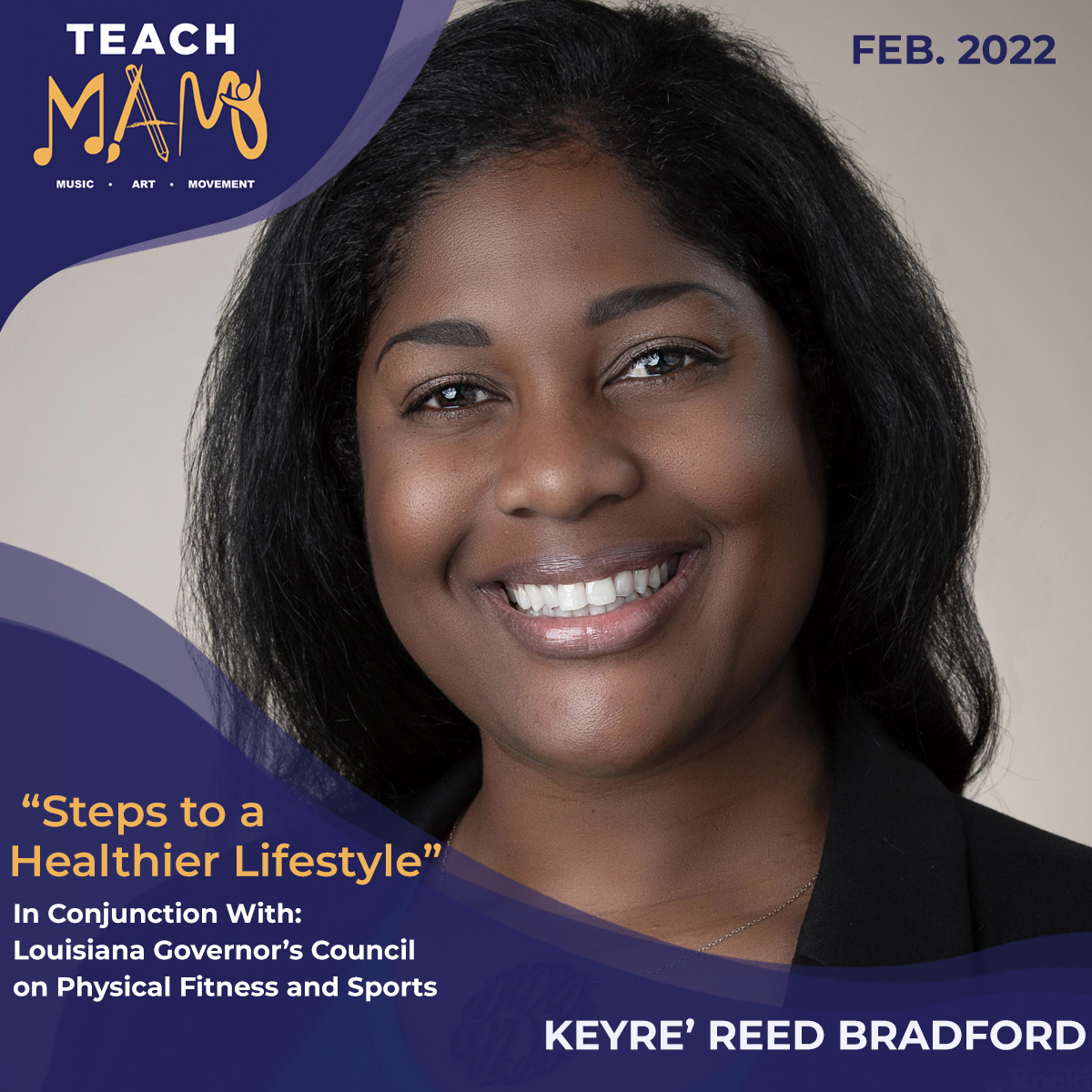 First Lady's "Steps To A Healthier Lifestyle"
In Conjunction With:
Louisiana Governor's Council on Physical Fitness and Sports
By: Keyre' Reed Bradford
On January 24 – April 25, 2022, the Louisiana Governor's Council on Physical Fitness and Sports will host its annual Own Your Own Health (OYOH) Physical Activity and Nutrition Challenges! This challenge is an opportunity for Louisianans to take ownership of their health and physical activity levels by completing various nutrition and physical activity challenges.  
This event aims to help combat and eliminate people suffering from underlying health conditions. According to Dr. Johnny Jones, Medical Director of Emergency Medicine at Baton Rouge General, chronic medical conditions, what many may call "underlying conditions" – include diabetes, heart disease, obesity, cancer, and kidney disease. (https://www.brgeneral.org/news-blog/2020/march/whats-an-underlying-condition-/). Louisiana has the highest obesity rate in the country, high rates of diabetes, heart disease, hypertension, and high blood pressure.
In a recent study conducted by AARP, in regards to which underlying medical conditions played the most significant role in COVID-19 complications and death, doctors reported :
Obesity
Diabetes (with complications such as organ damage)
High blood pressure (with complications such as heart damage or kidney disease)
All three are inflammatory diseases that are prevalent among American adults, and experts say they are closely linked. (https://www.aarp.org/health/conditions-treatments/info-2021/covid-underlying-conditions.html).
According to the United States Department of Health and Human Services, almost anyone, at any age, can do some physical activity. You can still exercise even if you have a health condition like heart disease, arthritis, chronic pain, high blood pressure, or diabetes. Physical activity may help. (https://www.nia.nih.gov/health/exercising-chronic-conditions). Even if you are overweight, don't let that stop you from doing physical activities, including all four types of exercises (endurance, strength, balance, and flexibility). If you have difficulty bending or moving easily or feel self-conscious, try different activities, like walking, water exercises, dancing, or weightlifting, to see what works best. Anything that gets you moving—even for only a few minutes a day in the beginning—is a healthy start. (https://www.nia.nih.gov/health/exercising-chronic-conditions. )
Our hearts keep us moving and living. That's why it is imperative to keep it healthy. Choices you might make every day, such as eating healthy, maintaining a healthy weight, and aiming to be more physically active, can contribute to heart health. Being physically active is one of the most important things you can do to keep your heart healthy and prevent underlying medical conditions from taking over your life and health. Aim for at least 150 minutes of moderate-intensity aerobic activity per week. (https://www.nia.nih.gov/health/exercising-chronic-conditions. )  
Several conditions can be controlled, managed, or eliminated with a proper exercise and nutrition regimen. OYOH promotes and creates healthy habits to increase the likelihood of individuals remaining active after the challenges have been completed. When working with friends, family, and colleagues in fitness and nutrition challenges such as OYOH, those participating are more inspired to keep going, motivated to be successful, and become more accountable for their actions.   
We urge you to become physically active and adopt healthy lifestyle choices to help fight those underlying health conditions that can lead to larger, more severe health diseases and illnesses. 
Registration is now open for the annual Own Your Own Health Challenges. Please visit www.oyohla.com for more information and to register. In addition, weight loss and nutrition challenges are offered for a comprehensive health approach to wellness. People across the country are signing up now! So go ahead and get your team together and choose a name. Just set up the challenges so everyone in your group can track their steps and miles! We have team and individual competitions for fitness enthusiasts and casual strollers.
So join the First Lady's office and others across the State of Louisiana to encourage our citizens to live a healthier, active lifestyle.
Works Cited:
Three Most Dangerous Underlying Conditions for COVID-19: Michelle Crouch, 02/03/2021,h .
What is an Underlying Condition?: Dr. Johnny Jones, 03/16/2020,https://www.brgeneral.org/news-blog/2020/march/whats-an-underlying-condition-/. 
Exercising with Chronic Conditions: NIH National Institute on Aging (NIA), 04/03/2020, https://www.nia.nih.gov/health/exercising-chronic-conditions.
Own Your Own Health: www.oyohla.com: Louisiana Department of Health, 08/01/2021, http://idh.la.gov.