Teach MAM: An Exciting Partnership to Strengthen Arts Education Across Louisiana
Teach MAM
Certification Program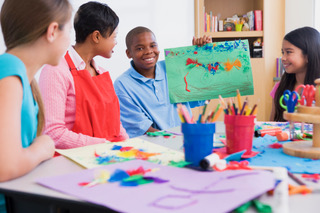 The children of Louisiana deserve a joyful, well-rounded education that connects them with Louisiana's rich culture and prepares them for the 21st century creative workforce. As a former music teacher, the First Lady knows first-hand the value of arts education in children's lives. The Louisiana First Foundation is excited to announce the Teach MAM (Music, Arts and Movement) Certification program, an innovative new partnership with the New Orleans Arts Education Alliance (ArtsEdALL) to help Louisiana public schools increase access to the arts for children across the state.
The Teach MAM Certification program will begin its pilot phase in January, working with a representative group of schools from diverse parishes to develop a shared "road map to excellence" in arts education. The result will be a Teach MAM Certification badge program that K-12 schools can use to develop school-wide arts education plans, celebrate their efforts with the education community, and access funding, resources and professional development to build their programs. Participation in this program will also include support for schools in adapting to the new state education policy (ESSA) which will include arts education.
ArtsEdALL and the Louisiana First Foundation will use the findings from the pilot program to launch the full Teach MAM Certification pilot that all schools can participate in during spring 2019. By working directly with schools and engaging with other leading partners, this program will develop a shared vision for K-12 arts education, laying the groundwork for children in Louisiana to experience music, arts and movement for generations to come.