Teach MAM: An Exciting Partnership to Strengthen Arts Education Across Louisiana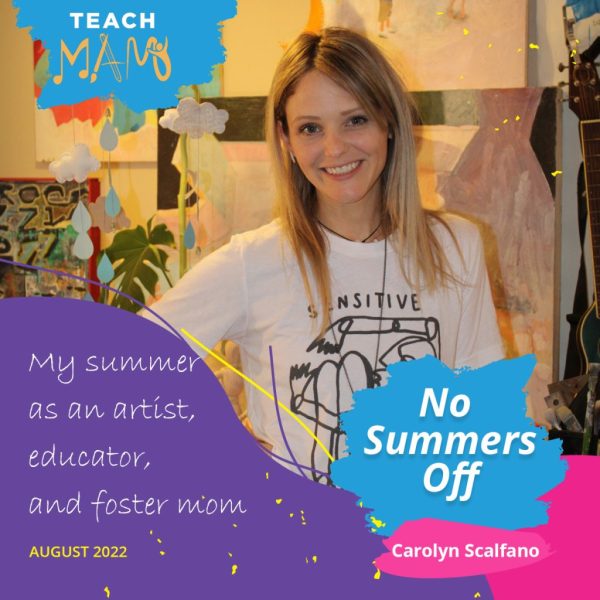 No Summers Off
My summer as an artist, educator, and foster mom
By Teach MAM Art Ambassador
Carolyn Scalfano

May 24 was the last day at Pineville Elementary School. As a teacher, summer vacation officially began. Although I am a teacher, I have an issue with sitting still. Thus, my quest to do "all the things" began.
As a professional working artist, I design and hand paint large-scale interior and exterior murals. My company Mural Magic was commissioned to complete a mural at LSUA, here in Rapides Parish, where I currently reside. But first, my family took a road trip to Tallulah, LA, to pick up my foster son, JJ. He now lives with family in Northern Louisiana, but we "borrow" him (at his request/demand) any chance we get. Another child, Kye, whom I refer to as my little girl, was accompanying us. Kye was a student at Pineville Elementary. Around Christmas time, she opened up to me about dangerous issues at home, so her parents and I decided for her to stay with Ryan and me through the end of the school year. Kye and JJ are both artists in their own right. They work in our home studio on designs I then use in my murals. I use imagery in my murals inspired by all of my students. I have grown to realize that, in this way, as an artist, my art is informed by my students and my career as an educator. 
Upon completing the LSUA mural, Mural Magic moved on to painting the front of Pineville Elementary School, which is on Main Street in downtown Pineville. At our "neighborhood school," the students are present year-round. They were given the opportunity to attend Camp X summer school in June, which incorporated academics, STEAM lab, visual art class, music and drums, gardening, and field trips to the food bank and beyond. After summer school ended, the kids were still at school, helping teachers out and with Coach Kevin Johnson, our drumline instructor (and resident farmer). Coach gets the kids that show up to help him tend the garden and practice drumming. He also grills daily and communicates with parents to take turns dropping off drinks, etc., for the day's group.
When I show up to paint the school, my crew assembles. We had students transplanting plants for better ladder access, holding the iPad for me, helping me tape, and more. Each student has their individual strength, and I found that the key to involvement was simply to ask if they wanted to help out. If they say yes, I put them to work. Also, give clear instructions – just like teaching – and an incentive never hurts! We finished the Pineville Mural in 4 days while our principal was on vacation. She was so happy and excited when she saw it!
Next, I moved on to teaching at the Alexandria Museum of Art. I have been lucky enough to work with the fantastic staff at AMOA for years now. This summer, I taught a camp titled "Process, Produce, Repeat." It was a STEAM camp with five different projects for ages 5-13. My little girl, Kye, was one of my assistants and the other was my coworker's daughter, Gracie, a budding artist in her own right. The Alexandria Museum of Art always offers scholarships to students that cannot afford the camp tuition. Many neighborhood kids took advantage of this and attended the camp. It was a total blast (it always is over there!).
Currently, my crew and I are working on T-shirt designs for the school year, hats, etc., to promote our co-op. Our next mural is potentially on the side of a recycling plant here in Central Louisiana. We love the chance to encourage recycling efforts in our area. We are also working with Louisiana Fostering Community on the logo and apparel design for their youth program, You+Co. We are honored to collaborate with such courageous members of our community in efforts to spread positive messages through the language of art and design.
I was able to slip away one weekend to attend the Louisiana Art Educators Association summer retreat in New Orleans, where I connected with artists and educators from around the state. If you are ever feeling lonely as an artist and need someone to talk to who understands, or if you want to get involved in their arts advocacy efforts, please visit NAEA and become a member! My principal was gracious enough to fund my trip through Title II. All it took was me to ask!
Here are the five projects we did at the AMOA STEAM Camp and links to instructions. The campers (and assistants, haha) gave them all 5-star reviews. 
Chromatography Collage
Moon Phases Mobile
String Art
Rainbow Geometry Painting
Collaborative Circle Painting to Build Community
Here are some links that I use when looking for inspiration in the classroom:
Acadiana Center for the Arts
The Kennedy Center's Resources for Educators
National Art Educators Association
Louisiana Art Educators Association
Alexandria Museum of Art
Here's hoping you, too, had a productive summer and will have a positive beginning to our school year. Good vibes going out to all of you!