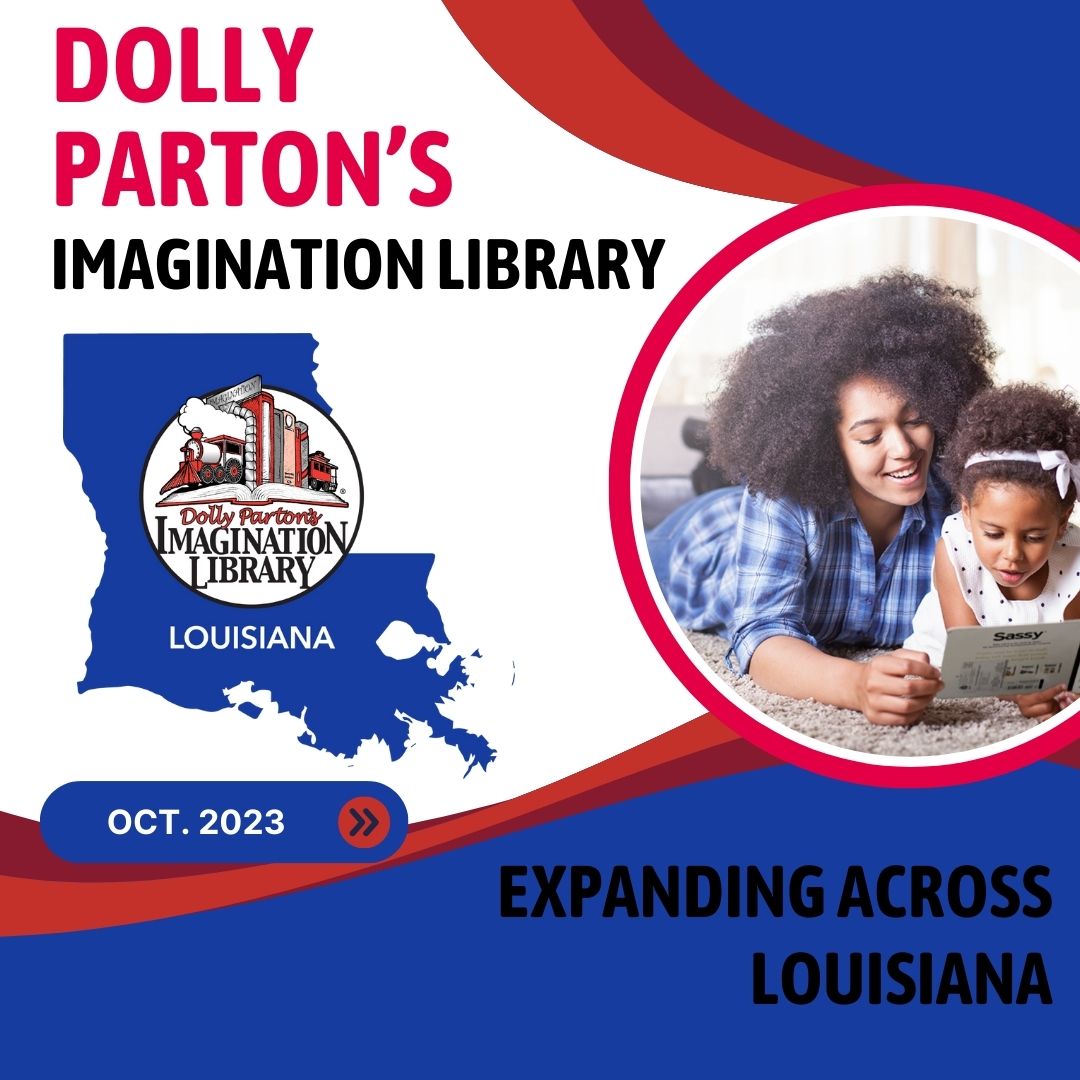 DOLLY PARTON'S
IMAGINATION LIBRARY
DOLLY PARTON'S IMAGINATION LIBRARY
Dolly Parton's Imagination Library
Expanding Across Louisiana
Calling all soon-to-be readers! Dolly Parton's Imagination Library is expanding across Louisiana! 
The Imagination Library's mission is to inspire a love of reading in children from birth to age five by providing high-quality, age-appropriate books each month. The program is free of charge to all families, made possible through funding shared by Dolly, the State of Louisiana, and local community partners.
For more than 20 years, the Imagination Library program has operated in local communities through partnerships with the United Way, Volunteers of America, DEMCO, school boards, foundations, and banks. Currently, the statewide program has 32 operating Local Program Partners covering portions of 30 parishes, and over 19,000 eligible children in the state are currently receiving free, high-quality books through these existing programs.
Studies have shown that children who participate in the program are more likely to be on reading level in kindergarten and maintain on-level reading through third grade and into high school and are more likely to have an increase in 1:1 quality bonding time with their caregiver. The program has even inspired caregivers to improve their literacy skills. The root of the Imagination Library is joy– the joy of reading, the joy of positive bonding with caregivers, and the joy of having something that is uniquely yours.
As one Louisiana parent explains:
"When my daughter gets her book in the mail she gets the biggest smile on her face. When her book is brought inside our home, she is already sitting on my lap, ready for me to read it! One thing that I love the most is how each book she receives is tailored to her specific age, and the book and website give you tips and advice according to their age, so it takes the guesswork out of it, especially since it's been almost a decade since I've had a toddler. These resources and guides help you to encourage reading in your child's life. Reading comprehension is vital, and when it's learned at an early age, children are able to pick up other things quicker because they've already learned the basics. I was struggling with my youngest- she wasn't into books as much as tablets- but since the first time she got a book in her name, she was instantly captivated. The Dollywood Foundation is just really great at picking books that spark interest. Thanks to this program, I have been able to keep the tradition of reading and loving books alive in my family and for that, I will always and forever be thankful."
The Imagination Library of Louisiana statewide expansion's focus is to reach more children and families and increase registration in existing and newly created Imagination Library Programs in every parish across the state. The Imagination Library of Louisiana is sponsored by Louisiana Public Broadcasting, which has provided families access to educational resources for over 45 years. We are excited and grateful to have them lead the charge in expanding this program to all families in our great state!
To learn more and enroll your child, visit www.imaginationlibrary.com. If a program is not yet available in your area, continue to check back as new programs are added often. We look forward to bringing this program to all young children in our state soon! 
To be able to enroll more children, we need additional Local Program Partners! Local Program Partners must be a 501c3. Examples include businesses, school districts, service clubs, libraries, local foundations, etc. To learn more about becoming a community partner contact Kahla Williams at kwilliams@imaginationlibary.com.