Denise Tullier-Holly,
M.Ed, Art Educator
Denise Tullier-Holly, M.Ed.
Art Educator
As any art educator would, Denise Tullier-Holly often uses images to spark student imagination. It is her belief that students can become well-rounded by using art as a medium to communicate. For example, using a famous artist like Vincent Van Gogh, she finds that storytelling is a great motivator for student learning. Through reading and discussing van Gogh and the Sunflowers by Laurence Anholt, Tullier-Holly noted that her students were building empathy. This attitude deepened their connection to their own creative works, sunflower mixed media paintings.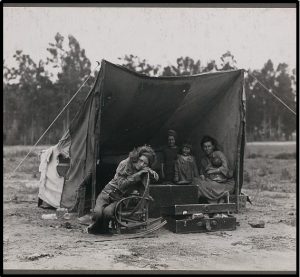 In another example, Tullier-Holly used the Library of Congress' photograph, The Migrant Mother by Dorothea Lange to instill a sense of gratitude.  Students were easily engaged in this process using Visual Thinking Strategies (VTS). What's going on in this photograph? The students all had ideas and respectfully listened to one another.  One student described the mother, "She looks like a slave". One could feel the students connecting with the image, building empathy for the plight of this young mother. A second photo revealed their dwelling. An audible response/sigh for what they saw could be heard. Tullier-Holly read the description offered on the website:  Migrant agricultural worker's family. Seven hungry children. Mother aged thirty-two. Students discussed the phrase, seven hungry children and the plight of families during the Great Depression. Students' own families had lived through this time period and were considered. On the board, she had written the word, Gratitude. The definition was read; comparisons made to their own lives. The students created a "Grateful Heart" made of clay, considering all the people and things for which they were grateful. Most of these students had never heard of the Great Depression; they were now not likely to forget it. It is through the visual medium, that critical thinking skills are developed and embraced.
Denise Tullier-Holly is the art educator for the Southeastern Louisiana University Laboratory School as well as the Southeastern's site coordinator for art education students during their student teaching experience. Tullier-Holly also taught Art Education at LSU. She is in her 25th year of teaching and is of the belief that her service to professional organizations has been a mainstay of her educational mission.  Her connection through the Louisiana Art Education Association and NAEA gave her access to art educators statewide and beyond; she realized that her peers shared the same joys and struggles with regards to teaching. She has served as LAEA president, Youth Art Month Chair, newsletter editor and more. She also coordinated three state conferences. On the National level, Tullier-Holly has presented over a dozen presentations around the country as well as served as the NAEA Southeast Region Elementary Division chair.  She was named National Elementary Art Educator in 2007.
Tullier-Holly believes that art has the place to contribute to the whole student, sparking empathy and curiosity, resulting in critical thinking and creativity.