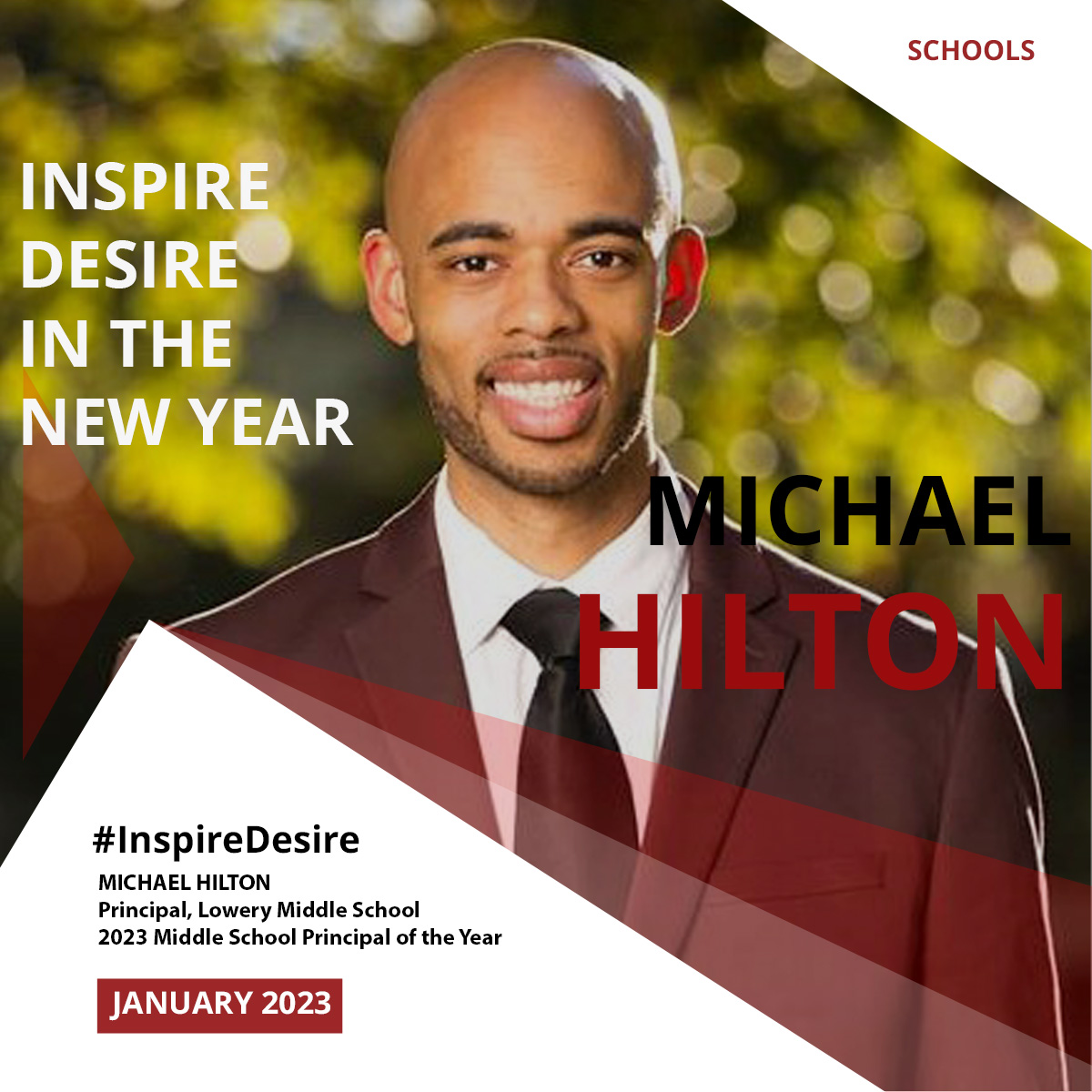 Principal, Lowery Middle School 
2023 Middle School Principal of the Year 
Inspire Desire In The New Year
Life is like a vending machine. This metaphor has shaped my life as an educator and given me a clear way to help my students, staff, and stakeholders understand a simple truth of life that I have stumbled upon – a truth that I believe is the key to achievement in every facet of life. That simple truth is this: you must first desire a thing before you can ever achieve it. To every educator reading this blog post, I have some good news. I have a New Year's resolution that I think we may all find helpful to keep throughout the new year. The 2023 New Year's resolution I am thinking of is this: Inspire Desire!
People often don't keep New Year's resolutions because they generally make them out of an emotional state of mind as they think about the things that they did not accomplish the year prior. Making New Year's Resolutions is a good practice for everyone if they are made according to our purpose and not according to our preference. Let me explain. As an educator, my purpose is to equip and empower students with the essential knowledge and skills for success in life. I am responsible for inspiring a desire for more out of life and showing them that education is the key to gaining access to those desires. "Inspire Desire" is my resolution, but it is not just for the year 2023. This is my purpose and my passion; this is my why. Moreover, I believe we all have the responsibility to inspire the children under our care to be their best selves. 
Life is like a vending machine! So let's unpack this metaphor. 
A vending machine is a straightforward machine. While there are different types of vending machines, they all function the same: offer a snack, charge a price, and deliver the item – simple. This process is a picture of life for everyone, especially our students. 
#1 Like a vending machine, life presents us with several options. I always tell my students that one of the greatest benefits of living in a free country is having options. However, it is also true that our range of options is either limited or enhanced by our level of education. As educators, we are responsible for helping our students see the entire world and the possibilities that exist in their lives. Education gives them options, and the level of education each student can achieve will significantly enhance their life options. This knowledge inspires and encourages us as educators to provide our students with our all. We don't just give our best to our most "at risk" students; we provide all students with our best so that all students can see the full potential of their lives. 
#2 Like a vending machine, we have to DESIRE what life presents if we ever hope to obtain it. As an educator in a high school, I often watched students turn away from a vending machine because the items inside were fat-free. This occurrence was comical, but it is an all too common fact that kids don't always know what's good for them. Parents know this all too well, so they will dress up vegetables so their kids will be encouraged to eat them. The vegetables are good, but the kids don't desire them. Likewise, our students must desire what life offers, and we should do all we can to make life's options look pleasing. I have seen under-performing and gifted students reject the good options of life because they didn't perceive them as pleasing. No one will pay the price for something that they don't want. This leads me to the final similarity between life and a vending machine. 
#3. Like a vending machine, we have to be willing to pay the price to obtain the object of our desire. I tell my students "you cannot receive something from a vending machine that costs $1 if you only pay ninety cents. You have to pay the full amount." Nevertheless, we have all met students who can only pay ninety cents, and that's okay. We have all likely borrowed a dime from a friend to secure an item from a vending machine. Educators are the friend of every student that needs a dime, but they must still pay their full amount. 
In conclusion, yes! Life is like a vending machine; what we put into it will determine what we receive back. This truth rests for educators and students alike and is why we must INSPIRE DESIRE. As educators, we can see the options and opportunities that our students cannot see. We know what's good for them, even when they can't see it, and we are willing to help them pay the price if they give their all. The key is DESIRE. This remains true for students and educators alike. We cannot give students something we don't have. When we desire to fulfill our purpose of educating children to be their best and pay the price to obtain that desire, we receive it. What do you desire in 2023? Make your resolution to inspire desire in the lives of those you serve. 
Happy New Year!
–Mr. Michael Hilton, III
2023 Louisiana Middle School Principal of the Year
Lowery Middle School, Principal/Ascension Parish Public Schools  
School Website: https://lowerymiddle.ascensionschools.org/
Social media: