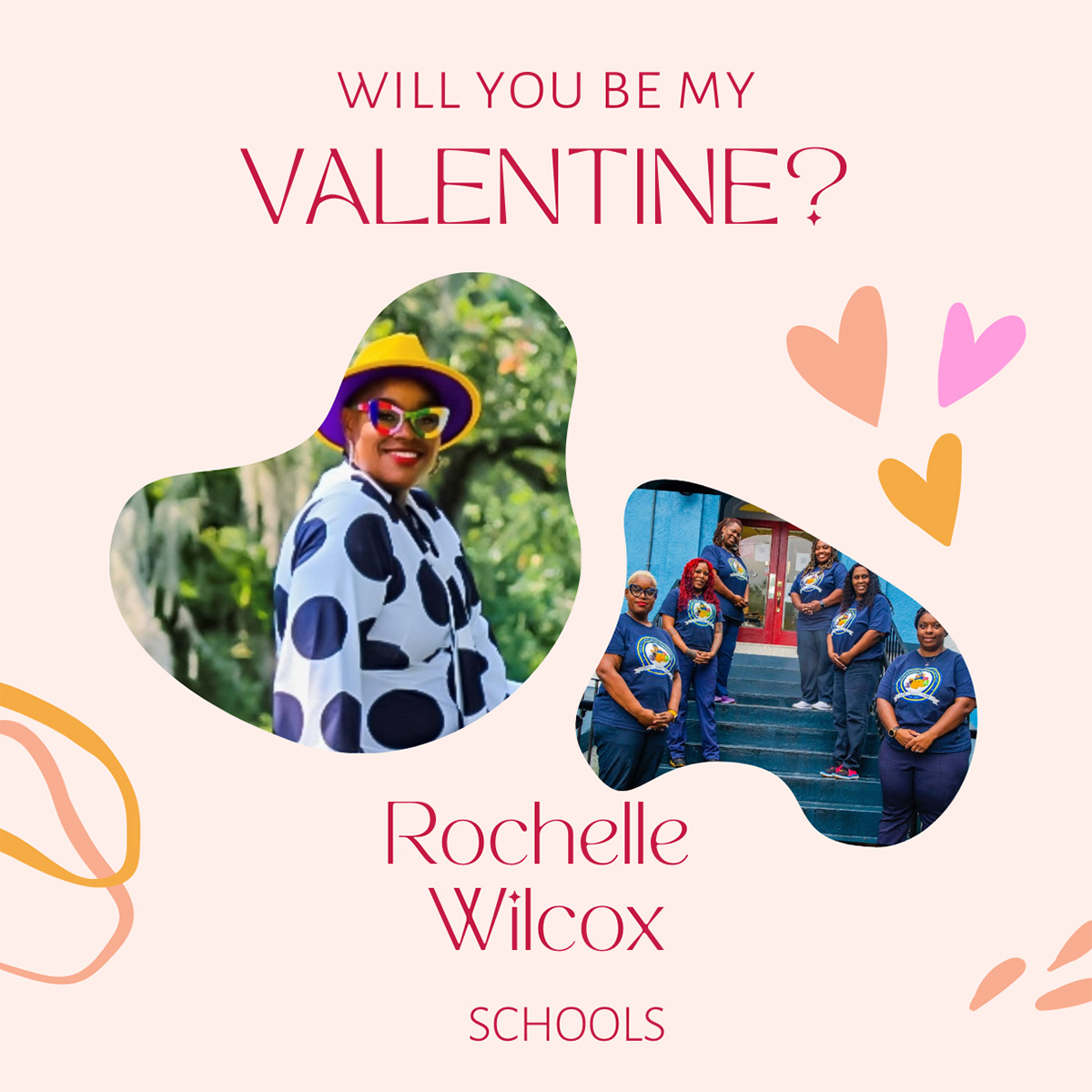 ROCHELLE WILCOX
Orleans Parish – NOEEN
Wilcox's Academy of Early Learning, Wilcox Academy Too, Wilcox Academy Central City and Wilcox Academy at SUNO
2023 Louisiana Early Childhood Leader of the Year
Will You Be My Valentine?
Wow, it's already February. Can you believe it? It's Black History Month, Carnival Season, and we will celebrate Valentine's Day this month. I've always called February "love month"! You may ask yourself, "why?" It's because "love" is the common theme! First, we show love and light while we lift the significant accomplishments and contributions of the men and women of African-American heritage. It is also Carnival Season, a time when everyone is family. Each parish hosts one of the largest community block parties, and families gather with food (crawfish), fun, and music that are uniquely beautiful in each parish. I'm from Orleans parish, and this season, specifically Mardi Gras Day, is my husband's Christmas. There is so much love in the air. Everyone is family, no one is a stranger, and everyone is welcome. Last but certainly not least, we celebrate Valentine's Day! While I am of the mindset that every day is Valentine's Day (we should spread love every day; our world would be better for it!), I also like the intentionality of having one day across the globe where everyone expresses love for their fellow humans. To that end, my goal for this piece is to deliberately express my love for early care and education. So, here's my love letter to my people. 
~Owner/directors 
~Teachers
~Support Staff
Child Care Owners/Directors 
The first thing that comes to mind (and I might be aging myself) when I think about the owners and directors of Early Learning centers is the old Dunkin' Donuts commercial, where the bakery jumps out his bed in the wee hours of the morning before anyone else and says, "It's time to make the donuts!" I say this because I wish it were as easy as making donuts. But it's not. It's ensuring payroll is met, curricula and supplies are purchased, mortgages/ rent is paid, and recruiting, hiring, and maintaining staff. It's knowing Bulletin 137 like the back of your hand. It's opening, closing, cooking, cleaning, and stepping in whenever and wherever you are needed to ensure children and families are served. It's listening to parents, teachers, and community needs and advocating on their behalf. It's greeting teachers and parents at the door with a smile and hug to set the tone for the day. It's hearing the laughter of teachers and child interactions in the classrooms. It's a meeting on Zoom with a potential funder to help subsidize your shortfalls. It's making sure all staff and the facilities meet city, state, and federal compliances. It is then getting up and doing it all over again the next day because there is no other career choice you would make. Take a bow. Pat yourself on the back. You are vital to our economy and our families. Because of high-quality Early Learning centers like ours, we are changing the trajectory of our children in the great state of Louisiana. Now get up; it's time to make the donuts.
Early Learning Teachers:
When I think of our early learning teachers, the old Army slogan comes time mind: "We do more before 9 am than most people do all day?"
Let me say with firsthand knowledge that you do! You build special bonds with our families and comfort children who experience separation anxiety. You are the brain architects of child development, creating engaging, developmentally appropriate lesson plans based on Tier 1 curriculum. You are there assessing and documenting children's learning. You are often the first to see if children are not meeting milestones and may need to be referred for early interventions. You are there to support our students' social and emotional learning through intentional activities that teach students how to name and manage their emotions, take turns, solve problems, and control their impulses, in addition to academic rigor – which is all needed for our well-rounded students to be school ready. Those first 1,000 days are so important. From our nonverbal infants who are 100% dependent to our preschoolers who exhibit pre-reading and writing skills, you are there. You are there, all while making sure our little people stay safe. And when they do get hurt, you are there to kiss their boo-boo and make all things better, then write incident/unusual behavior reports. You are there to give parents tips on developmentally appropriate behavior guidance, at-home lesson plans, potty training, and overall support. You are there preparing yourself year-round with continuing education trainings at night and on weekends to ensure our children have high-quality early care and education experiences. Your job is one of the hardest and is often underpaid and undervalued, but I see you, and Louisiana sees you. As a state, we are ranked 8th in the nation for our early care and education system, and we say thank you for showing up and showing out for our youngest learners. 
Early Learning Support Staff
"As individual fingers we can easily be broken, but all together we make a mighty fist." – Sitting Bull
Sending a huge shout-out to everyone who makes sure early learning centers operate as well-oiled machines. You are our unsung, behind-the-scenes, heroes: our janitors, maintenance people, and kitchen support. As our janitors, you arrive before we do or stay late to ensure classrooms are clean, our cleaning supplies are stocked, and our playgrounds are safe and hazard free – just to name a few. Lest we forget, during the height of COVID, you completed hourly cleanings to keep our entire community healthy and safe. As our maintenance people, you change light bulbs, paint, assemble classroom equipment, and make all the repairs and improvements that keep us in compliance. And last but certainly not least is our kitchen team. You provide our children with the most nutritious meals that also feed their souls. You make any required substitutions based on children's dietary restrictions and/or parents' preferences. We couldn't do it without you. For that, I say thank you and send you love. 
It takes a village. To all that support our children and families in early care and education across Louisiana, I am so grateful for all that you do! As Mr. Rogers said, "Knowing that we can be loved exactly as we are gives us all the best opportunity for growing into the healthiest of people." In early care and education, that is what all of us are doing every day – growing healthy little people. 
P.S.  Early care and education, I'm in love! Will you be my Valentines? 
Rochelle Wilcox
Orleans Parish – NOEEN
Wilcox's Academy of Early Learning, Wilcox Academy Too, Wilcox Academy Central City and Wilcox Academy at SUNO
2023 Louisiana Early Childhood Leader of the Year
Twitter: @wilcoxchelle504
Insta: @wilcoxrochelle_ece
@wilcoxacademyelc