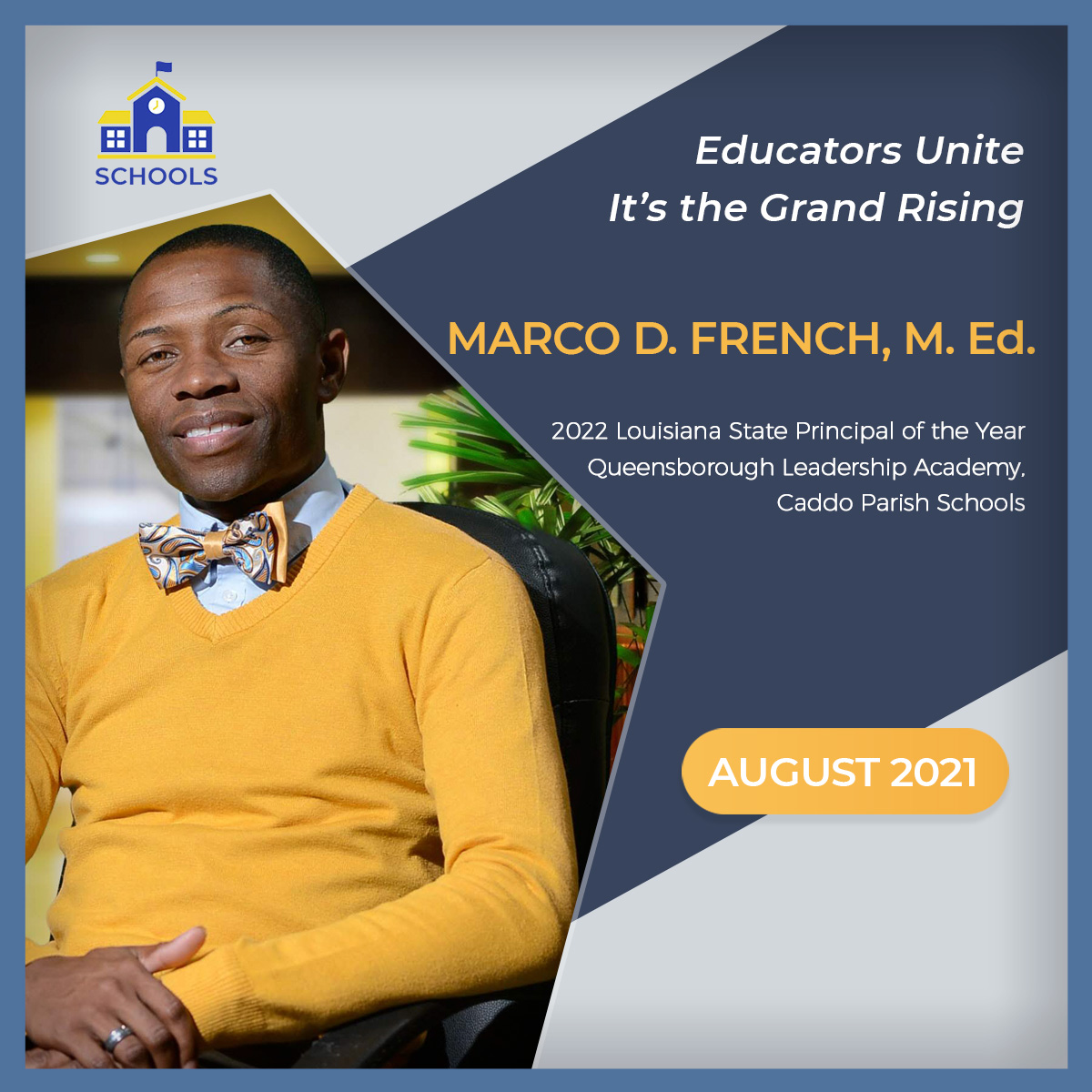 2022 Louisiana State Principal of the Year
Queensborough Leadership Academy, Caddo Parish Schools
Educators Unite ~ It's the Grand Rising
Can you believe it?  Another school year is upon us!  I cannot tell you enough how excited I am to start a new year with new possibilities and be a Louisiana Educator at a time such as this.  
Just like the grand rising of the Phoenix in all of her glory, the educators, students, and parents will make their majesty known this year. ~It's the year of the Grand Rising. Coming from a year that many of us will never forget, I believe that Louisiana's teachers and students will show the world that we persevered and we are still Louisiana strong. We have a duty to educate, and our students will learn.
During times such as this, a pandemic or crisis, there is one thing that can take place in our lives.  This point in time is a moment when our lives are refined. We have time to slow down and reflect on what has gotten us to this point in our careers, what worked in our school systems, school buildings, and classrooms before the waters that were once uncharted. What have I done during this time of uncertainty?  How will I use what I have experienced, and how will I know it was effective?  Most of all, how can we, collectively, take our practices to the next level?
Ponder those questions and make sure they align with your school plan and vision.
We often use a short phrase in our education journey as state, district, building, and classroom leaders. These two words have such power and can motivate anyone: "You matter."
This phrase is a simple one that calls for students, parents, and teachers to reflect and recognize that their contributions and presence make a significant impact every day.  This simple phrase can be a game-changer for any school community. It can change the attitudes towards school, teaching, and learning while igniting confidence to share talents and gifts and becoming a part of the school community. Letting teachers, students, and parents know that they matter from the first day of school is key to building a supportive and empathetic community.  
Let's make this year be the Grand Rising for Louisiana as we continue to create a culture of "mattering" in our districts, schools, and communities, as we meet staff, students, and parents for the first time this new school year.
This school year is truly going to be something special.  Why?  Because I know that Louisiana Schools will be atmospheres filled with laughter, passion, and learning.   
I challenge each of you to let it be known to every person that enters your building that they are valued and hold tremendous worth. This is our fresh start and a new beginning.  We believe in and nurture growth and potential.  This is the perfect recipe for everyone coming together to accomplish success.
To the students, please know that we genuinely care about you, and we have not even met you yet!  You are the reason we come to work every day.  You matter to every one of us.  When you step foot onto any school campus of a Louisiana school, please know that you are the most important thing in the world to us.  We hope that you leave our buildings every day knowing how special you are and just how much potential you hold.
To our fabulous parents and guardians, you are just as important.  Without you, we will not reach our full potential as a district or school.  We value you and your opinions.  We look to you as a partner in your child's education, for you are the first teacher that they would ever encounter.  We are excited to work with you as we create memorable experiences and long-lasting memories.  
Louisiana Educators, this is a team effort.  We know it will take an entire community coming together to make our great state the beacon of light in the world of education.  
We have the BEST of the BEST EDUCATORS, leaders that are willing to go above and beyond the call of duty.  We are teachers that are fully equipped to conquer any task or obstacle. We are teachers that are knowledgeable, dedicated, and bought into the VISION that not only every child can LEARN…. But every child WILL LEARN.  
Let us "RISE"…
Reach for the sky for there are no limits
Intentional with our purpose and decisions
Seek solutions that catapult student success
Educate all of our students
Let this be Louisiana's Grand Rising.   
LA. Dept. of Education's social media accounts: