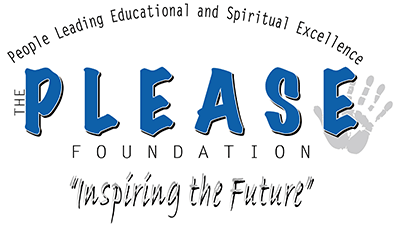 The PLEASE Foundation
The PLEASE Foundation (PLEASE) was founded in 2007 by native New Orleanian, Yvette Endom. A passion for helping at-risk children and displacement from her home for nine months due to Hurricane Katrina, drove Yvette to make our community a better place.
PLEASE adheres to its mission by identifying at-risk students in the New Orleans area who have a desire to attend college, have a strong work ethic, and continuously aim to achieve academic success. Through mentoring and education, PLEASE inspires at-risk children in New Orleans to achieve their greatest potential. Parents of the chosen students must also have a strong desire for their child to attend college and be willing to partner with PLEASE and participate in all activities to ensure their child's success. By forming this parent/student/PLEASE partnership, at-risk students develop into young leaders in our community through mentoring, leadership training, college readiness, and scholarships to Catholic college preparatory schools in New Orleans. 
The Foundation provides scholarships and all tools necessary for its students to attend and succeed in Catholic college preparatory high schools. The ultimate goal is for the students to be accepted into college with scholarships and to achieve their greatest potential. PLEASE is changing lives through education, one child at a time.
The uniqueness of PLEASE is that it works closely with each student, their parent(s), and the child's school to ensure that each student is achieving their greatest potential. Through intense mentoring, the Foundation transforms these students into leadership roles in their schools and communities, ending the cycle of poverty through education – one child at a time.
Once a student is accepted into the Foundation, there is a commitment to pay for their education through the 12th grade. To continue as a PLEASE student, each child must maintain a minimum 3.0 GPA, have a high attendance rate, be in good standing with their schools, and attend our community volunteer activities. The students must be involved in clubs, sports, or other extra-curricular activities as well. PLEASE prepares its students for leadership roles both in schools and in their communities.
Community service is a big part of PLEASE and our students and families volunteer as a group.
We expect our graduates to go back and volunteer in their communities – and many come back and volunteer with PLEASE! Our first college graduate, Mark Woods, is now the PLEASE Foundation's Director of Volunteer Outreach for our current PLEASE students. Mark graduated from Jesuit High School in 2014 and ULL in 2018.
As of today, the PLEASE Foundation has experienced tremendous success helping these students. Over 320 scholarships have been provided for students to attend Catholic Schools in New Orleans. These scholarships total over $1,000,000 in scholarship money to our students. 100% of our 2014-2019 high school graduates were accepted into college with scholarships.
PLEASE currently has 20 students in High School, 22 attending college, and 7 college graduates. Each student strives to have and provide a better life for themselves and their future families, helping to end the cycle of violence and poverty that they are surrounded by every day. Education is the only way to pull a child out of poverty. The PLEASE Foundation students are the future leaders of our city.
You can learn more about the PLEASE Foundation on our website: www.pleasefoundation.org
If you would like to support the PLEASE Foundation, click here: www.bidpal.net/please