HUGS FROM HEAVEN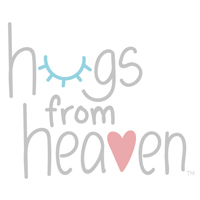 Hugs from Heaven was founded by south Louisiana Catholic wife and mom of four, Julie Marceaux Romero. She was inspired by her own real-life experience when her brother Chad went through life-threatening transplant surgeries in New Orleans in November 2011. During the operations, Julie prayed in the chapel, wishing for the Lord's physical presence to hold and comfort her. In this moment, she received a clear vision from Jesus to create a "hug from heaven" – a soft pillow doll in His image.  It wasn't until 13 years later, after his death on January 6, 2011 (also Julie's birthday) that she created the first doll from the vision she had received.  She shared them with her circle of friends and they became popular in the Acadiana region. 
In 2017, Julie began a new journey and sold Hugs from Heaven to another Louisiana native, Jennifer Angelle.  Now, Jennifer and her family are taking these sweet hugs beyond Louisiana and sharing them around the world. Hugs from Heaven is now found at St. Patrick's Cathedral, New York City, the Basilica of the National Shrine for Immaculate Conception, Washington, DC  as well as at retailers in 24 states.  They were recently featured on EWTN TV which reaches over 140 countries! 
My favorite thing about this Louisiana-based company, in true Louisiana-style, they "hug" back!  HFH gives a signficant portion of their proceeds to those in need.  The Angelles traveled internationally to Rome, Italy last Christmas to deliver the dolls to patients at Bambino Gesu (Vatican children's hospital for the underprivileged), they support national charities like the Sisters of Life, New York City whose mission is to help with crisis pregnancies, healing after abortion and respect for life advocacy and they support many local Louisiana charities, including Fr. Michael Champagne, Community of Jesus Crucified newly opened Don Bosco Center for Youth in St. Martinville, Louisiana that works to give kids a safe place for tutoring, meals and opportunity for prayer.   
We love the fact that each plush Jesus and Mother Mary have a heart monogrammed on their chest to serve as a reminder of God's comfort, presence, mercy but most of all His love!   Our First Lady agrees the world needs more HUGS!   Ask for them at your local gift shops or find them online at www.hugsfromheaven.com.  
 Share a hug using First Lady's exclusively 25% off online order  – CODE:  HUGLOUISIANA
For more information: 
Jennifer Angelle, Owner/Manager
Hugs from Heaven
1011 Berard Street
Breaux Bridge, LA  70517
info@hugsfromheaven.com
337-288-9665