Louisiana
Governor's Mansion
Docents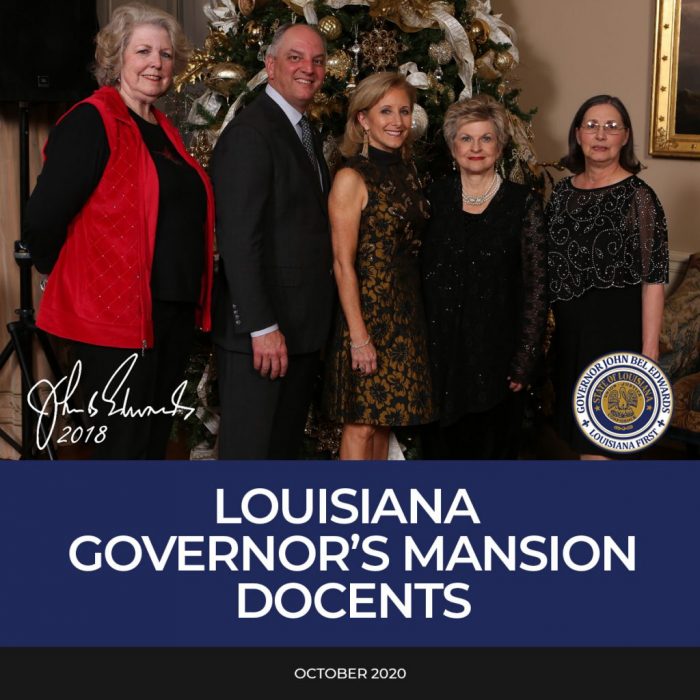 Louisiana
Governor's Mansion Docents
Pictured: Sue Potts, Governor John Bel Edwards, First Lady Donna Edwards, Alice Fay Smith, and Leona Benoit.
The Louisiana Governor's Mansion has provided private visitor tours for many years. In 2016, First Lady Donna Edwards had an idea to enrich the experience even further. Through the Governor's Mansion Preservation Foundation (GMPF), First Lady Edwards expanded and enhanced the Docents Program. As a teacher, the First Lady found an opportunity to ask retired teachers to participate as docents. Most of these wonderful women were already volunteering as tour guides for other State historical buildings, so this was a perfect fit! Currently, five docents volunteer to show visitors the first floor and grounds of the Louisiana Governor's Mansion. With their teaching backgrounds, they give the most memorable experience to everyone who walks through the doors. The Governor and First Lady are grateful for their dedication to this program and host a Docent's Luncheon every year to thank the docents. The table is set with fine china and baccarat crystal to create the most prestigious occasion honoring these women's hard work over the years. Below you can "meet" some of the docents:
Bobbie Johnson – When Governor Kathleen Blanco became Governor in 2004, Bobbie Johnson began serving on the Governor's Mansion Preservation Foundation Board and helped each Christmas decorate the Mansion. Hurricanes Katrina and Rita became a large part of Governor Blanco's administration, and things were so hectic, the Governor needed extra help. She offered Bobbie a job. Realizing what an honor it would be to work for the first female Governor in LA history, Bobbie accepted. On Bobbie's first day on the job, there was a tour waiting for her, and as she states, "I was immediately in show business. I did go home that day and second guess myself, as the group that toured was the Governor's Communication Director's son's class. I did a lot of studying!" This job began a 10-year role, which included hosting all of the tours. Bobbie says of her time at the Mansion, "Through the years I was able to meet so many wonderful people from around the world, and of course in the political world, which has been my greatest blessing. I would have to say the most interesting person was the day that my two granddaughters were here and I received a phone call saying THE Kevin Costner was 15 minutes away! That was pretty special".  Bobbie continues her role at the Mansion as the tour director. Three wonderful docents that she has mentored work with her. Bobbie states, "It has been one of the most wonderful experiences I could ever imagine having in my life. How lucky am I to have had three wonderful Governors and Spouses in my life?"
Alice Smith – After moving back to Baton Rouge to be close to her children and grandchildren, Alice Smith visited the Old State Capitol with a friend for a quilt show. She met with the CFO there who told her they needed someone like her with young children's experience and asked her to be a Docent. Alice made friends with another docent, Sue Potts. Sue was also working as a docent at the Governor's Mansion and asked Alice to consider becoming a Docent at the Governor's Mansion. She shadowed Sue on a tour and was hooked. She met First Lady Donna Edwards that day. The First Lady personally encouraged her to join the GMPF Docents, and she said yes! Alice states, "I started in January 2018, with over a hundred students and parents from the Lab School. My granddaughter was there. It has been the most wonderful experience showing all the hundreds of students (and some adults!) the beautiful Governor's Mansion." She continues, "It is so exciting for them to not only see it, but to meet First Lady!
From the Lake Charles area, Alice began a teaching career in 1971 at Bell City High School, a small school in a rice farming community south of Lake Charles. She was there only three years when her husband started LSU Law School, and they moved to Baton Rouge.  In the next several years, her husband's career moved them to three states and seven schools.
Alice earned a Library Science certification with an emphasis on elementary grades in the late 1980s. "This was the best teaching experience I ever had, and it was as if I was born for this purpose of inspiring children using my Storybook Apron with my Binky Bee in my pockets!" Her last job was teaching English at the Ninth Grade School in the 2007-08 school year, which concluded her teaching career,
Sue Potts – After a long career in teaching, Sue Potts joined the Baton Rouge Area Retired Teachers Association and became president. During one meeting, the Old Governor's Mansion's educational director made a presentation and urged those in the group to volunteer as guides at Old Mansion. Sue decided that would be the volunteer job for her.  She enjoyed her work there so much and met so many amazing people and had so much fun. Sue decided to add the Old State Capitol to her guide work. Additionally, she worked for a while as a paid guide giving city and plantation tours.
One day, Sue thought, "I wonder if the current Governor's Mansion gives tours?" She called, and it just so happened the new First Lady, Donna Edwards, also a teacher, was recruiting retired teachers to conduct tours around the Mansion.  Sue learned the information and began leading tours. She states of her time giving tours, "I met wonderful people and was afforded interesting and exciting opportunities. Not only was the Mansion full of gubernatorial history, but the First Lady has made many new additions. The Mansion is a delightful place to volunteer".
Sue worked as a history and geography teacher for 40 years and loved every minute of it.  She retired after 40 years and began he work as a volunteer. She has also trained her dog to be a therapy dog. They often visit with patients at Our Lady of the Lake several times a month.  
Leona Benoit – Leona retired from Villa Del Ray Elementary after 34 years of teaching in East Baton Rouge's public schools.  In the spring of 2017, Sue Potts suggested that she might like being a tour guide at the Mansion. Leona took her up on her suggestion. She states of her time volunteering, "I enjoy telling the history of this lovely home to the many visitors who come through."