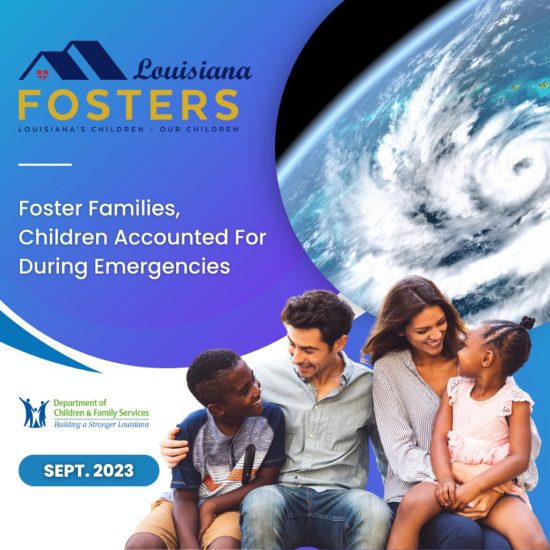 Foster Families, Children Accounted for During Emergencies
Foster Families, Children Accounted for During Emergencies
Emergency preparedness has become a way of life in Louisiana, and that applies to our foster families, too. During an emergency, the secretary of the Department of Children and Family Services (DCFS) provides details to the Governor's Office about the location and status of the approximately 4,000 children currently in foster care. 
The state bears the primary responsibility for the children in our custody, and that does not stop during a crisis. We must know if our foster families are safe and where they are located, be it in a shelter, their home or temporarily out of state. Youth ages 18 to 21 in the Extended Foster Care (EFC) program are also accounted for, and the DCFS data systems are updated regularly as foster caregivers move or as the children are reunified with their birth families. We make a point of asking for updated contact information at the start of hurricane season so that foster families and EFC youth can receive any important safety alerts sent out during an event. Most recently, we alerted all foster caregivers about the wildfires and the statewide burn ban.
There is also a foster caregiver support line, 1-833-788-1351, which operates 24 hours a day during a major crisis. DCFS always wants to ensure that children in foster care are safe, and we want to know if any foster families are in need of services during or after an emergency. We always hope that we are spared from a hurricane or other natural disaster, but we remain prepared to serve children in care and the families who have taken them in.  Learn more about becoming a foster parent by visiting DCFS.Louisiana.gov/foster-parenting.com or GetaGamePlan.com for tips on how to stay safe this hurricane season.
September Adoption Spotlight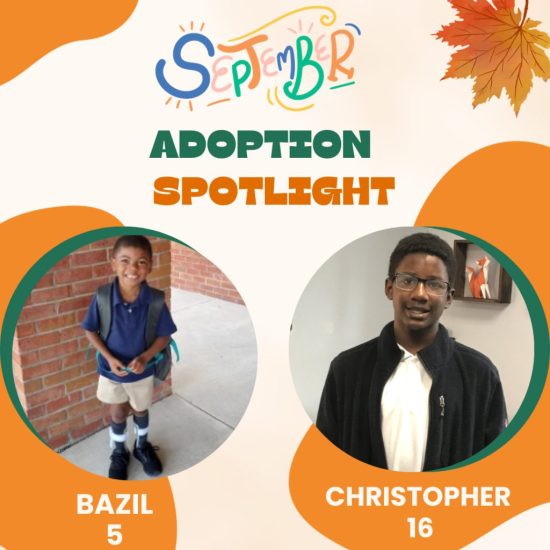 Each month, we feature children and teens who are available for adoption in Louisiana.
This month, we would like to introduce you to Bazil and Christopher from the Thibodaux Region.
Bazil – 5
Bazil is an active 5-year-old who enjoys playing pool, playing with his Batman toys and making arts and crafts. His favorite food is macaroni and cheese, but he's not a picky eater. Although Bazil does play well by himself, he enjoys playing and interacting with other children. He enjoys school and loves his teacher. Bazil will thrive with a family that will provide him with structure, patience and unconditional love.
Christopher – 16
Christopher is an enthusiastic and polite young gentleman. He enjoys playing and watching all sports, especially football, baseball and basketball. He also enjoys playing video games, pizza and grilled cheese sandwiches. Christopher will need a family who is willing to assist him with reaching his full academic potential. He is a very caring and thoughtful child who loves dancing and being the center of attention. Christopher is looking for a forever family who is willing to provide him with unconditional love and patience.
If you are considering adopting or fostering a child, take that first step by attending a free, virtual orientation session. For more information about becoming a foster/adoptive parent and the available training, visit DCFS.Louisiana.gov.