National Foster Care Month
and
Celebrating Grandparents Raising Grandchildren
Information Center of Louisiana

The Department of Children and Family Services (DCFS) and its state and national partners recognize May as National Foster Care Month. This month of recognition is a way to show our commitment to ensuring a bright future for children and youth in foster care and recognize those who make a meaningful difference in their lives. This year's theme is Strengthening Minds/Uplifting Families and focuses on the importance of supporting the mental health needs of children in the child welfare system. 
According to the national Children's Bureau, there are over 391,000 children in foster care nationwide. Last federal fiscal year, DCFS served 6,272 children in foster care and 364 in Extended Foster Care (ages 18-21).
Mental and behavioral health is a significant unmet need for these children and teens. In addition, maintaining relationships with relatives is necessary to increase stability, reduce trauma, and keep a sense of family, belonging, and identity. Louisiana grandparents play a major part in efforts to keep families connected and stable. Louisiana is one of the top 5 states in the nation, with more than 55,000 grandparents raising grandchildren.
For every 1 grandparent in Louisiana who is registered for benefits for their families, 39 others aren't. As a result, families may be missing out on various resources, including kinship subsidy payments of up to $450 a month. If you know of a grandparent needing extra help while raising grandkids, please call 211 or text KinshipLA to 898-211 or visit dcfs.la.gov/grandparents.  
The Grandparents Raising Grandchildren Information Center of Louisiana (GRGICL) is also a great resource for families. The organization began in 1993, and DCFS was thrilled to take part in its 27th annual conference in Baton Rouge on April 28. The conference had a record attendance of 325 people from across the state and as far as Washington D.C.
GRGICL strives to help children who cannot be in the homes with their biological parents remain with family members such as grandparents to lessen the trauma on the child. The organization provides resources and support for families to ensure children are not placed in the custody of the state.
"Our mission is to help these families with any kind of information and support we can bring to the table," said Kathy Coleman of GRG. "We work very hard to help every child in this situation, as we feel every child, yours, mine, or ours, deserves all of us to step up and help these children have better lives. I would like to take this opportunity to thank First Lady Donna Edwards as well as Governor John Bel Edwards for all the support they have given and continue to give to every child in the state of Louisiana."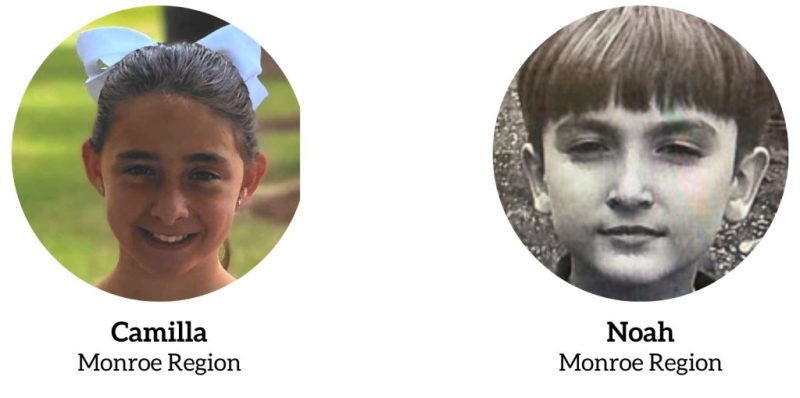 Each month we feature children and teens available for adoption in Louisiana.
For May, we'd like to introduce you to Camilla and Noah from the Monroe Region.
Camilla, Age 12
Camilla has a beautiful smile and a huge heart. She loves being outside and going to the park, school, and science. Her favorite foods are pizza, cookies, hotdogs, and candy. Camilla desires a forever family that will provide her with love, structure, and patience and who will help her reach her full potential.
Noah, Age 9
Noah has an amazing smile. He has maintained AB honor roll and has tested gifted for his outstanding academic ability. His favorite subjects are Math and Reading. He enjoys playing on his tablet, playing with the other children in the home, and learning new things. His favorite foods are pizza and chicken nuggets. One of his favorite movies is Thor. His favorite color is blue. He loves looking at the stars through his telescope. Noah wishes to be adopted and have a forever family he can call his own.