Help Us Spread the Word
and Holiday Cheer for Louisiana's Foster Children
Hundreds of Louisiana's children and youth in foster care will have gifts under the tree next week thanks to the efforts of Louisiana's Foster Care Support Organizations across the state. Dozens of churches and non-profit organizations statewide were involved in providing gifts and hosting events for children and families in foster care.
Royal Family Kids in Northeast Louisiana, Roots of Care, Fostering Community, Crossroads, Northshore Enduring Hope, One Heart NOLA, Moving Mountains Ministries, CASA, Unite Ministries, NOLA Families in Need, Connect 1 Child, Our Saviors Church, The Well in Ruston, Trinity Baptist in Lake Charles, Brave Heart Children in Need, James Samaritan, Healing Place Church, Methodist Foster Care, Barksdale Air Force Base, Loving Our Community's Children, Family Roads of Greater Baton Rouge, and Grandparents Raising Grandchildren fulfilled wish lists for children and youth in foster care.
The Family Village, Empower 225, Foster the Love, and Project 2.5+ were among organizations who hosted fun-filled Christmas events.
Foster care support is needed all year long! You can make a difference in the lives of children and youth in foster care next year. Contact your region's Foster Care Support Ambassador to learn more about support opportunities in your community.
211
If there's a family in your area who needs some assistance this holiday season or throughout the year, help is a phone call away by dialing 211. The Louisiana 211 team works 24 hours a day, 7 days a week, to listen to needs and identify available resources. Louisiana 211 also works with the Kinship Navigator Program (KNP), an information and referral network for relative caregivers who are providing full-time care to children other than their own. Dial 211 or text KINSHIPLA to 898-211. 
December Adoption Spotlight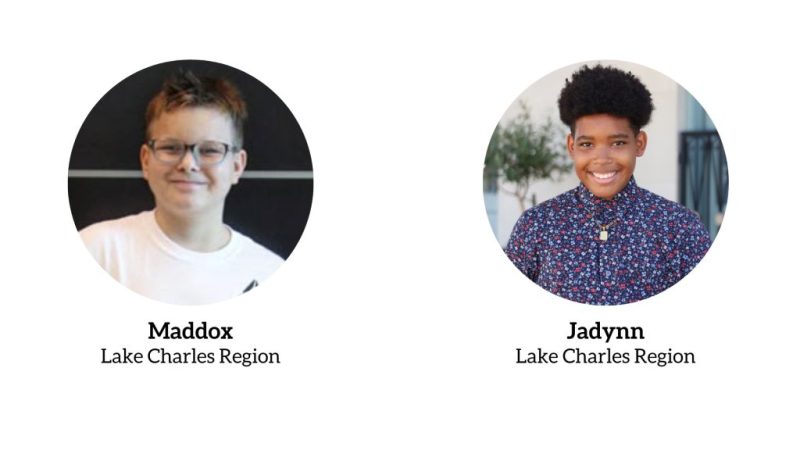 December's adoption spotlight features Maddox (13) and Jadynn (14) from the Lake Charles Region.
Maddox is a friendly child who loves to engage in conversation. He likes to ride his bike, fish, read books, and play video games. Maddox would like to be adopted by two parents with other children in the home. He is looking for a family who will provide him with love, support and patience.
Jadynn is a polite teenager who enjoys working in the yard and anything mechanical. He has a huge heart and is always willing to share with others. He desires a family that would help him put model cars together and work outside with him.
If you are considering adoption or fostering a child, take that first step by attending a free, virtual orientation session. Check out the current orientation schedule. For more information about becoming a foster/adoptive parent and the training available, visit dcfs.la.gov/foster.