Prevent Child Abuse Louisiana


The state affiliate of Prevent Child Abuse Louisiana (PCAL) has returned to Louisiana! The office is now housed under VIA LINK, a non-profit organization focused on providing crisis support, connecting people to resources and services, and providing data and trend information to ensure policies and programs meet community needs.
VIA LINK's Prevent Child Abuse Louisiana (PCAL) department aims to provide 24/7 emotional support for families, a connection to parenting resources, advocacy for children and families, and education for those who care for Louisiana's children. An essential role of PCAL is advocacy, outreach, and education. Our goal is to prevent child abuse by supporting the needs of parents, children, and entire families. We also create and offer educational presentations and training for parents and professionals who work in supporting Louisiana children.
PCAL is pleased to share an excellent service for parents available statewide 24/7. By calling the Louisiana Parent Line, parents have immediate access to specialists who can offer emotional support, de-escalation, crisis intervention, information and referrals, and plans for coping. These calls provide parents a safe space to express their frustrations, ask parenting questions, and get support. The number to call is 833-LA-Child, or text 225-424-1533. With April designated as National Child Abuse Prevention (CAP) Month, PCAL and VIA LINK will be supporting CAP month by encouraging our community to participate in the following activities:Be a part of the virtual pinwheel garden in support of PCAL's mission by visiting www.preventchildabuse.org
Make a pinwheel in support of child abuse prevention and display it in front of your home or business. See our online posts and website for details on creating a pinwheel.
VIA LINK is hosting a free, virtual Adverse Childhood Experiences (ACEs) presentation on April 17th. For more information about this Lunch and Learn, please email screspo@vialink.org


Watch for posts throughout the month on social media to raise awareness about prevention and visit our website and follow us on Facebook www.facebook.com/VIALINK211
For more information, contact Sherrard Crespo, LCSW Director of Outreach and PCAL, at screspo@vialink.org.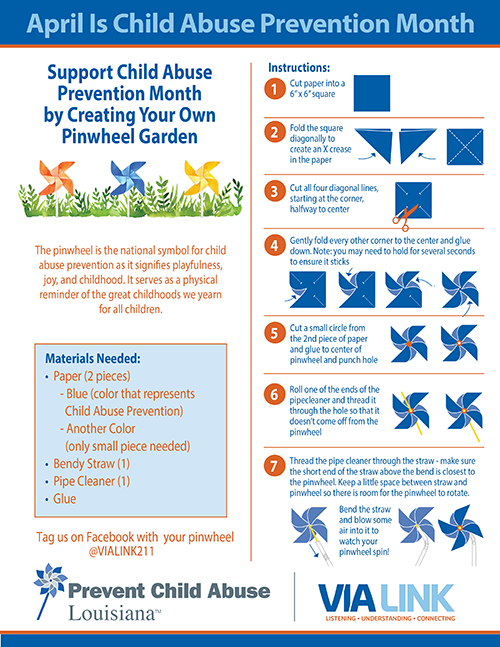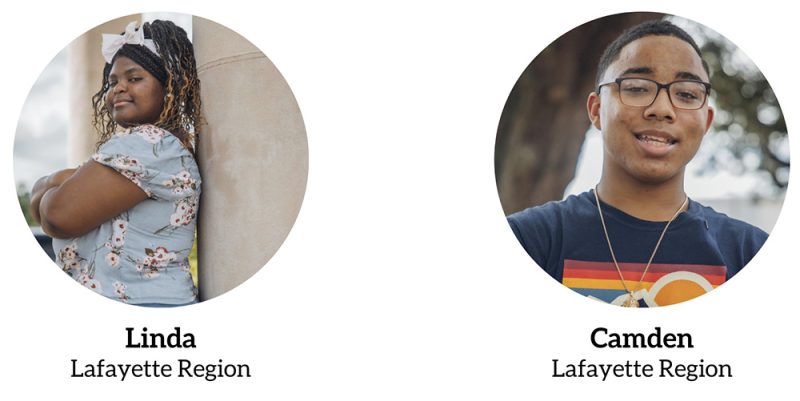 Each month we feature children and teens available for adoption in Louisiana. For April, we'd like to introduce you to Linda and Camden from the Lafayette Region. 
About Linda-Age 16 
Linda is a fun-loving teenager with a huge smile. She likes playing and watching sports and other outdoor events like bike riding and swimming. Linda plays the snare drum in her school's marching band. Linda does well academically and is proud of her academic achievements. She needs someone who will push and encourage her to meet her greatest potential. She needs a role model who cares about making her a part of their lives. Linda can express her needs, is very smart and creative. She has big dreams for her future and desires to travel the world one day. What Linda desires most is what most of us take for granted—a forever family and a home of her own.
About Camden-Age 15 
Camden is a very polite and respectful young man who is very friendly and will talk your ears off. He enjoys playing video games, with his favorite being Five Nights at Freddy's. He is very artistic and creative and loves to research various topics. Camden enjoys school and is working very hard to reach his full academic potential. He is searching for a forever family that will mentor, support, and encourage him in achieving his goals. Are you that family? 
If you are considering adopting or fostering a child, take that first step by attending a free, virtual orientation session. For more information about becoming a foster/adoptive parent and the training available, visit our website. You can also call your regional office or email DCFS.HomeDevelopment@la.gov with your name and parish of residence for more information.