Chef Jeff Mattia
Porchetta, Creamy Grits, Bitter Greens, Sofrito Vinaigrette
Porchetta, Creamy Grits, Bitter Greens, Sofrito Vinaigrette

Ingredients:
1 each Pork Belly 
1/2 Pork Loin
1 teaspoon Crushed Red Pepper 
1 Tablespoon black Pepper, Cracked 
1 Tablespoon Salt, Kosher 
3 sprigs of Rosemary chopped 
1 each Clove of Roasted Garlic 
Butchers Twine
Instruction:
Trim the belly butterflying it on the long side to make an even cooking surface 
Cut the pork loin in 1/2 lengthwise 
Rub the belly with roasted garlic, rosemary, season with the red pepper, black pepper and salt. 
Place the loin in the middle of the belly and roll the belly around the loin, with the butchers twine every 1″ tie the string around to hold to hold the belly together around the loin 
Place into a 300 preheated oven until 160 internal temp is reached. 
Ingredients:
1 ½ cup Milk 
1 ½ cup Water 
4oz unsalted butter
1 cup  Stone Ground Grits (local as possible, they taste so much better)
2 ounces Salt 
4 ounces Cream Cheese 
4 ounces Cheddar cheese
Instruction:
In a large pot, add milk, water and butter. Over medium high heat, bring to a boil.
Add the Grits, season with salt.
Stirring constantly, cook grits over a low heat for about 20-30 minutes. You may need to add more water to maintain a creamy consistency.
Blend in the cheeses in to the grits. Re-season with salt as needed.
Ingredients:
2 bunches Kale, Mustard, Rabe 
1 each Lemon 
1 Tablespoon Extra Virgin Olive Oil
Instruction:
In a hot sauté pan with a olive oil add the fresh greens
As they wilt squeeze the lemon into the pan until the greens are cooked season with salt and pepper
Ingredients:
1 cup  Extra Virgin Olive Oil
1 each  medium white onion, diced 
1 each   medium carrot diced 
1 each  Fennel diced 
3 each Celery stalks diced 
3 ounces  Rice Wine Vinaigrette or Champagne Vinegar
Salt and Pepper to taste 
Instruction:
In a large saute pan, add olive oil.Cook onion, carrot, fennel, and celery over low heat. Cook slowly, stirring as needed. Cook until vegetables are tender.
Remove from the heat and allow to cool to room temperature.
Add the vinegar and season with salt and pepper.
Stir around with a spoon to incorporate, will need to be stir for every use.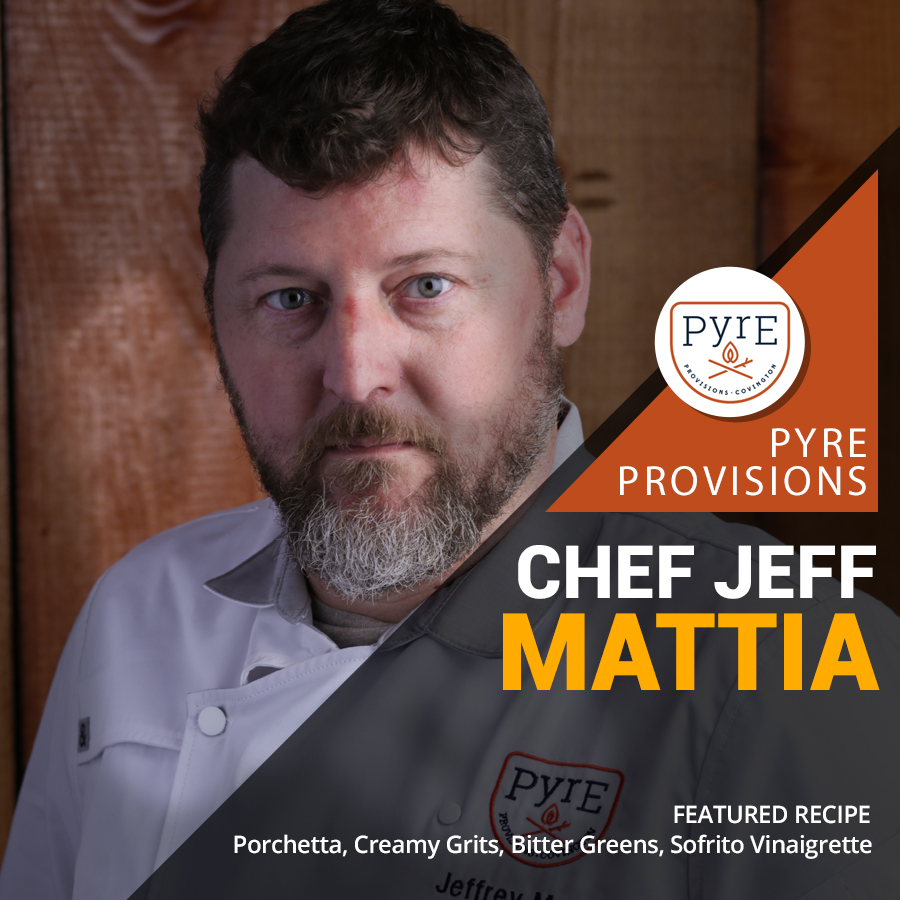 Chef-Owner Jeff Mattia
Pyre Provisions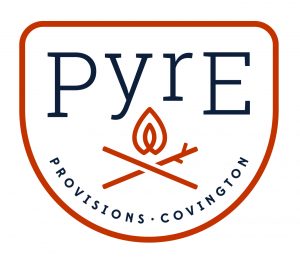 Chef Jeff Mattia's 25 years of professional culinary experience is product of a life of interest in food and cooking. Born and raised in Hartford, Connecticut, Mattia began helping his mom cook when he was only 2 years old – it's been his passion ever since. His lifetime of interest in the culinary arts – both personally and professionally – have given Mattia a diverse and broad view of hospitality that influence his guest's experiences at Pyre Provisions.
Mattia proudly served in the United States Marine Corps from 1995-1999 where he cooked for 1,000-5,000 troops every day on board  US Navy vessels and in the field. During his service, he requested deployment wanting to serve his country. During his deployment, he experienced the food and cultures of 26 countries before his honorable discharge as a Corporal in Charge of a Field Mess Operation with 24th MEU.
After his service, Mattia enrolled at Johnson & Wales University in Rhode Island, graduating with a Bachelor's Degree in the Culinary Arts in 2003. Following graduation, he gained experience as the Sous Chef at Todd English's Tuscany, where he stayed for three years before joining Tom Colicchio's team as Chef de Cuisine opening the 3rd location of Craftsteak. After two successful years, he relocated to New Orleans to work under chef John Besh as Executive Sous Chef at Restaurant August in 2010. In 2012, he was promoted to serve as Executive Chef at American Sector at The National World War II Museum. In 2014, Mattia left the Besh group to expand his hospitality experience, first at the Hyatt Regency and then at the Royal Sonesta New Orleans. In 2017, Mattia was named Best Chef of Louisiana by the American Culinary Federation's New Orleans Chapter and, in 2019, Mattia received the Hotel Champion of Hospitality Award from the Louisiana Hospitality Foundation.
In 2019, Mattia announced his new restaurant concept, Pyre Provisions, fulfilling a lifelong dream to open his own restaurant concept.