Chef Kenneth C. Temple
King Cake Beignets


It's carnival season back home (New Orleans), I wanted to take a shot at creating something that embodies this time of the year, my city, and my heritage. King Cake and beignets are the two most popular desserts worldwide that New Orleans has made famous, I thought it would be fun to combine the two. That's how I came up with king cake beignets. They are beautiful, light, and airy, just like a beignet, with the great cinnamon flavor of a King Cake. I've never heard of a King Cake Beignets, but if it's out there, I'm sure adding my recipe will add to let the good times roll! Tips for success: Proofing (resting the dough) gives the dough it's a delicious airy bite. Icing the beignets, then immediately dusting them with colored sugar, allows it to adhere to the beignets. If you do not want to make your own Mardi Gras colored sugar, purchase 5 oz. of sugar sprinkles in each color. I find that brown eggs yolks have a deeper yellow yolk, which equals a better-tasting egg. The max speed when using the dough hook is 2. If you do not have a stand mixer, you will have to knead the dough by hand about 60 times or until dough forms a tight ball. You can skip the overnight wait by letting the covered dough rest in a warm spot for 2 hours then proceed to follow the recipe.
Tools:
Large mixing bowl
Medium mixing bowl
Kitchen Aid 5-Quart Mixer with paddle and dough attachments
5 Quart Pot
Stainless Steel Mesh Strainer
Liquid Measuring Cup
Dry Measuring Cup
Kitchen Tongs
Rolling Pin
Makes about three dozen
Cooking Time: 1 day and 40 minutes
Chef Kenneth C. Temple's King Cake Beignets
Ingredients:
BEIGNETS:
½ cup granulated sugar
1 ½ cups lukewarm water
1 envelope active dry yeast (2 ¼ teaspoons)
2 large brown eggs, slightly beaten
1 ¼ teaspoon kosher salt
1 cup evaporated milk
1 tablespoon cinnamon
8 cups unbleached all-purpose flour, plus more for rolling
¼ cup Crisco shortening
Canola oil for deep frying
ICING:
492 g confectioner's sugar
2 teaspoons vanilla extract
½ cup evaporated milk
½ teaspoon kosher salt
Colored Sugar
3 cups granulated sugar
red, blue, green and yellow plant-based food coloring
Method:
In a bowl mix, sugar, water, and active dry yeast together and let sit for 10 minutes or until small bubbles begin to float to the top.
In a separate bowl, combine the eggs, kosher salt, and evaporated milk. Once the yeast is bubbling, add egg mixture to yeast mixture. In another bowl, stir the flour and cinnamon together two or three times. Attach the dough hook to stand mixer, add the wet mixture, and 4 cups of flour, mix together on low for 1 minute. Add shortening and mix for 30 seconds.
Gradually add ½ cup of flour at a time. Mix until thoroughly combined, and dough begins to come together and no longer sticks to sides of mixing bowl about 8 minutes. Cover bowl with plastic wrap and place in the fridge overnight.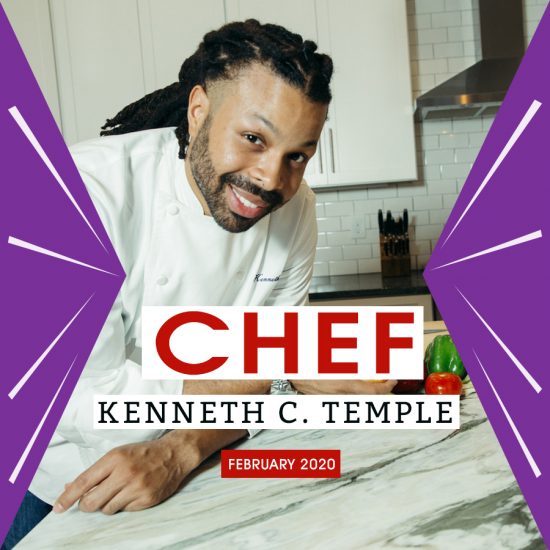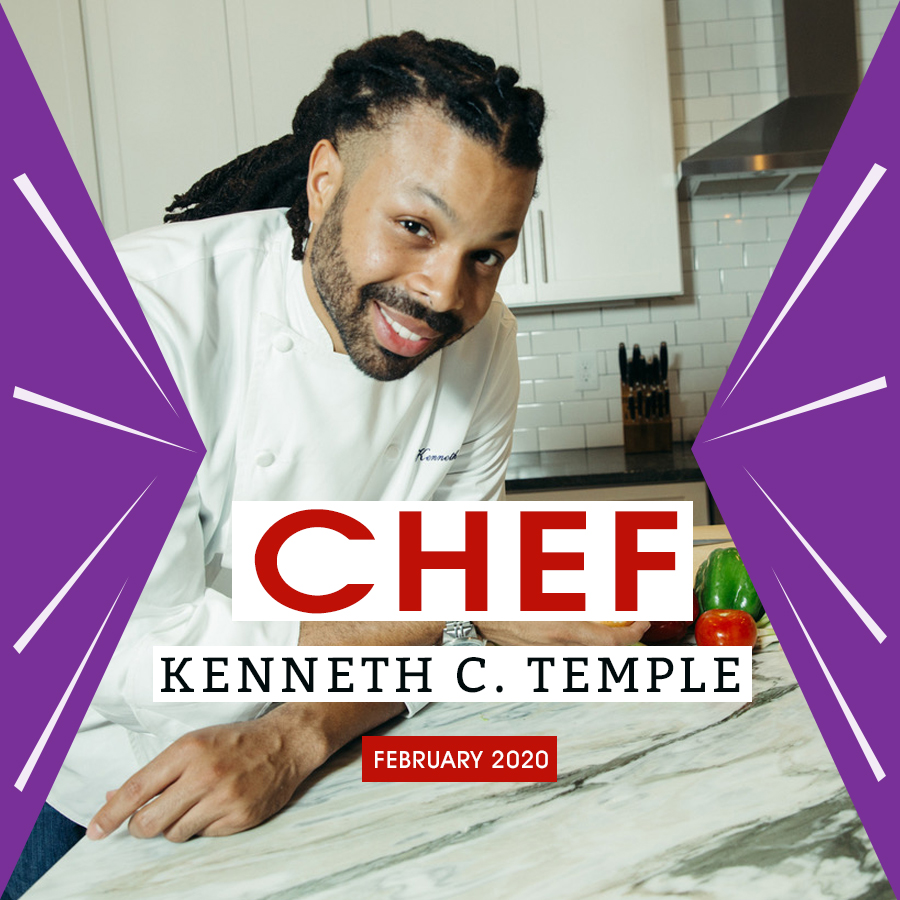 Chef Kenneth C. Temple
Chef Kenneth C. Temple holds a Bachelor's of Science in Culinary Arts from The John Folse Culinary Institute. His kitchen savvy and charisma can be contributed to his New Orleans upbringing. His expertise was validated when he won the Food Network's popular cooking competition show "Chopped" in 2017. With over ten years in the culinary industry, Chef Kenneth has certainly laid a foundation for a long-lasting career. His professional demeanor and a knack for success have landed him major partnerships, including Hormel Foods, Jennie-O, Black Label Bacon, and Wholly Guacamole. He's been featured in US Weekly and USA Today, Essence Music Festival, he's received a proclamation from the City of New Orleans and was the ambassador for City of New Orleans in South Africa for three years. He's worked with the New Orleans Saints, the New Orleans Pelicans, Grammy Artists, Lil Wayne, and Patti Labelle and 2-time Super Bowl Champion Malcolm Jenkins, to name a few of his clients.
The "Kenneth Temple Empire" currently consists of private dining, catering, online cooking courses, his signature seasoning (Savory), his cookbook (Southern Creole), the "Hunger Trap" Facebook live cooking show, various television cooking segments, the "Southern Creole" trademark and "Deliciousness" apparel. Looking forward, Chef Kenneth plans to continue to walk in his purpose by providing joy through food service. His vision expands beyond dishing out cuisine, positioning him as a culinary expert.