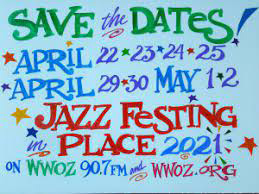 Are you missing Jazz Fest, too? To combat this melancholy feeling, brew up some Jazz Fest Rosemint Tea and listen to WWOZ! Tune in to WWOZ April 22-25 and April 29-May 2 as they partner with the Archive of the New Orleans Jazz & Heritage Foundation to bring you "Jazz Festing In Place 2021," featuring rare and historical sets from Jazz Fest's past, on the traditional spring weekends of the festival!
In addition to the music, the broadcast will include interview segments highlighting the food, crafts, and heritage of New Orleans and Louisiana. We will also be sharing recipes for some of your favorite Jazz Fest cuisines and helping fans connect with favorite local festival food and craft vendors. So, brew up some tea and "Fest in Place"!
Listen worldwide, free, at wwoz.org, or locally at 90.7 FM.
If you're interested in being a sponsor for "Jazz Festing in Place" on WWOZ, you can email festinginplace@wwoz.org.
Original text from https://www.wwoz.org/events/641791
Rosemint Tea
Sheila Owens named Rosemint Tea after her mother. She first presented the drink at Jazz Fest in 2006, and it has been a hit ever since. It is one of the signature beverages sold at the New Orleans Jazz Fest.
Recipe:
Steep Celestial Seasonings Red Zinger tea until strong
Add unfiltered Louisiana honey
Use a ratio of 1 cup of dried tea per 1 gallon of water, and add 1 cup of honey
Use Louisiana unfiltered honey (darker and more flavorful than regular honey). It is the secret ingredient!