\"Us Up North\"
Mustard and Turnip Greens
\"Us Up North\"
Mustard and Turnip Greens
Ingredients:
6 lbs. fresh mustard/turnip greens mix or 4 bunches 
4 c water
1-2 large ham hocks,  smoked
3 medium neck bones,  smoked
4 ounces salt pork,  cut into ¼ inch pieces
1 medium yellow onion, chopped
4 cloves of garlic chopped
2 T. seasoned salt
1 T. garlic powder
1 tsp. onion powder
Salt and Pepper to taste
Directions:
Cover smoked meats with water and boil until the neck bone is tender but not falling apart (about 45-50 min). Remove the thick part of the stem and roughly cut or tear the green leaves into 2 inch pieces. Wash thoroughly 3 times in salt water and drain. Remove meats from water and set aside. If desired, trim fat from the ham hocks and discard. Skim water for excess fat and add washed greens, onions and garlic. Boil and cook greens for about 20 minutes, then add all meat, reduce heat and cook on low for 20 to 25 minutes to desired tenderness. Add spices and adjust seasonings if necessary. *If using collard greens, adjust total cooking time to 1 hr and 15 mins.
Chef Hardette Harris
Chef/Owner, Us Up North Celebrating North Louisiana Cuisine
Nineteen years and hundreds of culinary experiences later, Chef Hardette Harris is taking every second of her professional knowledge as a private chef to educate and assist people in making the most of their lives with food. The native of Minden, Louisiana has spent the better part of her career in Texas working with families on any number of projects from improving their nutritional intake to organizing their kitchens to preparing foods used to be better home cooks.

She says, "Home cooking is the basis for all culinary genres including gourmet." Chef Harris premises that foods served in expensive restaurants are all rooted in someone's home experimentation, so she has worked to teach private clients how to make the most of their food budgets and above all, their time constraints.

Hardette Harris grew up in a busy home with two working parents who maintained some of the culinary disciplines from their own upbringing. Hardette recalls fondly sitting on the porch with her grandmother shelling purple hull peas as a part of her obligations.  James Beard Foundation award winning  author and former White House aide Adrian Miller not only interviewed her for his recent book "Soul Food: The Surprising Story of an American Cuisine, One Plate at a Time" but also included her grandmother's purple hull pea recipes.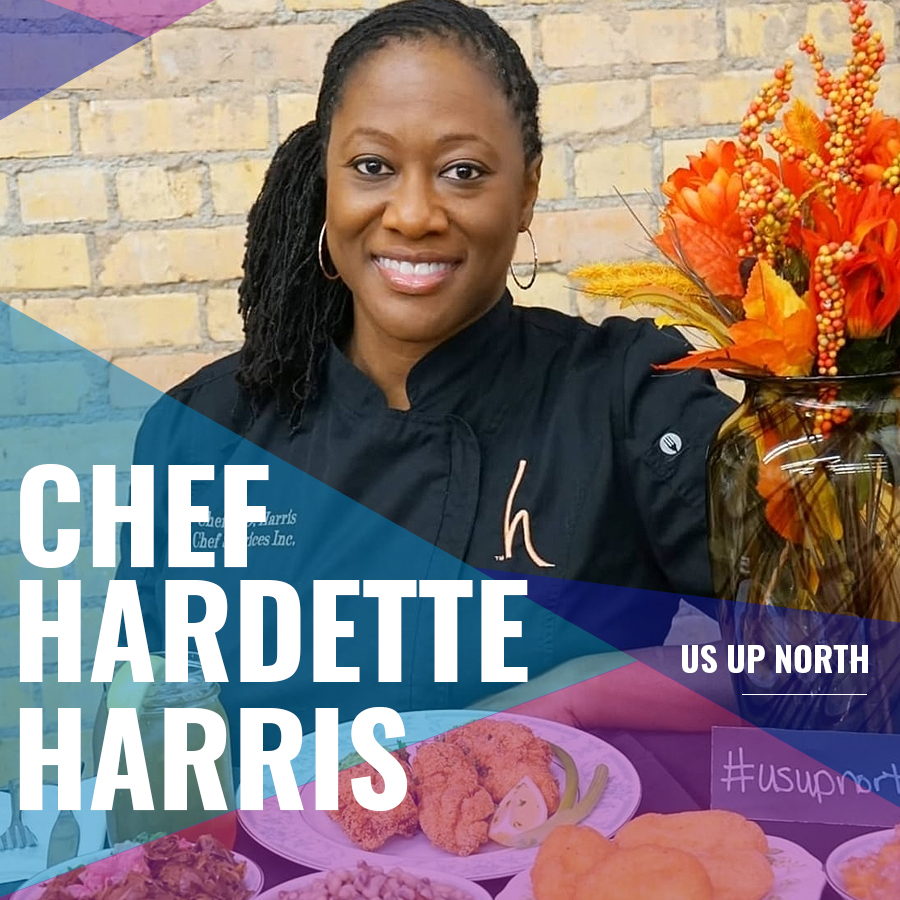 Chef Harris has provided a number of services to private individuals at home, in small business and even for busy corporate VIPs and executives. "My love for home cooking and home cooks is my total inspiration," said Chef Harris.  Chef Harris has gone on to provide private chef services to many upscale clients from attorneys to real estate moguls. She is the owner of Chef Services Inc. and Pure Louisiana Soul and has worked in Houston, San Antonio and now back in her native Louisiana.
In 2015, Chef Hardette Harris  was proud to announce her history making creation of North Louisiana's official meal.  Chef Harris worked with State Rep. Gene Reynolds to develop the State of Louisiana's first official meal (one of only two official state meals in the United States)  bringing recognition to the culinary uniqueness of North Louisiana. On April 29, 2015 House Concurrent Resolution No. 88 – was read on the House floor by title and concurred in by a vote of 33 yeas and 0 nays. On May 4, 2015 it was enrolled and signed by the Speaker of the House and the President of the Senate.
She hopes to jump start an eternal love affair between North Louisiana dishes and the rest of the world by making sure every tourist and visitor to the state taste what we eat up north.
Chef Harris is originally from Minden, Louisiana and was recently named by Louisiana Life Magazine as a "2017 Louisianian of the Year", one of Country Roads Magazine's 2017 Best Small Town Chefs and Shreveport-Bossier Convention and Tourism Bureau's "Attraction of the Year" for 2018 and also received their 2019 Convention and Tourism Sales Department Award.  She also has a recurring column called "Up North" in the beautiful Louisiana Kitchen & Culture magazine and is a recipe contributor to LOLA  Magazine.
She can also be seen in the PBS Digital Series, Nourish, "The Great Cornbread Debate".
She is happy to announce that in late August 2019 she will be opening the "Us Up North" Kitchen in Shreveport, Louisiana where she will serve dishes that celebrate the uniqueness of northern Louisiana cuisine. www.usupnorth.com