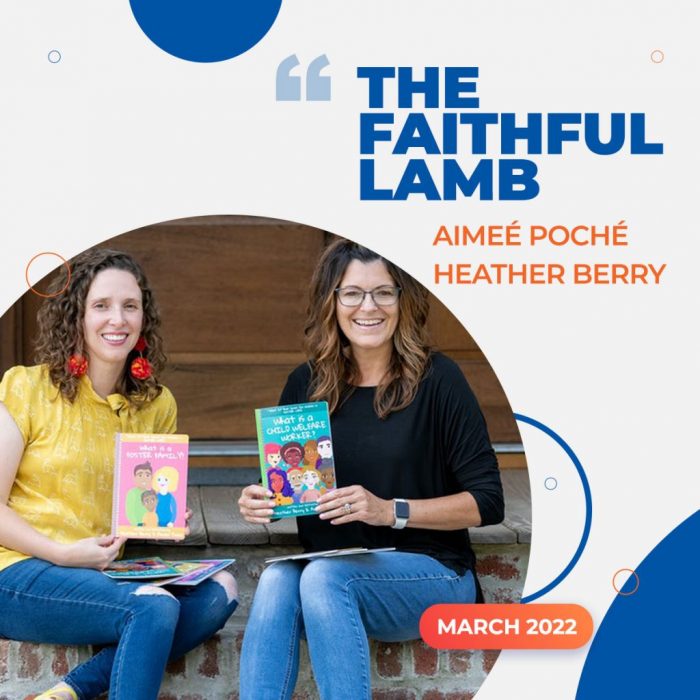 The Faithful Lamb

Aimeé Poché and Heather Berry 
Louisiana natives, Aimeé Poché and Heather Berry write and illustrate books for children entering foster care.This idea of providing a child-friendly book resource for the children when they enter care was birthed in 2018. It is the product of three years of hard work turning an ideal on a dry erase board into a well-thought-out storyline and fun kid-friendly illustrations.
Their four-book series, What Is, is designed for children who enter foster care to help them more easily transition during this significant life change. Heather and Aimee' know that when a child enters foster care in the first 72 hours, they will encounter a child welfare worker, a judge, a police officer, and a foster family. The What Is book series is geared for ages 3-14 years old and teaches the role of each of these helpers in foster care.
Their Moments with You activity book was created as a way for the child and biological parent to bond during their visits while the child is in foster care. They strategically took parenting tips and incorporated them in this workbook along with activities where the parent and child could have healthy, fun interaction and meaningful conversation. In addition, they created the pages to be perforated so that each page could go along with the child to the visit and brought back to put in the child's life book to have some healthy fun memories even during visits in a tough season in the child's life.
 About Aimeé
Aimee' is a wife, mother of eight children by birth and adoption, founder of Louisiana Heart Gallery, former social worker/foster care worker with the state of Louisiana, illustrator and writer. Aimee has led the adoption foster care ministry at her church for the past 17 years. She was the recipient of the Angels in Adoption Award in 2016. A program of the Congressional Coalition on Adoption Institute in Washington D.C.
About Heather
Heather is a wife, mother of 4 by birth and adoption, Youth Placement Services Director at Empower225, illustrator, and writer. Heather is an active team participant of My Community Cares and Louisiana Heart Gallery. She has been a voice in the adoption foster care community for the past ten years.
IF YOU ARE AN ORGANIZATION THAT PROVIDES DUFFEL BAGS FOR CHILDREN ENTERING CARE, EMAIL US FOR A WHOLESALE BULK PRICE LIST thefaithfullambllc@gmail.com
To purchase book sets and activity books for children who enter foster care, please email thefaithfullambllc@gmail.com
Website: http://www.thefaithfullamb.com