ANTI-HUMAN TRAFFICKING
Words from
LaVonya Malveaux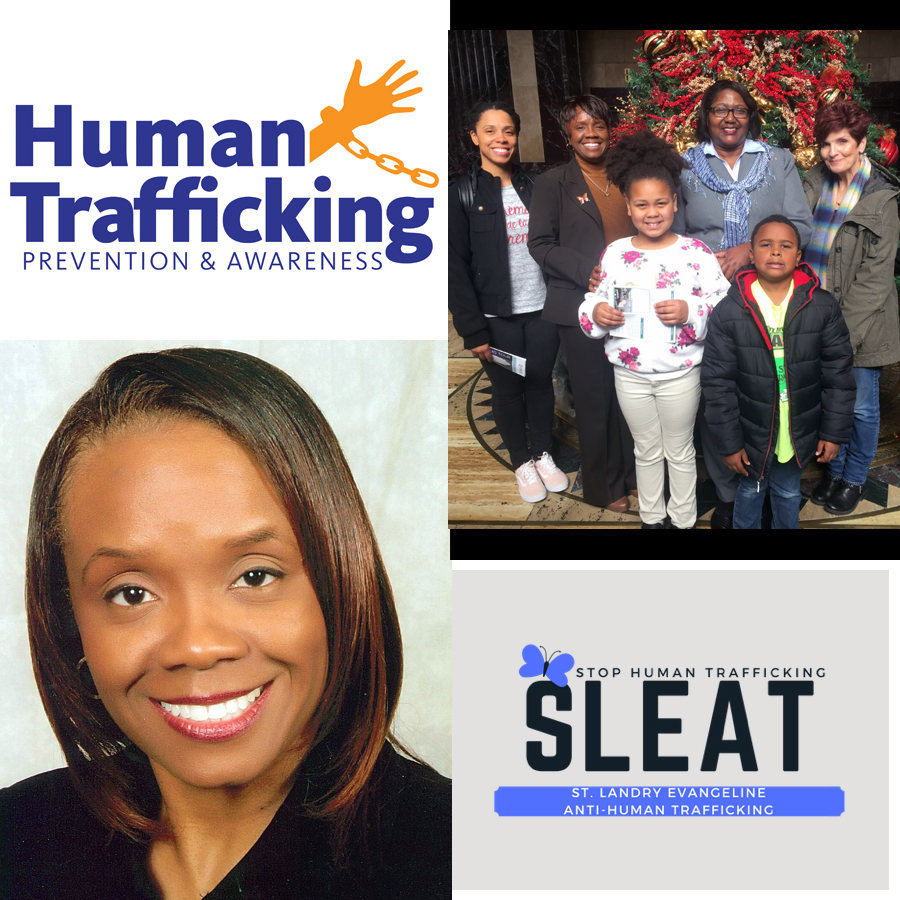 The St. Landry Evangeline Anti-human Trafficking (SLEAT) Taskforce
The St. Landry Evangeline Anti-human Trafficking (SLEAT) Taskforce was formed in April 2017 in response to a singular trafficking incident involving a local youth.  Its sole mission was to compile an organized document of recommendations for the St. Landry and Evangeline Parish communities to provide education and awareness, create tools to identify and track occurrences, and to avail resources to assist with the eradication of human-trafficking. This document was intended to serve as a resource guide to assist the St. Landry and Evangeline Parish School Districts, the Sheriffs' and local law enforcement agencies, the 13th and 27th Judicial District and City Courts, and the St. Landry and Evangeline local communities in their development of prevention and educational awareness strategies to address human trafficking; thereby, resulting in coordinated responses to such a heinous crime from a proactive position rather than a reactive one.
The SLEAT Taskforce's membership consisted of thirty-four prominent women from varied professions with demonstrated passions relating to a myriad of community concerns and initiatives. The list of females identified and selected included persons ranging in ages from 17 to 70 who were college students, mothers, grandmothers, business owners, educators, healthcare workers, social workers, counselors, media personalities, economic development practitioners, religious laypersons, law enforcement officers, municipal employees, court employees, elected officials, and family members of human trafficked survivors.  Taskforce members commenced their work, first, by educating themselves about this issue of human trafficking by attending various local, regional, state, and national conferences, symposiums, and workshops.  The group convened monthly meetings over a period of 20 months and hosted community events during April 2018 (featured author, Mimi Crown, "Stuck in Traffic" and a screening of the documentary, "Not My Life" with over 200 attendees) and during the national awareness month of January 2019.  
Nevertheless, the work and presence of the SLEAT Taskforce have created open environments to facilitate "conversations" and build awareness that human trafficking exists in even the remotest parts of our communities.  Residents of St. Landry and Evangeline Parishes appear concerned when news media reports instances of human trafficking. Their empathetic responses to the victims seemingly serve as defense mechanisms to mask their otherwise amazement and "shock" to discover such crimes occur in rural settings. Throughout the development of this taskforce, individuals have repeatedly responded by asking "how can [they] help". Various organizations, agencies, groups, and social clubs within Louisiana work closely within networks seeking to bring community awareness and education to the residents of Louisiana.  Thus, human trafficking not only affects families but impacts communities.
The SLEAT Taskforce printed and distributed approximately 30 booklets to community stakeholders (i.e., the educational system, judicial system, local law enforcement agencies and healthcare service providers) within the parishes of St. Landry and Evangeline.
Electronic versions are available on the Opelousas City Court's website, www.opelousascitycourt.com.
 1. Tracey Antee, Opelousas General Health Systems
 2. Tracy Auzenne, Universal Health Services, Inc.
 3. Wanda Bagent , Office of Juvenile Justice                               
 4. Laura Balthazar, St. Landry-Evangeline Sexual Assault Center      
 5. Phyllis Tyler Beverly, Opelousas Police Department            
 6. Lisa Boudreaux, Opelousas City Court           
 7. Jessica Charles, New Life Church of God           
 8. Lynnette Chevis, St. Landry Parish Sheriff Department          
 9. Lydia Curette, North Central High School           
10. Elizabeth Davis, St. Landry Parish Crime Stoppers         
11.  Andrea Dean, Holy Ghost Catholic Church        
12. Janel Dugas, 4nsic Services of Louisiana         
13. Hilda Edwards, City of Ville Platte         
14. Jane Edwards, Immaculate Conception Church – Lebeau         
15. Marcelle Fontenot, KATC – TV3         
16. Jo Ellen Frilot, Office of Juvenile Justice     
17. Ramona Fruge , St. Landry-Evangeline Sexual Assault Center        
 18. Joy Guidry, Cypress Grove Venue        
 19. Janice Henry, Holy Ghost Catholic Church         
20. June Inhern, St. Landry Parish School District         
21. Taylor Irving, University of Louisiana at Lafayette – Student       
22. Quaniqua Joseph, Northwestern State University – Student         
23. Roxanne Kennerson, Opelousas Junior High School         
24. La'Pearl Keys, SLESAC/St. Landry Parish Drug Court          
25. Gail Lark, Innovative Solutions/Town of Grand Coteau          
26. Brandy Ledet, St. Landry Economic Development         
27.  Melanie Lee, City of Opelousas Tourism         
28. Deanna Lejeune, Opelousas Genereal Health Systems         
29. LaVonya Malveaux, Opelousas City Court         
30. Damian Mott, Innovative Solutions, Inc.          
31. Angela Roberts, St. Landry Parish Families In Need of Services  
32. Jenny Stelly, Safety Premiere Training/Sephora USA, Inc.         
33. Amber Tezeno, University of Louisiana at Lafayette – Student       
34. Tiffany Zachary, University of Louisiana at Lafayette