Increasing Awareness
in the Hospitality Industry
to combat
Human Trafficking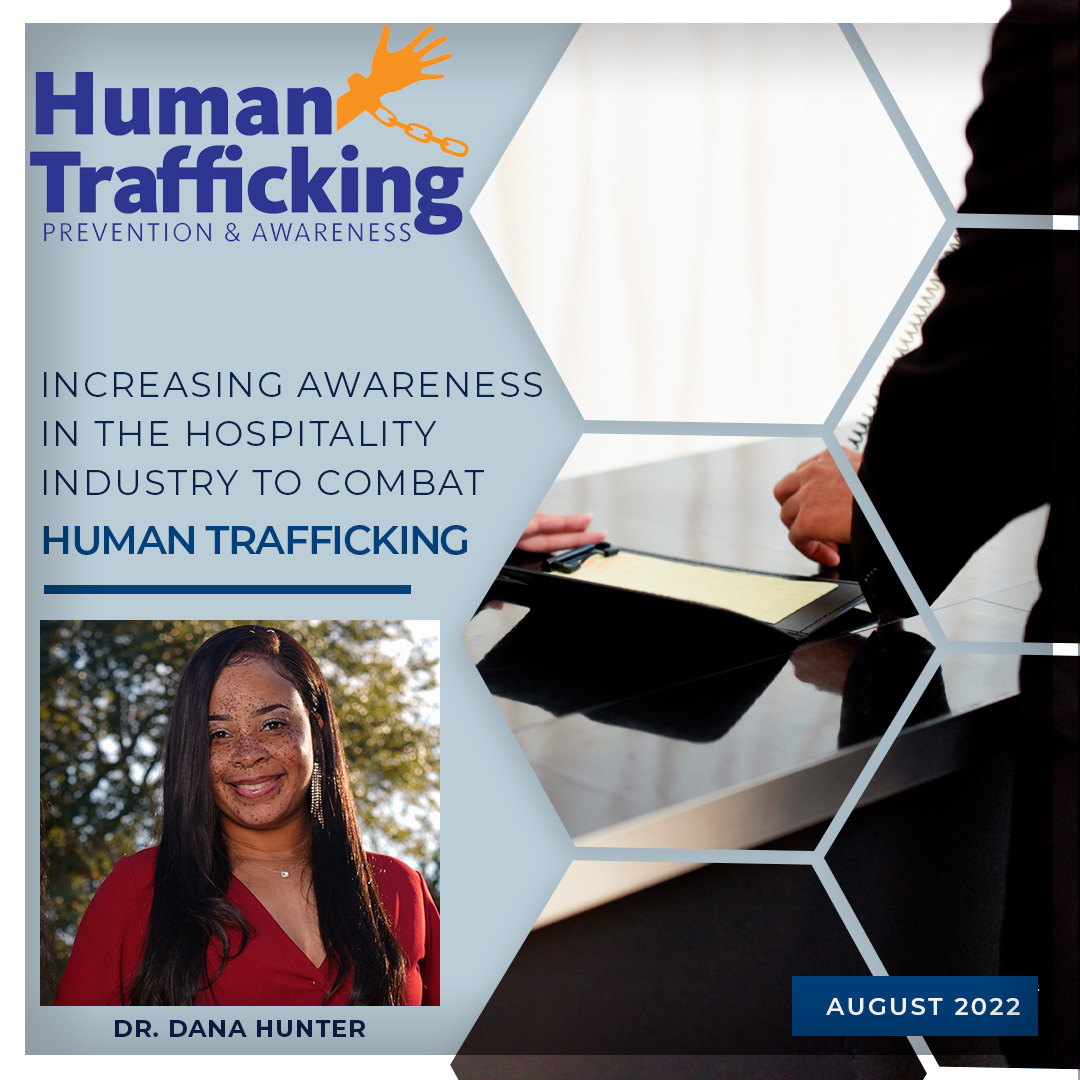 Increasing Awareness in the Hospitality
Industry to combat Human Trafficking
by Dr. Dana Hunter
The summer season is often a time when many families and individuals enjoy a rich tradition of traveling and vacationing at their favorite destinations. As a result, many take advantage of staying at a hotel or motel. While these living quarters often offer moments of peace and tranquility, the sad reality is that a victim of human trafficking could very well be residing in the room next door.
The U.S. Department of Homeland Security and Polaris have both confirmed the intersectionality between the hospitality industry and human trafficking (both sex and labor trafficking) and the use of hotels and motels as sites for traffickers to operate their criminal enterprise. Over the last decade, since the launch of the National Human Trafficking Hotline (December 2007 through December 31, 2017), the Hotline has recorded 3,596 cases of human trafficking involving a hotel or motel. 
Data from the Hotline survey also revealed that 75 % of trafficking survivors reported coming into contact with hotels while in "the life" of trafficking. This data confirms the need for education and awareness for consumers and staff in the hospitality industry. 
Act 298 of the 2016 Regular Legislative Session requires the National Human Trafficking Hotline information to be posted in hotels in the State of Louisiana. While this mandate provides victims and staff with important information on reporting any suspicious activity, it doesn't ensure that staff members are trained to identify victims and recognize the signs of human trafficking. This gap is an area that the Office of First Lady Donna Edwards, the Governor's Office of Human Trafficking Prevention, and other key stakeholders are now working to address.
Last month, the Governor's Office of Human Trafficking Prevention conducted human trafficking awareness training for the Baton Rouge Lodging Association. The Baton Rouge Lodging Association hosts monthly luncheon programs, membership socials, and continuing education workshops to keep members updated on the most current industry issues and topics to improve performance. This training provided more than 30 critical participants in the hospitality industry with real-time data and information on how to identify victims and respond through a trauma-informed care approach. The training also included information on reporting suspected trafficking activity and resources and services for survivors. 
Additional strategies to increase awareness in the hospitality industry and other sectors will be prioritized over the next several months.  
To learn more about statewide anti-trafficking initiatives and resources available for victims of human trafficking in Louisiana, please visit https://humantrafficking.la.gov