The Free Coalition to End
Human Trafficking in 
Northwest Louisiana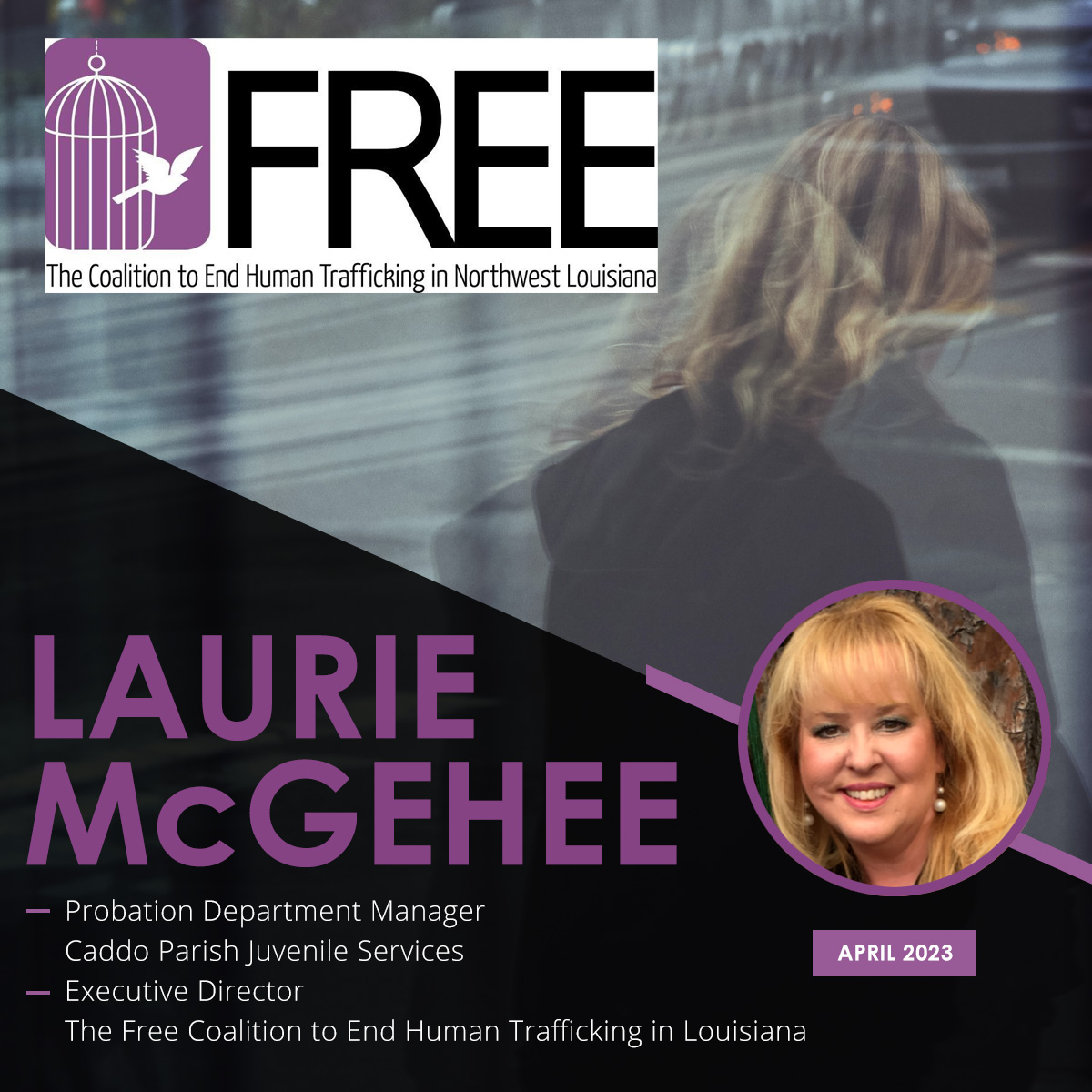 The Free Coalition to End Human Trafficking in Louisiana
Written by Laurie McGehee


Probation Department Manager, Caddo Parish Juvenile Services
Executive Director, The Free Coalition to End Human Trafficking in Louisiana
As the battle against human trafficking rages on, Caddo Parish Juvenile Services, Caddo Parish Juvenile Court, and The Free Coalition to End Human Trafficking in Louisiana are honored to participate in this fight. The efforts that began in 2012, over ten years ago, are still in place today and are even more equipped to identify, intervene, and respond to persons at high risk for human trafficking, confirmed victims, and survivors of human trafficking. We have not traversed this journey alone. With the cooperation and collaboration of many community partners, we have developed programming and interventions that have proven successful in working with youth who have been trafficked or are at high risk.   
In 2012, The Free Coalition to End Human Trafficking in Northwest Louisiana was created. Since that creation, the coalition has expanded its mission and partnered with other coalitions and human trafficking task forces around the state. It is now known as The Free Coalition to End Human Trafficking in Louisiana. Two of our partners, The Greater New Orleans Human Task Force and the Human Trafficking Task Force of Northwest Louisiana, have made this expansion possible by opening up their networks and collaborating with the FREE Coalition. In addition, the FREE Coalition and Caddo Parish Juvenile Services have been honored to be a part of the Governor's Anti-Human Trafficking Commission and Advisory Council, which has expanded the resources and the reach of The FREE Coalition.
In 2014, we began to see a rise in the number of girls coming into our Detention Center that we suspected were being trafficked. In collaboration with community partners, Caddo Parish Juvenile Services developed the first Multi-Disciplinary Team specific to human trafficking in the State of Louisiana, and it has been amazing to see this model replicated around the State with the creation of the Louisiana Child and Youth Trafficking Collaborative and the Office of Human Trafficking Prevention. Additionally, in 2015, with the assistance and approval of the Caddo Parish Commission and Administration, Caddo Parish Juvenile Services expanded the Intensive Probation Unit to add two specially trained female Probation Officers to supervise victims of human trafficking who are also involved in the Juvenile Justice System. This Specialized Intensive Unit, or SIU, has expanded to include youth at high risk for trafficking.  
After these dreams became a reality and we witnessed positive outcomes, we wanted to create and implement a Specialized Court Section for victims of human trafficking that were Court involved. In 2018, Judge Ree J. Casey-Jones consented to serve as the Judge for this Specialized Court. In 2019, our team traveled to Los Angeles to observe and learn from the STAR Court Program in Compton. We met with Judge Katherine Pratt and Probation staff members to begin planning the program. Equipped with amazing knowledge and resource ideas, we returned to Shreveport, Louisiana, and our STAR Court at Caddo Parish Juvenile Court was born. Since then, we have served over 40 youth in this program, each receiving comprehensive and trauma-competent services.
Over the years, our collaboration and community resources have grown exponentially. We have expanded to include the Parishes of Bossier, Webster, and DeSoto in our Multi-Disciplinary Team staffing. Our local Police Departments, Sheriff's Departments, and City Marshall's Offices have been entirely on board with our efforts. Our local Child Advocacy Center, The Gingerbread House, has been an invaluable resource. Service Providers such as Purchased: Not for Sale, Project Celebration, the YWCA of Northwest Louisiana, and Volunteers for Youth Justice have provided programming for our youth in our Court system. CASA, the Department of Family Services, the Office of Juvenile Justice, and the U.S. Attorney's Office have been exceptional partners. All these agencies have also collaborated with us to plan and present the South Central U.S. Human Trafficking Conference, free of charge, in June of each year. This year's conference promises to be excellent, with a diverse group of speakers providing various breakout sessions. This year's conference is on June 15th and 16th at Louisiana State University in Shreveport. Over the years, The Community Foundation, The Louisiana Children's Trust Fund, Willis-Knighton Health System, Brentwood Hospital, and the Pelican Center have all supported this conference financially.   
One of the most notable events to occur in Northwest Louisiana in the area of human trafficking prevention has been the efforts of the School Boards in both Bossier and Caddo Parishes. Both of these school boards have made it a policy that every one of their employees is trained in human trafficking awareness every two years. From the school bus drivers who may be the first to see a victim in the community to teachers and administrators, this has been invaluable in educating persons in the school system to identify and report both youth at high risk for trafficking and those that are being trafficked.  
In conclusion, we believe education is the key to ending human trafficking. Caddo Parish Juvenile Services and The FREE Coalition are proud to have presented training on human trafficking all over our state and even in other states to raise awareness of this entity we call modern-day slavery. Raising awareness that anyone, even adults, can be victims of trafficking is crucial.
The Annual Governor's Conference on Juvenile Justice in March of this year requested a presentation on human trafficking awareness and its intersections with the juvenile justice system. Just this week, we will be presenting information at a Teen Summit at Southwood High School in Shreveport to educate young people about human trafficking and how they can recognize if a friend is at risk or being trafficked, what to do, and how to keep themselves safe.  
We will continue our efforts in human trafficking prevention, education, identification, intervention, and advocacy until human trafficking no longer exists in our State or anywhere in our world.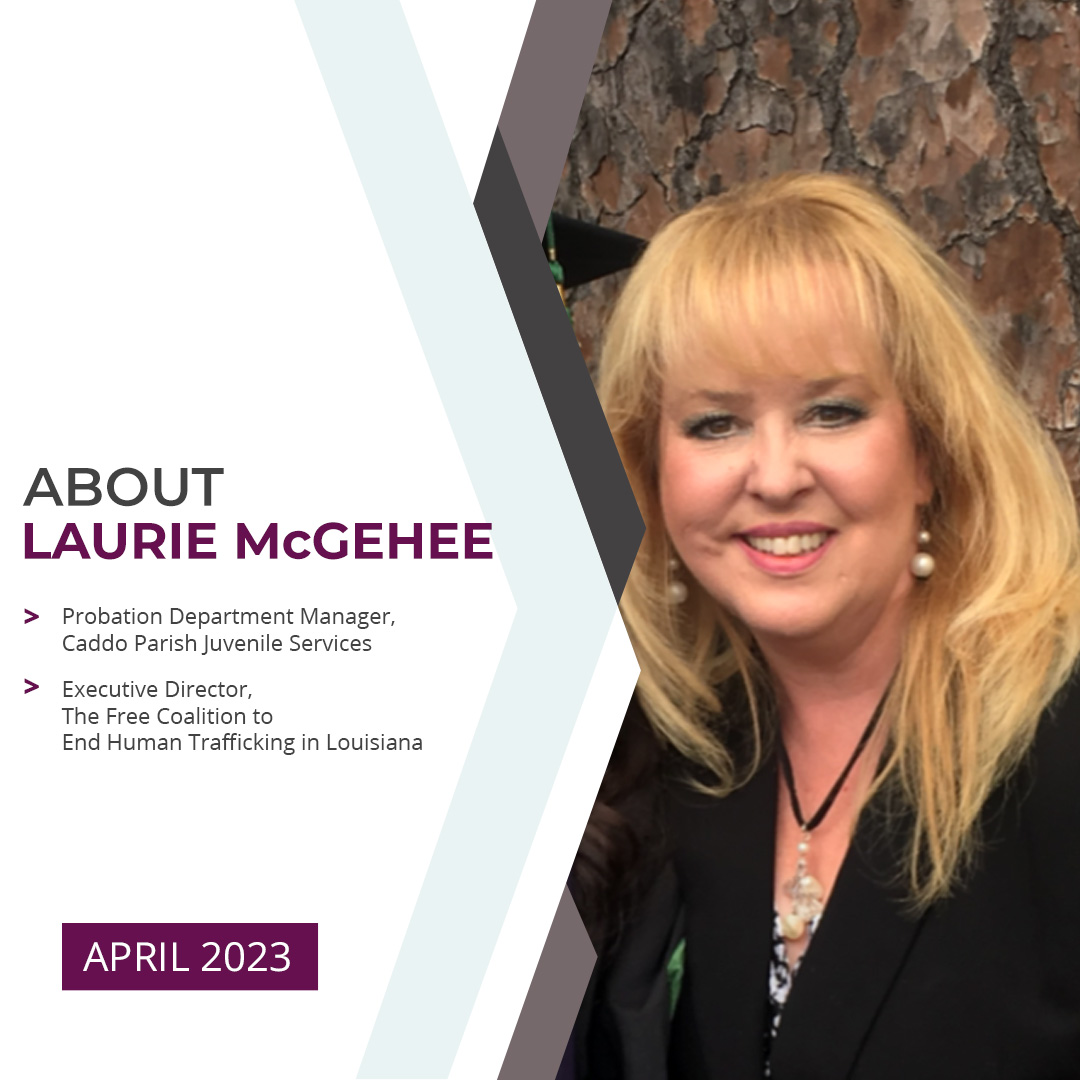 About Laurie McGehee
Laurie McGehee is a thirty-eight-year veteran of the Juvenile Justice System and has served the Juvenile Court for Caddo Parish in many different capacities. She is presently the Probation Department Manager for Caddo Parish Juvenile Services. She has served in this capacity for almost fifteen years. She is a nationally recognized speaker and trainer in Restorative and Evidence Based Probation, Human Trafficking, Trauma, and Adolescent Development. She has been instrumental in developing many of the Court's specialized programs, such as the Juvenile Drug Court and Mental Health Court. She developed the first Multi-disciplinary Team and Specialized Intensive Probation Unit (SIU) in the State of Louisiana to address human trafficking with Court involved youth. The Multi-disciplinary Team has been recognized by the National Association of County Officials (NACo) and by the Caddo Parish Commission for their preventative work in human trafficking. She also developed the first Specialized Court for victims of human trafficking called STAR Court. Laurie is a Certified Court Administrator and Trainer for Probation Officers through the National Juvenile Court Services Association and the National Council of Juvenile and Family Court Judges. She serves as Secretary for the Board of Directors for Volunteers for Youth Justice and serves on Governor John Bel Edwards' Human Trafficking Commission and Advisory Council. In 2008, she was the first recipient of the YWCA Women Who Mean Business Award. In 2014, she received the State of Louisiana Don E. Wydra Memorial Award for Outstanding Contribution to Juvenile Justice and Delinquency Prevention. She was recently inducted into Bossier City's Bossier High School Hall of Fame. Laurie lives and works in Shreveport, Louisiana. She is the proud Mom of one son, Corey, and daughter-in-law, Payton, and the proud grandmother of grandson, Copper, granddaughter, Colette, and grand dogs, Roux and Gidget.