WOMEN'S HEALTH BLOG
March 2021
Cultural Immersion in Louisiana: An International Student's Perspective on Our Health
Written by Minqi (Maggie) Huang


On my first day in New Orleans, a kind barista on Maple Street asked me, with an infectious dose of southern hospitality: "Do you want sugar in your nitro cold brew?" "No, thank you," I said, undoubtedly with a confused look. As a coffee-drinking native of China who has lived in various cities in the US and elsewhere over the last eight years, I have ordered this same bitter beverage in New York, Atlanta, Hong Kong, and many other places. Adding sugar was never before offered as an option.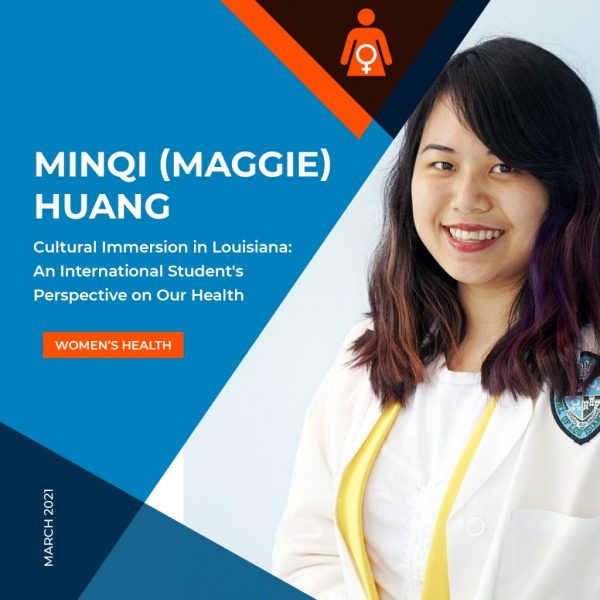 But like many newcomers, I eventually became quite a willing "victim" of Louisiana's unique approach to its culinary offerings. Since New Orleans and its surrounds are the American regions with the most robust local food culture, its residents are rightfully proud of and devoted to their food. A Louisiana-born nurse once told me, for example, she regretted not taking along Tony Chachere's when she visited London. Such allegiance to local flavors helped confirm this would be my new home. After all, my mother also packed her homemade hot sauce when she visited me in the US! And I love the culinary smells of my new home city, many of which bring to mind the many night market stands in Southern China.
My newly-formed but deep affection for Louisiana has altered my hypothesis about America's public health crisis. Unlike Asia and Europe, where local cultures survived centuries of turmoil, America is exceptionally open to innovation and expansion, so much that some might argue there is a particular element of monoculture as one goes from state to state. Undeniably, technological advancement in the food industry made our fruit and vegetables taste sweeter and look better. We can now enjoy previously seasonal foods throughout the year. And the chain restaurants we like are "everywhere." While appreciative of this abundance of food and the comfort and consistency that goes with it, we should ask ourselves: While life has been made more convenient, are we living better and healthier? Under my previous theory of the importance of regional cuisine, Louisiana should have been the US's healthiest state. However, health outcomes in Louisiana are ranked 50th among the 50 states by the United Health Foundation.
Women's health is not much different. In the same report, women's health outcomes are ranked 49th in the nation, with above national average rates for a wide range of health concerns: Chlamydia, obesity, diabetes, and maternal mortality. Despite its highly regarded food culture that attracts millions of visitors annually, Louisiana has one of the nation's highest percentages of household food insecurity. Louisiana women are more likely to be diagnosed with diabetes than Louisiana men, whereas nationally, numerous studies show that men are more vulnerable to diabetic risks. We should not neglect this disparity in women's health.
 "To bring change to the world, we have to bring change to ourselves," Iranian political activist Shirin Ebadi said when she received the Nobel Peace Prize in 2003. During International Women's Month, let us begin to act locally to better the health and, therefore, the lives of the women we love, cherish, and depend on. Women have been a strong force in advocating for social change in Louisiana, such as legendary figures Leah Chase, Ruby Bridges, and Oretha Castle Haley. And critically, as Ms. Ebadi indicated, let's make sure our self-care is at the level required to allow us to bring the full force of our immense collective talents to bear on these problems.  
Although the Louisiana chapter of my life had a bit of a rocky start, I am now committed to doing my part to help make this beautiful and unique state healthier for all.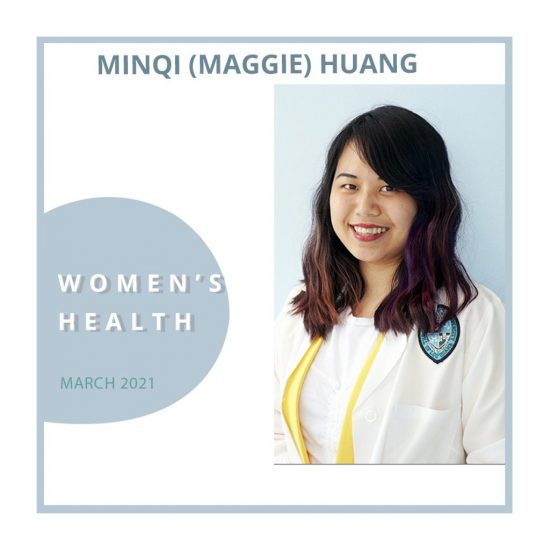 Minqi (Maggie) Huang

Maggie is originally from Guangxi, China. As a fearless adventurer, she came to the US at the age of 16 and graduated from Calvin Christian High School in Grandville, Michigan, then moved to Albany, New York, to complete her undergraduate degree in Human Biology. As a food enthusiast with a drive to discover all the great flavors the world has to offer, she came to New Orleans and attained a Masters in Medical Genetics from Tulane University. Before shifting her focus to medicine, she established and implemented an experiential program for a diverse student population at the University at Albany, developing and maintaining relationships with participants from 10 countries. Maggie is passionate about combining her genetics specialty and her interpersonal skills to help others become healthier. Outside of work, she is involved with several nonprofit organizations to raise public awareness about rare diseases.