WOMEN'S HEALTH BLOG
June 2021
The Heartbeat
of Women
Written by Kimiyo Harris Williams, MD, FAAP
The heart of a woman is her family and friends. This statement is overwhelmingly true for Louisiana women because we are a close-knit community with a deep, robust and rooted culture that bonds us tightly. The characteristic flavor of the Women's Health Section of Loving Louisiana focuses its attention on women and our health. Over the first half of the year, esteemed experts have shared a wealth of knowledge to help equip the resilient women of our beloved state with tools for healthy living.  Thus, we hope that the nuggets shared have been impactful in women's lives all over the magnolia state.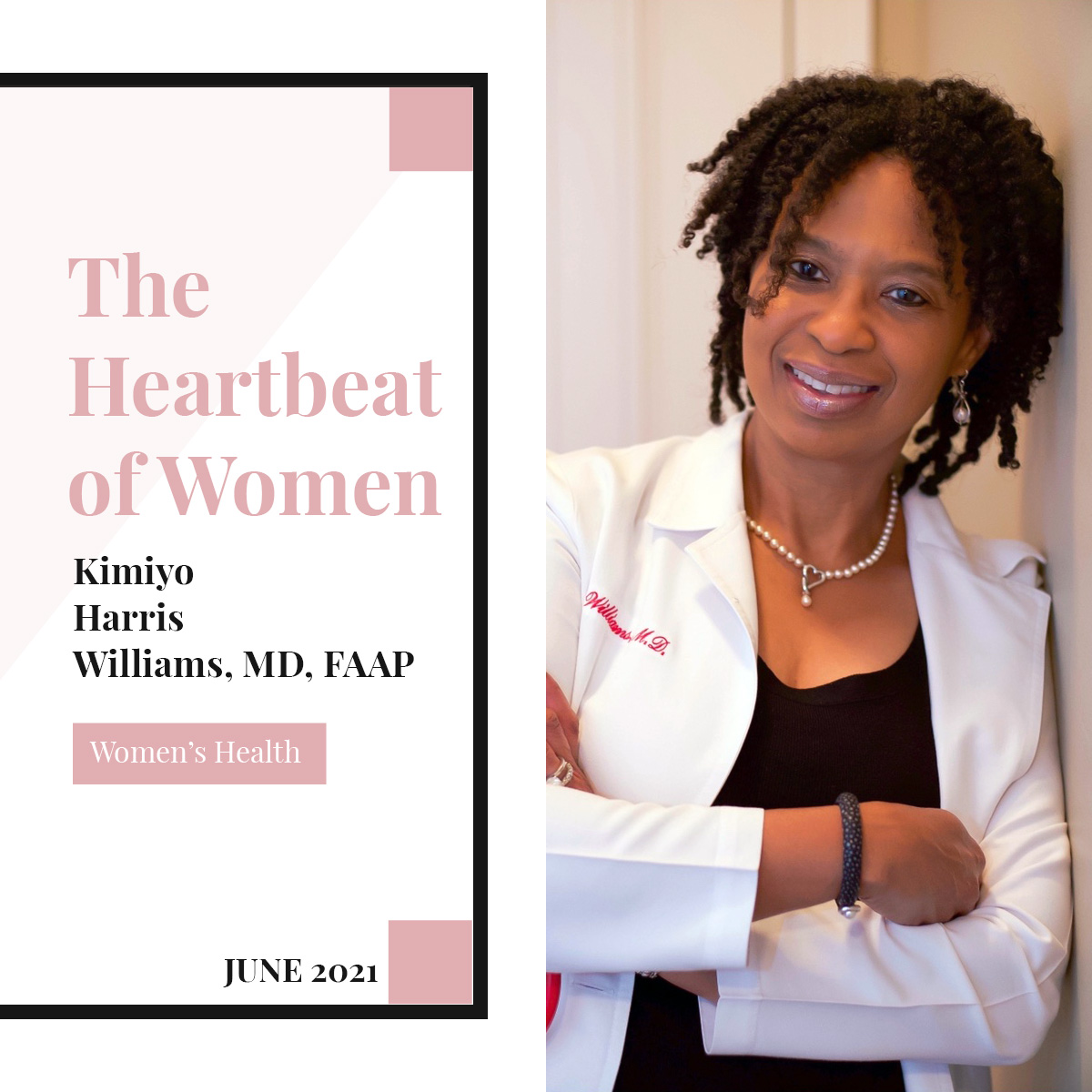 As we journey towards closing out the first half of 2021 and embrace the hope of a bright futuristic walk into part two of 2021, I would like to shine a light on the core influencers on women's health, the people we love. Our family and friends are the heartbeats of our Southern way of life. The connections and relationships are the melodies in our rhythm.  Those we love are a considerable part of our daily lives, being a familiar tune in our ears. Whether it's interacting with our neighbors at the kids' soccer practice and music lessons; school drop-offs; senior's bingo games; Friday night high school football games; Sunday family Saints parties; not to mention very special celebrations like holidays, weddings, graduations, and birthdays, they all, in some way sing an inspiring song to our soul. A leading psychologist at Piedmont Healthcare states that, "the emotional support provided by social ties enhances one's psychological well-being. (1)"
As nurturers, the health and wellness of our family and friends are essential to the compassionate women of Louisiana. Even as we have committed to being intentional about implementing lifestyle changes and practicing healthy habits to improve our overall health, we are just as vested in influencing healthy living for those we love.  Being our sister's keeper is a vital motto we've adapted to encourage the women we love to schedule regular physical exams and mammograms as recommended for age based on individual risk factors.
The guidelines below are from the American Cancer Society for those at average risk for breast cancer.  For screening purposes, a woman is considered to be at average risk if she doesn't have a personal history of breast cancer, a strong family history of breast cancer, or a genetic mutation known to increase the risk of breast cancer (such as in a BRCA gene) and has not had chest radiation therapy before the age of 30.
Women between 40 and 44 have the option to start screening with a mammogram every year.
Women 45 to 54 should get mammograms every year.
Women 55 and older can switch to a mammogram every other year or choose to continue yearly mammograms. Screening should continue as long as a woman is in good health and is expected to live at least ten more years.
All women should understand what to expect when getting a mammogram for breast cancer screening – what the test can and cannot do. Clinical breast exams are not recommended for breast cancer screening among average-risk women at any age. Refer to the American Cancer Society's website for additional information and information about high-risk screening recommendations (2).
As we move to the beat of encouraging our sisters, we must also listen to the sounds of the men in our lives. June is Men's Health Awareness Month, and this is a perfect time for us to encourage our husbands, fathers, sons, brothers, nephews, and cousins to have regular physical exams.  The Mayo Clinic recommends that men older than 50 have a yearly physical exam, and men younger than 50 should have a physical exam every three to five years (3). These regular physical exams can help to keep us dancing into long life with the men we love.
As our journey on the dance floor takes a quick spin into a fast, fun, whimsical song, we take the hand of our children for an exhilarating whirl. Our children's health is essential to our well-being. A mother desires to have healthy, fun-loving children.  When a mom is assured that her children are well, she has a sense of peace. A child's health is multi-factorial, encompassing both mental and physical health.  Encouraging our sister-moms to keep regularly schedule well-visits, recommended immunizations, and mental health checks as per the child's healthcare provider are all critical.  
To find out more, visit the CDC website:
https://www.cdc.gov/vaccines/parents/visit/vaccination-during-COVID-19  (4).
Louisiana women, remember to embrace your heart and the rhythm of your heartbeat by encouraging your family and friends to live healthy as we dance to the sultry jazz swing of a healthy life with those we love.  Music for the soul.
"Self-love is healthy living."
Resources: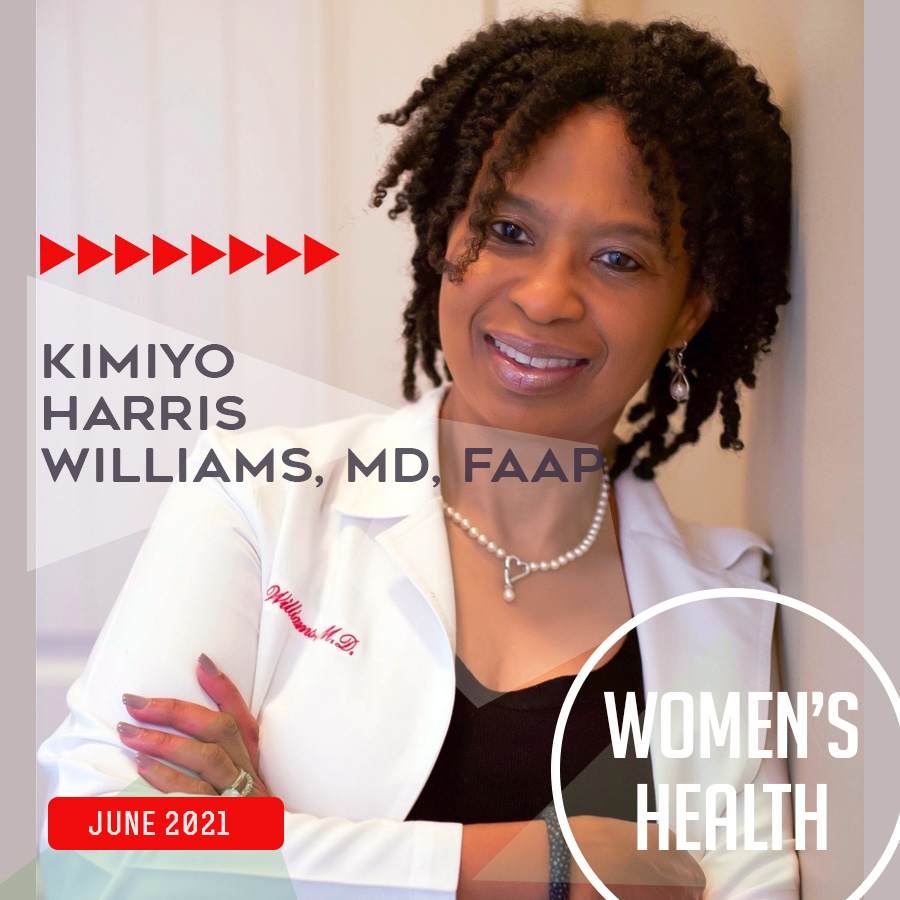 Kimiyo Harris Williams,
MD, FAAP
Kimiyo Harris Williams, MD is board certified by the American Board of Pediatrics and a Fellow of the American Academy of Pediatrics. She is a native of New Orleans, Louisiana. Educating her patients and encouraging healthy habits has been the foundational framework of her practice of medicine. She strongly supports health advocacy and empowers her patients and their parents to be intentional regarding their health and wellness. She graduated cum laude from Xavier University of LA, receiving a Bachelor of Science degree in Biology/Pre-Medicine. Upon completion of her studies at Xavier University, she embarked upon a career in research in the department of Pulmonary Critical Care at Louisiana State University School of Medicine. Her desire to transition her career to clinical medicine led her to pursue a Doctor of Medicine degree. She received her Doctor of Medicine degree from Louisiana State University School of Medicine, New Orleans and completed her pediatric residency training at Children's Hospital in New Orleans and LSU Health Sciences Center Pediatric Residency Program. Dr. Williams' career includes both academic and clinical medicine over the past 20 plus years. Dr. Williams is the President of K.H. Williams Enterprises, INC., an executive health entity focused on health advocacy, clinical practice, and medical consulting. She has been affiliated with the Delta Research and Educational Foundation Research Matters for All of Us Initiative funded by the National Institutes of Health (NIH) All of Us Research Program since 2018; serves as Co-Chair of the Louisiana Regional All of Us Advisory Board and a medical expert consultant for other organizations funded by the NIH All of Us Research Program. In 2020, she was appointed in a volunteer role as a Public Health Equity Ambassador by the Louisiana Department of Health. She was the inaugural author of the Women's Health Section in First Lady, Donna Edwards' Louisiana First Foundation's (LFF) monthly blog, a featured author of several additional articles and currently serves as its Women's Health Editor. Dr. Williams was honored to present the keynote address at the "Louisiana Women's Day and Retreat" event held at the Louisiana State Capitol in the Governor's Press Conference Room in May of 2018. In May 2020, Dr. Williams served as a guest speaker and panelist for National Women's Health Week "More Power: Women at the Polls and in Policy" Women's Day Webinar. She has been a guest speaker and panelist at numerous meetings throughout the years.
Personally, Dr. Williams cherishes being a wife, mother of two sons, bonus mother of three and grandmother of four.
You can connect with Dr. Kimiyo Williams via email at kwilliams@khwilliamsenterprises.net.