WOMEN'S HEALTH BLOG
July 2022
Doctor's Orders:
Self-Care

Written by
Kimiyo Harris Williams. M.D., FAAP
Driving home after a long 12-hour day, I reflect on the brilliant innocence of the beautiful newborn baby boy and the 11-year-old asthmatic little girl I admitted to the hospital due to a severe asthma exacerbation. Not to mention, the unfortunate 26-day-old baby girl with fever and irritability requiring hospital admission and all the patients seen in between. It has been a full day, and as I arrive home, I am reminded about everything that makes life great: a wonderful career, family, and friends. I smile and thank God as I exit my car and walk into the house. Quickly scanning my mind about all the boxes I must check on my "To Do" list, I remember my motto, "Self-care is healthy living."
As women, we wear many hats and hold several roles. However, we must continue to include self-care on our agenda.  Self-care can be elaborate like a full day at the spa, simple like a bubble bath, or a combination of both. Let this article be a sisterly reminder to my Lovely Louisiana Sisters to be intentional with self-care because it significantly impacts our mental health.  Here are some tips from the National Institute of Mental Health on how to get started with practicing self-care:
Get regular exercise. Just 30 minutes of walking every day can help boost your mood and improve your health. Small amounts of exercise add up, so don't be discouraged if you can't do 30 minutes at once.
Eat healthy, regular meals and stay hydrated. A balanced diet and plenty of water can improve your energy and focus throughout the day. Also, limit caffeinated beverages such as soft drinks or coffee.
Make sleep a priority. Stick to a schedule, and make sure you're getting enough sleep. Blue light from devices and screens can make it harder to fall asleep, so reduce blue light exposure from your phone or computer before bedtime.
Try a relaxing activity. Explore relaxation or wellness programs or apps, which may incorporate meditation, muscle relaxation, or breathing exercises. Schedule regular times for these and other healthy activities you enjoy, such as journaling.
Set goals and priorities. Decide what must get done now and what can wait. Learn to say "no" to new tasks if you start to feel like you're taking on too much. Try to be mindful of what you have accomplished at the end of the day, not what you have been unable to do.
Practice gratitude. Remind yourself daily of things you are grateful for. Be specific. Write them down at night or replay them in your mind.
Focus on positivity. Identify and challenge your negative and unhelpful thoughts.
Stay connected. Reach out to your friends or family members who can provide emotional support and practical help.
Self-care is essential for both physical and mental well-being.  I recommend being intentional with caring for yourself.   Doctor's Orders!!!
Resource:
https://www.nimh.nih.gov/health/topics/caring-for-your-mental-health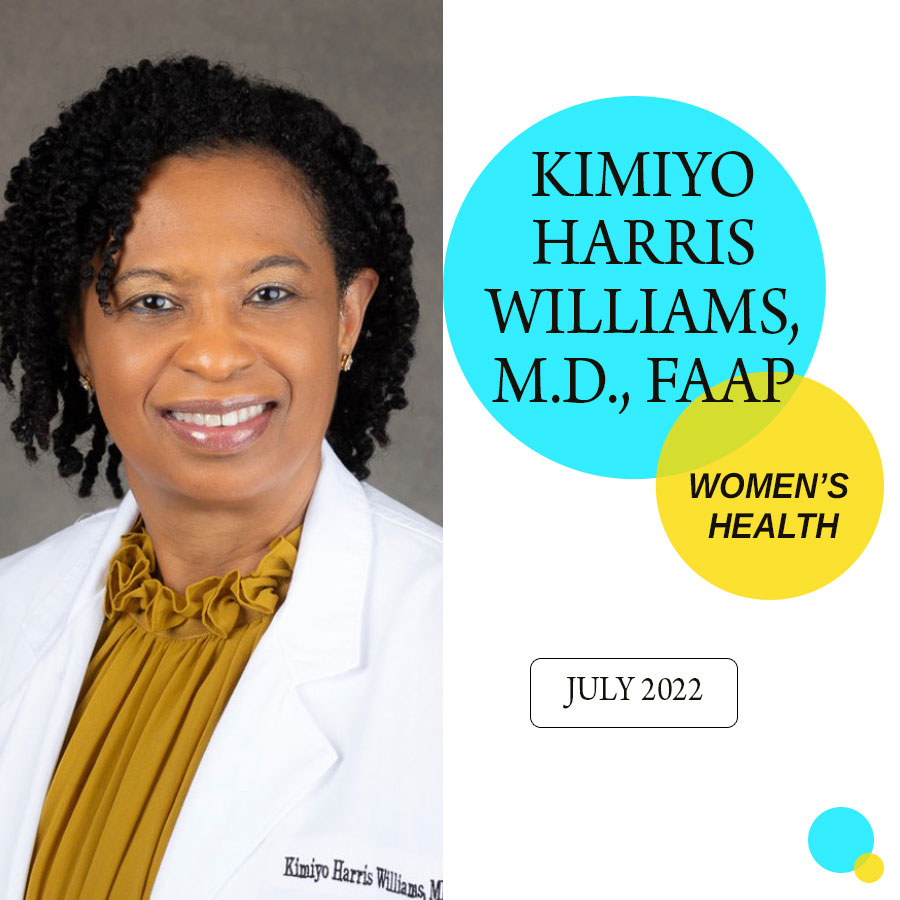 About Kimiyo Harris Williams,
MD, FAAP
Kimiyo Harris Williams, MD, is board certified by the American Board of Pediatrics and a Fellow of the American Academy of Pediatrics. Educating her patients and encouraging healthy habits has been the foundational framework of her practice of medicine. She strongly supports health advocacy and empowers her patients and their parents to be intentional regarding their health and wellness. She graduated cum laude from Xavier University of LA, receiving a Bachelor of Science degree in Biology/Pre-Medicine. Upon completing her studies at Xavier University, she began a career in research in the department of Pulmonary Critical Care at Louisiana State University School of Medicine. She received her Doctor of Medicine degree from Louisiana State University School of Medicine, New Orleans. She completed her pediatric residency training at Children's Hospital in New Orleans and LSU Health Sciences Center Pediatric Residency Program.  Dr. Williams' career includes academic medicine as an Associate Professor in the Department of Family Medicine at Mercer School of Medicine in Macon, Georgia, and Faculty in the Family Practice Residency Program at Phoebe Putney Memorial Hospital in Albany, Georgia. She has been a partner in an extensive pediatric practice and later established, owned, and operated her own private pediatric medical practice, Audubon Pediatrics LLC, for over 15 years. Dr. Williams has practiced medicine for over 23 years and is licensed to practice medicine in Louisiana and California.  
Dr. Williams is the President & CEO of K.H. Williams Enterprises, INC., an executive health entity focused on health advocacy and medical consulting. Her corporation is currently servicing the Delta Research and Educational Foundation Research Matters for All of Us Initiative, LSU Health Science Center NIH All of Us Healthcare Provider Organization, and W. Montage Cobb/ NMA Health Institute (The Cobb Institute) Stay Well. We Can Do This Campaign collaborates with the US Department of Health and Hospitals.
Dr. Williams serves as the Co-Chair of the Louisiana Regional All of Us Advisory Board.
She is currently a staff physician with South Louisiana Medical Associates (SLMA) at Leonard Chabert Medical Center Ochsner Health in the Department of Pediatrics, where she provides both outpatient and inpatient personal and professional pediatric care for her patients in southeast Louisiana. Dr. Williams is also licensed to supervise Physician Assistants in the SLMA Pediatric group.
Dr. Williams also volunteers with the Louisiana Department of Health as a Health Promotion Ambassador. She was the inaugural author of the Women's Health Section in First Lady, Donna Edwards' Louisiana First Foundation's (LFF) Loving Louisiana monthly blog, and has been a featured author of several additional articles. She currently serves as the Women's Health editor for Loving Louisiana. She has been the guest speaker and panelist, sharing her expertise at numerous meetings.
Dr. Williams is a fierce advocate for women and children and has worked closely with organizations to change policies that could improve health outcomes for women and children. Dr. Williams and her husband are the founders of
Community of Love is a 501c3 non-profit organization focused on cultivating leaders and building healthy communities of love.
She is a native of New Orleans, Louisiana. Dr. Williams cherishes being a wife, mother of two sons, bonus mother of three, and grandmother of four. Taking time to embrace and cultivate personal and professional relationships inspires and ignites a flame of life in her spirit. Serving the community personifies her passion.     
Her personal mission is "Embracing Community with Compassion to Elevate Purpose."