WOMEN'S HEALTH BLOG
December 2020
Love, Life, and Healthy Choices
as We Navigate the Holidays
Written by Kimiyo Harris Williams, MD, FAAP
Lately, navigating unfamiliar territory is consuming me; once seemingly mundane deeds have become potentially life-changing decisions. As a medical mom, I find myself strategically planning grocery shopping—usually an unconscious box to check on my to-do list. As a healthcare provider, I am highly selective regarding the types of doctor appointments I schedule for my family and have steered more in the direction of tele-medicine visits since the outbreak of COVID-19. Complicating this journey is the turbulence of determining whether I should attend family gatherings amid a pandemic. Working from home and homeschooling, my two sons add an elevated stress level to piloting this ship.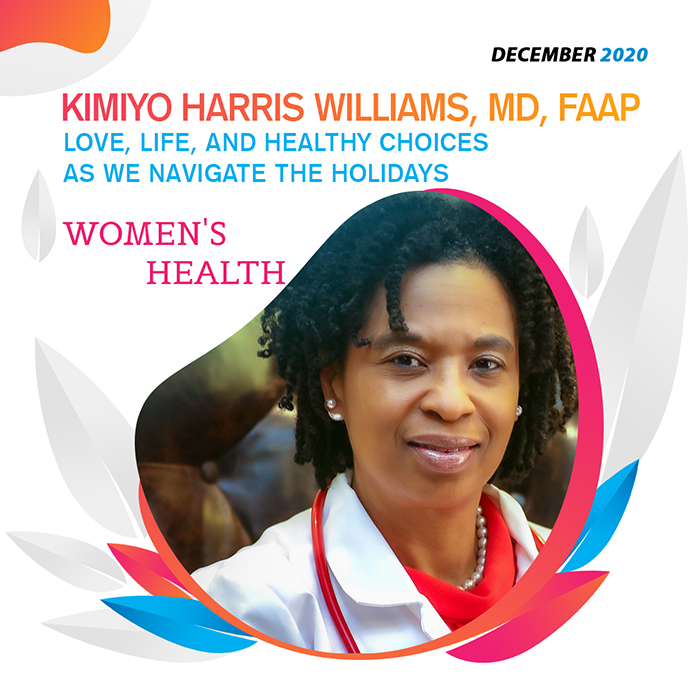 As I travel today's deep tumultuous waters, I try to keep my focus slow, steady, and straightforward. This focus has kept me afloat while steering uncharted waters. Keeping my eye on the map, my hand on the wheel, and my heart connected with those I love has allowed me to cut through choppy seas in search of calmer waters. I hope that sharing my plan for safe passage will empower my Louisiana sisters to take on the waves and equip them to ride safely to a land of wellness and peace.
My plan centers around spending time in meditation with God and listening to His voice for direction without distraction. This direction is the map upon which I fix my eyes when planning my path. It leads me to be intentional regarding self-care. Acknowledging my needs and feelings are essential in securing emotional wellness. I recognize changes in my body, keep up with annual screenings while taking appropriate safety precautions, and schedule tele-medicine doctor's appointments when applicable are all in my safe-passage plan for wellness. Investing in these ways into my spiritual, emotional, and physical health is grounding and rejuvenating. Investing in my Sisters' health is an equally vital act.
With December being one of the most festive months in the United States, I want to remind my sisters to make healthy choices during this unconventional holiday season. During this time, more than ever, preparation is a crucial component to creating an environment for a safe and joyful holiday celebration. As they relate to a gathering during the holidays, the current CDC guidelines are where we should start. Becoming familiar with and making the recommended adjustments to our holiday celebration will decrease the spread of COVID-19.  Abiding by these guidelines can more effectively keep our loved ones and community safe and healthy. These CDC guidelines supplement state and local health and safety laws, rules, and regulations with which all gatherings must comply.
In addition to complying with these guidelines, I encourage my sisters to make healthy choices when planning holiday menus, preparing meals, and dishing those delicious meals onto our plates. With COVID-19 affecting those with underlying conditions more severely, especially in communities of color, we must stay vigilant regarding our health. Some ways to exercise this vigilance include taking medication as prescribed by our healthcare providers, making healthy nutrition choices, and increasing physical activity.
Here are a few "healthy choice" tips:
Indulge in healthful options: Fruits and vegetables; Whole grains; Beans and legumes; nuts and seeds; Fish, skinless poultry, and plant-based alternatives; Fat-free and low-fat dairy products; Healthier fats and non-tropical oils
Say "no, thanks" to harmful ingredients: Sodium and salty or highly processed foods; Saturated fat; Sweets and added sugars, including sugar-sweetened beverages
Pack in healthy flavors! Instead of salt or butter, use herbs and spices—such as rosemary and thyme, or smoked paprika and cumin—to flavor dishes.
Drink more water and less sugar. Many holiday beverages have so much added sugar—consider drinking half a glass instead of a full glass. Drink plenty of water throughout the day.
Eat reasonable portions. Remember, a serving size of meat is 3oz, or about the size of a deck of cards. Cut the calories in half by splitting dessert with someone in your household (follow all safety precautions, of course).
Keep it moving. Go for a walk or run. Move around and stretch during family board games or between holiday movies. Consume only as many calories as you use up through physical activity.
Keep your peace: Rest, Relax, Recharge. Get 7-9 hours of sleep each night. Try meditation, reading, or yoga. Continue your fitness schedule. Commit to self-care.
You can find these and more recommendations on the American Heart Association's website.
We need to continue to be proactive and intentional as we navigate these uncertain waters, even during the holiday season. Focusing on our spirits, minds, and bodies will not only equip us to tackle storms with courage and confidence—it fuels hope and fosters strength to keep steering the wheel while maintaining a sense of peace and gratitude for the year we have made it through. As we continue on this unknown path over rough waters, with its unexpected turns and obstacles, we may embrace the crisp, clear autumn air as it transitions into the cold breeze of winter—drifting over the waves as a representation of love and life leading to the New Year.
The sunshine reflecting off blue water; fall colors of bright orange, bronzy brown, and pale green at the distant shore; the sound of leaves in the cool breeze—indeed, there is much for which to be thankful. And I am exceedingly thankful to be able to serve as my Sister's Keeper.
"Self-love is healthy living."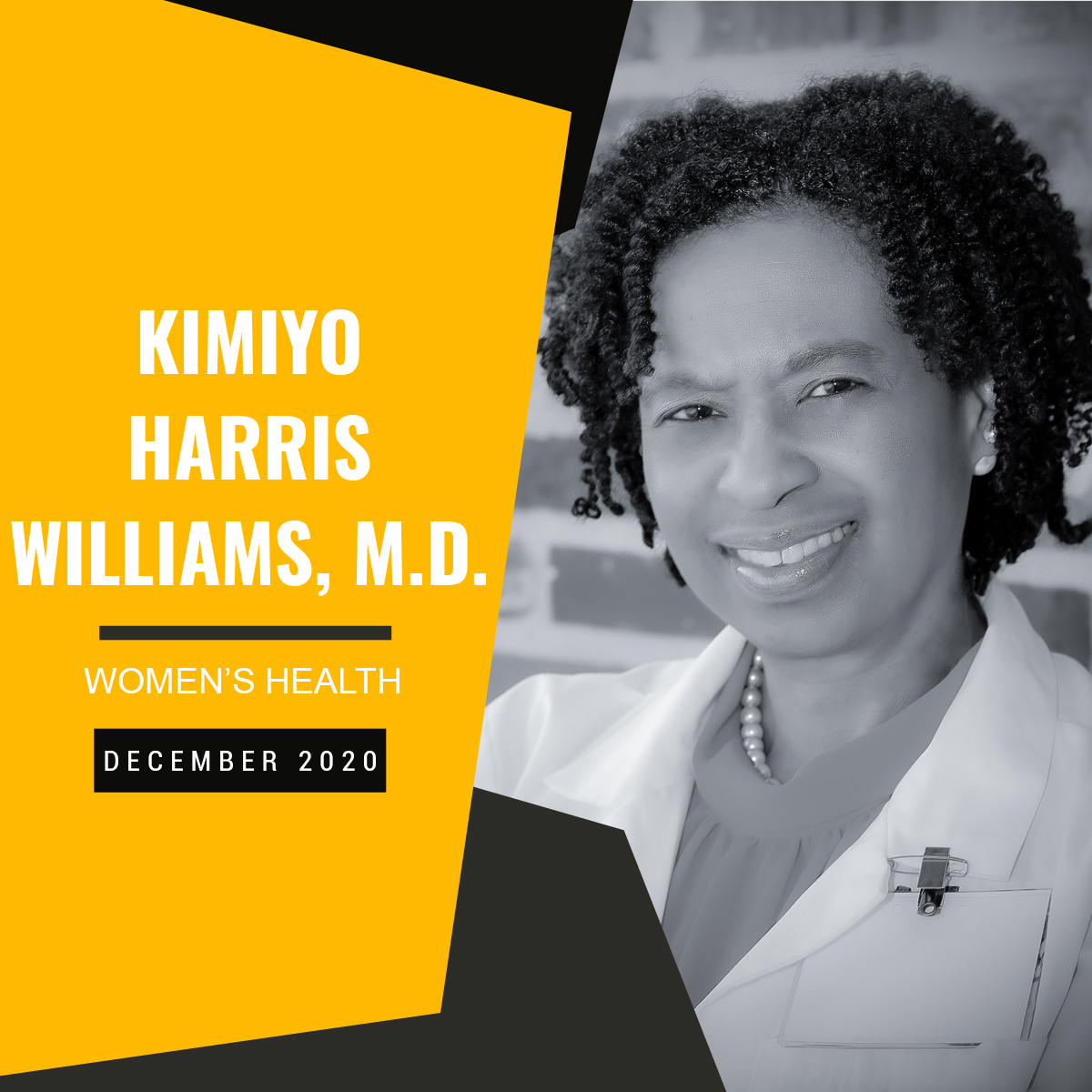 Kimiyo Harris Williams, M.D.
Kimiyo Harris Williams, M.D. is board certified by the American Board of Pediatrics and a Fellow of the American Academy of Pediatrics. She is a native of New Orleans, Louisiana. Educating her patients and encouraging healthy habits has been the foundational framework of her practice of medicine. She strongly supports health advocacy and empowers her patients and their parents to be intentional regarding their health and wellness. She received her Bachelor of Science degree in Biology/Pre-Medicine from Xavier University of LA. She received her Doctor of Medicine degree from Louisiana State University School of Medicine, New Orleans and completed her pediatric residency training at Children's Hospital in New Orleans and LSU Health Sciences Center Pediatric Residency Program. Dr. Williams' career includes both academic and clinical medicine over the past 20 years. She serves as the President and CEO of K. H. Williams Enterprises, Inc. which is an Executive Health Entity focused on health advocacy, medical practice, and medical consulting.