WOMEN'S HEALTH BLOG
August 2022
Put Yourself on the Schedule

Written by
D'Wan J. Carpenter, DO, MS
Almost a year ago, I faced a significant health issue. Just days after Hurricane Ida hit our area, I developed high fevers. Naturally, I assumed I had come down with coronavirus 19; however, evaluation at the hospital proved I had a severe skin infection. If left untreated, a skin infection that could result in serious hospitalization or, worse, even death.
I started having symptoms a couple of weeks earlier and had not taken the signs too seriously. After all, I was a very busy physician, wife, and mom of four. Who had time to go to the doctor with my busy schedule?
So, I continued my routine despite severe pain, doing everything as usual while taking over-the-counter pain relievers to get through the day's tasks. I should mention during this same time my husband was recovering from his own coronavirus illness, and I was juggling all four kids being home from school.
There is a saying, "you can't pour from an empty cup," and I will add that you can't heal from an empty cup either.
As a physician specializing in Physical Medicine and Rehabilitation, my goals for my patients include restoring their overall function, decreasing pain, and increasing quality of life. However, what I find most with the majority of women patients I care for is, just like me, their primary focus is on everyone else's health, wellness, and overall function before their own.
Women are often the drivers of health care for our families, but we must also ensure that we include ourselves in the care.
Make sure to:
Schedule yearly physical examinations
Stay current with recommended screenings for mammograms, Pap smears, and colonoscopy, as indicated by medical history
Continue taking medications unless discontinued by a physician
Contact your physician immediately if you believe you are reacting to your medication
When new symptoms begin, contact your physician's office for guidance if you're unsure if treatment is indicated
Don't dismiss your signs and symptoms – many medical conditions can present differently in women
Remember, your health is just as important as the family members you often care for. So, don't neglect yourself or your health. You are worth it!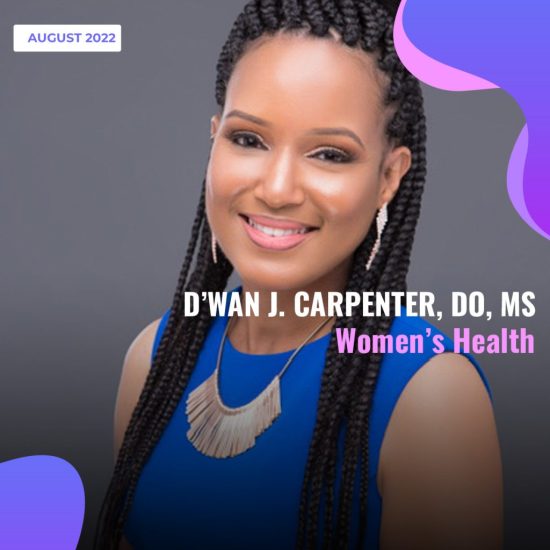 About D'Wan J. Carpenter, DO, MS
Dr. D'Wan J. Carpenter, D.O. is a dually board-certified Physical Medicine and Rehabilitation physician, speaker, and disability expert.  Dr. D'Wan earned her Doctor of Osteopathic Medicine degree from Rowan School of Osteopathic Medicine (formerly University of Medicine and Dentistry of New Jersey School of Osteopathic Medicine). In addition to her osteopathic medical degree, Dr. D'Wan also holds a Master of Science in Anatomy.
Dr. D'Wan is also a wife, mother of 4 including fraternal twin girls, founder of Twin Mom ChroniclesTM and the host of Twin Moms ThrivingTM podcast with Dr. Dee. She helps busy professional twin moms create the time they need and desire without guilt and overwhelm so they can be more productive and finally prioritize themselves. In her spare time, she enjoys traveling, the arts, reading, and fashion.