WOMEN'S HEALTH BLOG
August 2020
The "Boss"
The Elder Southern Lady, COVID-19,
and an inability to Socialize
Written by Ouida Collins, MD MPH
This year has been a rollercoaster of challenges for us all.  It has been more than an exercise of adaptation, resiliency, compassion, and temperance.  Those of us born and raised in the south often look to our elders for advice on how to "weather a storm".  They have survived everything that should have killed them, and outlived most of the people that may have tried to kill them. They are the strong towers of our community and deserve honor and the utmost respect.
Here we are in the midst of a Pandemic and the Elder Southern Lady is missing out on church, teas, festivals, family reunions, and the opportunity to celebrate the life of a loved one's passing in a traditional manner. She is unable to protect and provide the usual amount of wisdom and guidance for which she has come to be known.  Unable to provide a kiss on the cheek, a hug, or sit and hold your hand.  COVID-19 not only has interrupted our daily lifestyle, but in fact, is interrupting our culture.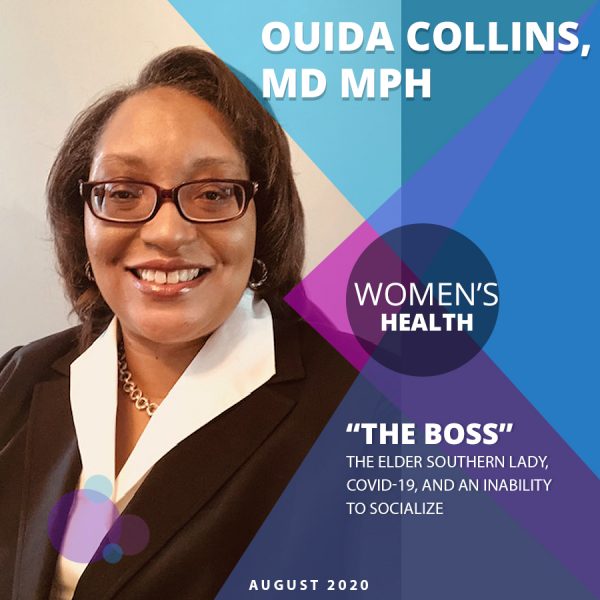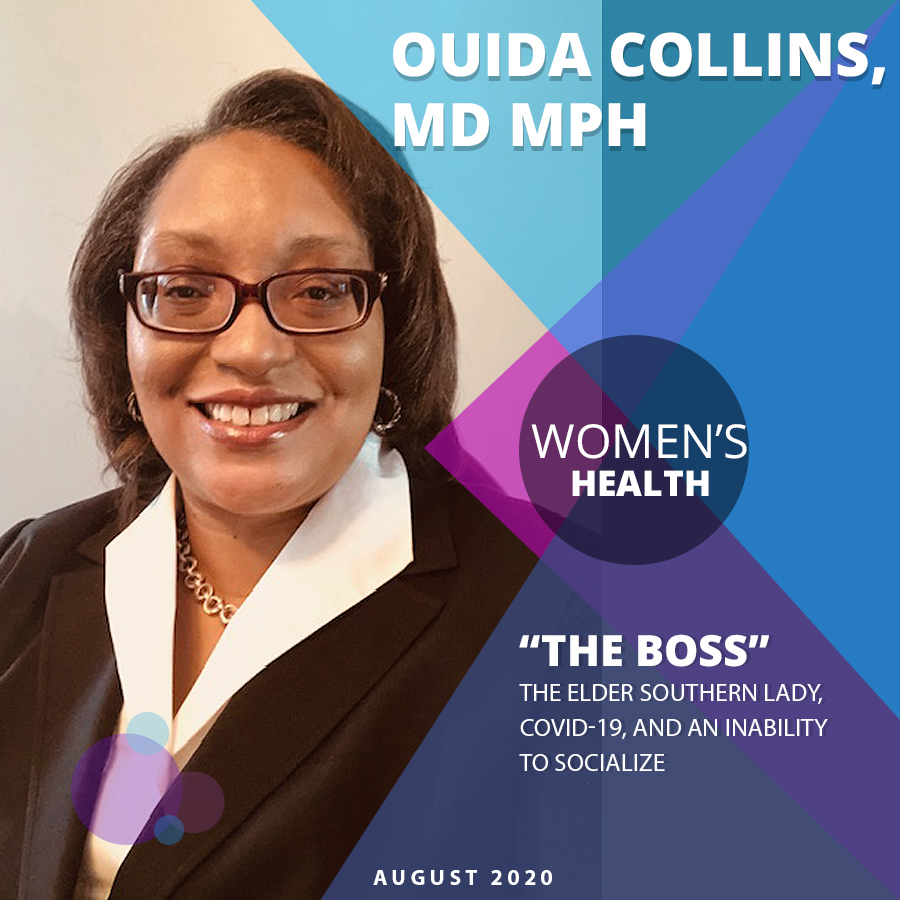 Have you checked on her? Yes, she states that she is doing ok but she lost her husband to this illness.  Have you checked on her? You know that she lives alone and doesn't have family or children close by.  Have you checked on her? She looks forward to every Grand Sorority or Social Club event but they have been canceled or are virtual this year.  Have you checked on her? Have you asked her if she is having trouble sleeping or experiencing a change in appetite? Have you noticed that she is not as responsive or doesn't have the same cheer in her voice?  Have you checked on her?
My family had to reassess our roles and strategies to make sure that we checked on our 91-year-old matriarch. She was beginning to show signs of depression and despair.  She had stopped taking her medications.  She was worried about her daughter that was hospitalized with COVID-19.  She was worried about me working as a frontline physician at a hospital in New Orleans. We (her family) made a schedule for calls, food delivery, and mental health follow up. Although there were family members that lived close by that generally did these tasks, they were ill with COVID-19.  Fortunately, she is responding well to the extra care. We laughed last week as one of my cousins reported that "Gran Gran" has figured out the schedule.  "Gran Gran" called her early one morning stating that she would like to have a breakfast sandwich and some donuts. Yes, it was meal delivery day. We also have a sanitation station at her front door that includes masks, hand sanitizer, wipes, disinfectant spray, gloves, and flip flops. All shoes are left outside. Another family has started weekly drive-by with the grandkids. They stop and visit while the grandparents sit on the porch and kids play in the yard.  No, it's not the same. No, it doesn't replace physical contact. During this season we also have to take care of our mental health. We have to admit when we need help and we can't turn a blind eye when we notice that someone is in crisis.
The resilience and strength of the Southern Elder Lady is phenomenal; but, let's not characterize her as being superhuman.  Have you checked on her?
Have A Healthy Day,
Ouida Collins, MD MPH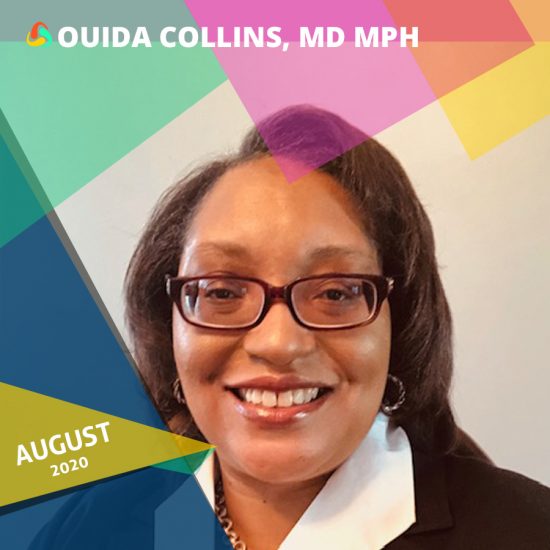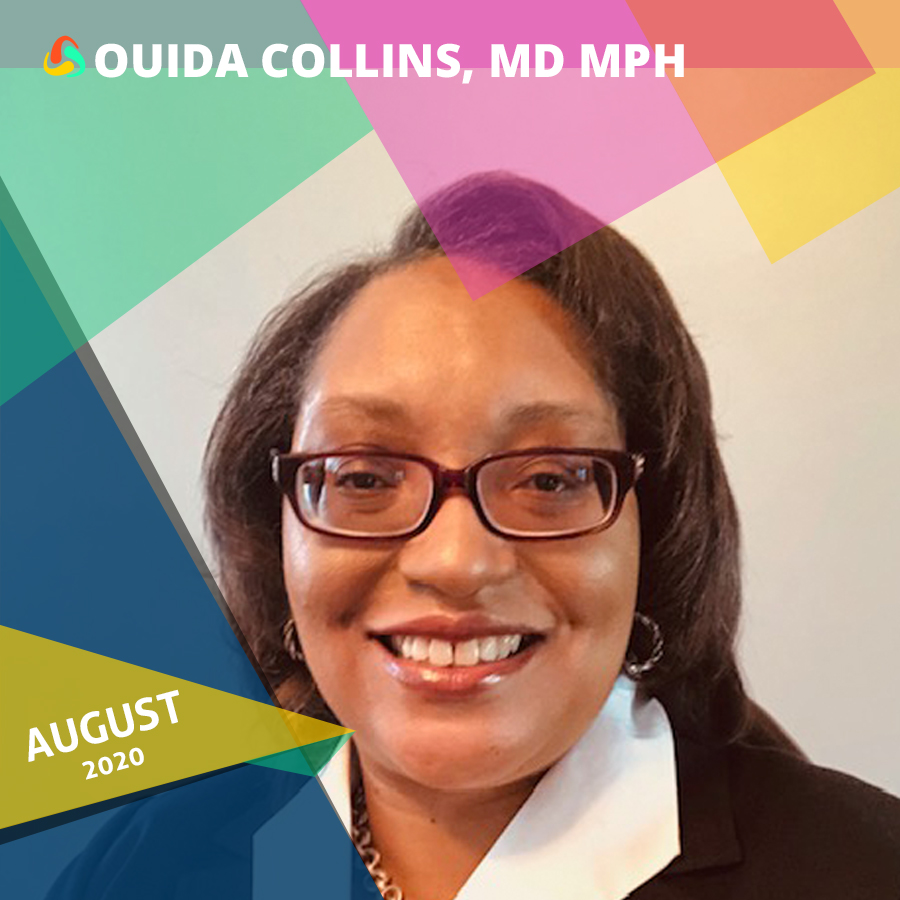 Ouida Collins, MD MPH
Ouida Collins is a board-certified physician by the American Board of Family Medicine. She also has a master's degree in public health (MPH) with a focus on community health and administration. Dr. Collins completed her Bachelor of Science Degree in Biology/PreMed at Xavier University of Louisiana in New Orleans. Later she completed her residency with the Louisiana State University Family Practice Residency Program in Lake Charles, LA. Ouida Collins, MD MPH works primarily as a hospitalist physician and has been working on the frontlines of the COVID-19 pandemic at a local New Orleans hospital. She continues to actively practice medicine in Louisiana and Tennessee. Dr. Collins also serves on the International Health Commission of the AME Church. She is currently co-chair of the collaboration team between the AME church and the Alzheimer's Association. This effort is working to improve access to community resources, dementia care, and dementia research in the African American Community. Ouida is a lover of life. She enjoys saltwater fishing, traveling, and making Facebook live culinary videos on special occasions.