Martin Brignac:
Governor's Mansion Carpenter
and Artist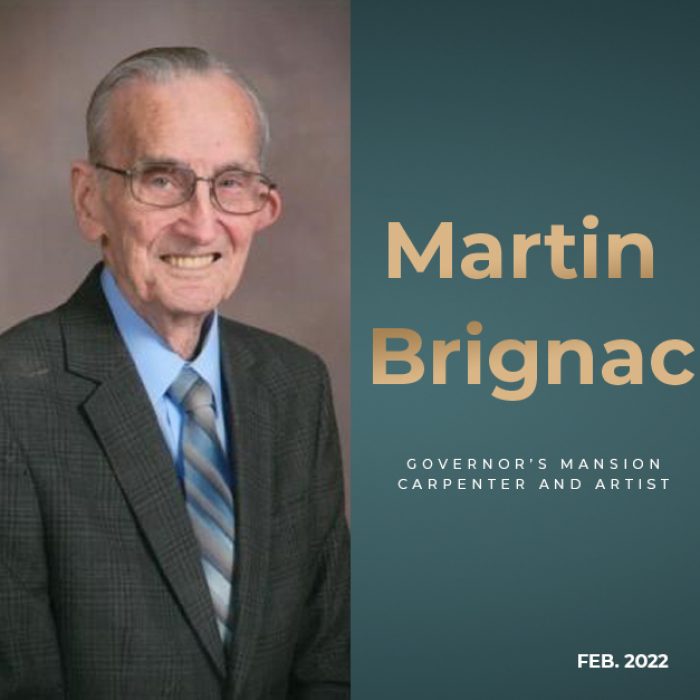 Martin Brignac


In 1963, during the administration of Governor Jimmie Davis, the new Governor's Mansion was built. The inspiration for the exterior design was Oak Alley Plantation in Vacherie, Louisiana. During the build-out, a gentleman named Martin Brignac worked on the three E Bay windows famously seen in the Governor's office, Breakfast room, and Capitol Suite located on the 1st and 2nd floors of the Mansion.
He was most recently known as an octogenarian local artist that created 3D art and was even acknowledged at the Governor's Mansion during the Changing of the Arts for the Tricentennial of New Orleans.
Martin Albert Brignac Sr., a native of Lutcher, LA, and resident of Baton Rouge, LA, passed away on Sunday, April 7, 2019, at his home with his family at his side, at the age of 97.
The Governor's Mansion will never forget Mr. Brignac and the hard work he dedicated to building the State's home.
If you would like to help preserve the Governor's Mansion, please visit our store to purchase one of our unique gifts!
https://louisianafirstfoundation.com/governors-mansion-preservation-foundation-store/