Teach MAM: An Exciting Partnership to Strengthen Arts Education Across Louisiana
Teach MAM Certification Pilot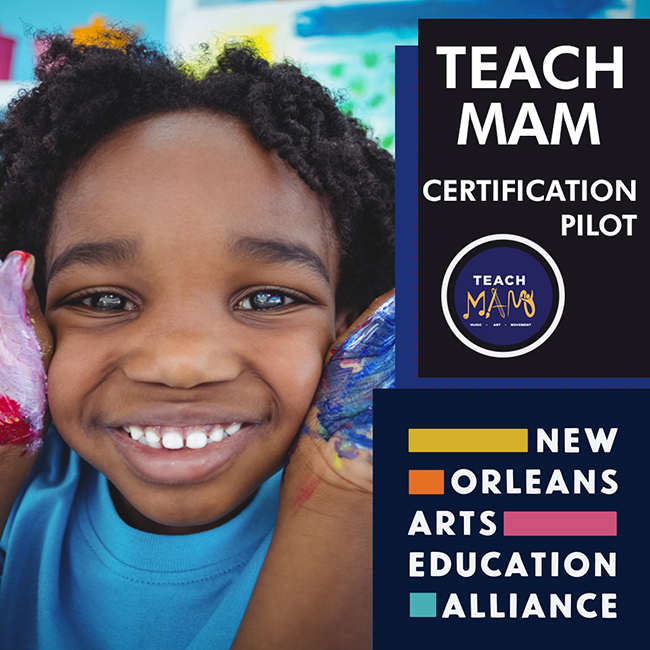 The Teach MAM Certification Pilot wrapped up in August, and we are planning our statewide rollout later this year! During our pilot phase, the New Orleans Arts Education Alliance collected data from 14 schools in 4 diverse parishes across the state – Natchitoches, Orleans, Tangipahoa and Lafayette Parish. Each school nominated a MAM Liaison – a key staff member to participate in a survey and interview cycle about strengths, areas for growth, and upcoming need areas for music, arts and movement in their school and parish. Major findings included:
MAM programming benefits from strong support at the district level. Parishes with strong district-level support experienced more strength and growth in their MAM programs. Central district offices should appoint at least one key staff member to coordinate enrichment opportunities across schools.
Movement was the most commonly offered programming, with 71% of schools offering the state-mandated 150 minutes or more per week, followed by Music and Arts, with 47% of schools offering the state-mandated 60 minutes or more per week in each area.
The three highest need areas statewide for MAM programming were: funding (79% of schools in need), professional development (57% of schools in need), and adequate instructional time (50% of schools in need.) Schools also expressed a need for more community partners and qualified teachers.
These findings (and more) will be released in a comprehensive report this month. We will also develop a plan from our pilot findings to roll out Teach MAM resources across the state this year, concentrating on local funding support, professional development, and instructional planning support. Our goal is to ensure all schools have what they need to provide music, arts and movement to all students in Louisiana.