Teach MAM: An Exciting Partnership to Strengthen Arts Education Across Louisiana
Teach MAM
First Lady Donna Edwards and NOCCA Host A Louisiana Jazz Masterclass at the Governor's Mansion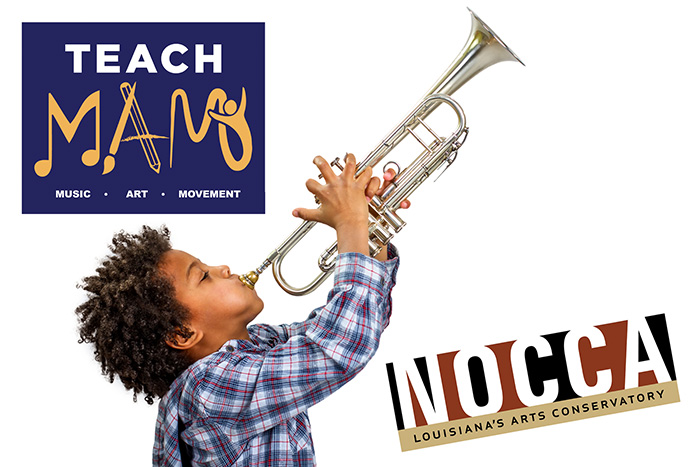 Each one of us has our own unique voice. Many times, we don\'t want to allow ourselves to hear it, but we know it is there. What if we could see the process of working together to create something beautiful in a special moment. Think about how music is created and performed, it takes a collaboration of artists to make a symphony, but without one instrument, it is not the same.
Luckily, we live in a state that is very rich in cultural resources. Music and art are all around us, even within our own families. We are able to open a window and listen to our neighbors playing music and even singing. Louisiana music makes us who we are and the arts in our towns and cities enhance our lives each day.
We are forever thankful, for the arts and art education in the lives of the youth of Louisiana. To celebrate, this March begins a special series as Louisiana\'s arts conservatory for high school students, NOCCA, New Orleans Center for Creative Arts, brings to us a Jazz Instrumental Masterclass. A talented group of teachers (including Wendell Brunious, Michael Pellera, and Khari Allen Lee) NOCCA alumni (including Miles Labat and Jason Weaver) and current students traveled to the Louisiana Governor's Mansion to show what happens each day in NOCCA\'s classrooms with an instructional performance class. This Jazz Ensemble illustrated the importance of being a proficient, well-educated and literate musician. Scales, chord vocabulary, and fundamental stylistic elements were taught during this class with a curriculum focused on problem solving, listening and working together to accomplish a goal.
During the school year, NOCCA offers students from across the state tuition-free arts instruction in Culinary Arts, Creative Writing, Dance, Media Arts (Filmmaking and Audio Production), Music, Theatre Arts, Visual Arts, and academics. NOCCA was created to bring together the best teaching artists and talented students in the arts to help raise the bar in educational standards and expectations.
This masterclass, this look into the process of teaching through the arts, is just the beginning. The spotlight will continue on other art forms, such as musical theatre because it is not simply about the performance but looking and learning from the steps of preparation through dialogue.
Remember, each one of us has our own voice, and we should always celebrate it.