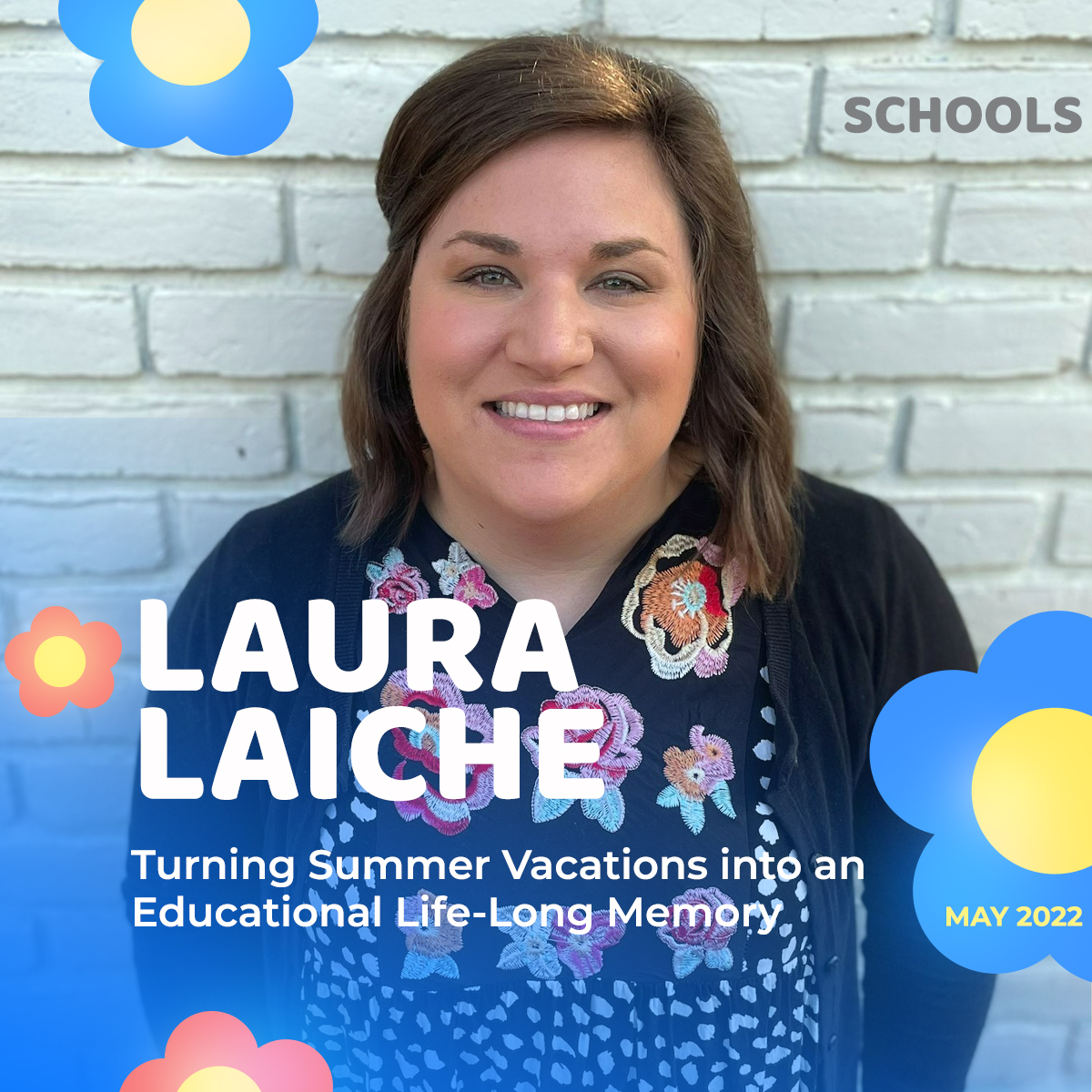 2021-22 Milken Educator Award recipient
East Feliciana Public Schools
Slaughter Elementary School
English Language Arts
3rd Grade Teacher 
Turning Summer Vacations into an
Educational Life-Long Memory
by  Laura Laiche

With summer quickly approaching us, most families will be heading out on some type of adventure. Since the pandemic, it has been the first school year where kids have been to school the entire year! So much learning has happened in schools across Louisiana this year, so how do parents keep the learning alive during June and July so the dreaded "summer slide" doesn't happen?
When I think back to my childhood, this idea comes naturally for me. My family and I constantly took road trips to the Florida beaches. Once we hit the road, my job immediately became the "speed limit, sign reader". Through math skills, I was able to determine whether we were traveling greater or less than the current speed limit… and I was sure to let my parents know. We also played the 'alphabet game'; you know, the one where you have a letter and must find a billboard or sign that starts with that letter? When I think back to these times, the memories are ingrained into my brain. Not because I was "learning" on vacation, but my mom made it fun!
As a teacher and a lover of traveling, I have realized that travel is the best education anyone can have. Combining family time, life experiences, and adventure into one beautiful package will make lasting memories for kids and parents alike.
So how do you make this happen? How do you stop the summer slide and not overwhelm yourself or your kids on a summer vacation? Let's start from the beginning of the trip:
THE PLANNING: You know where you want to go; a map app will likely tell you the quickest way to get there. But I am here to challenge you to buy a paper map! Yes, a paper map! Sit down with your kids and show them where you are leaving from and going to. Point out the major interstates, significant cities, National Parks, etc. Have them look at the map to determine if you are headed north, south, east, or west. As a family, work together to determine what YOU think the best route is!
ON THE ROAD: Stop at ALL the state rest areas. Yes, every single one of them! They are full of informational brochures! Let your kids pick out a handful to look at in the car. They can read aloud facts about the places they've picked up in their brochures. This can spark lots of conversations. Is it a place you want to go to in the future? One you can stop at and make memories this time? Did you learn a new fact?
Hit all the National Parks, National Monuments, etc., on the way to your vacation. There are 423 national sites throughout the United States you can visit as a family. The excitement I get when I pass through the gates of one of these sites is astounding! If your family loves history, geography, or animals, you're guaranteed to have an amazing time full of learning! They can even earn their Junior Ranger badge!
ON VACATION: If you are hitting the beach like we used to do, there's so much sea-life kids can explore. Maybe there is a future marine biologist in your family? If you are hitting a theme park, there could be a future engineer in your family! Those roller coasters sure are steep! But what if you are staying home? Make an educational vacation out of that! Help your child learn about the flowers in your flower beds, the different birds that come to the bird feeders, and paying the summer bills.
ON THE WAY HOME: Here's the best part! I bet I know how you're feeling… exhausted! You're ready to get back home, wash the clothes, and unpack. Of course, everyone is tired, but it's also the perfect time to hone in on those writing skills. Let your child write a reflection on their vacation. What did they like? What do they wish didn't happen? What are the cool places they got to see? This quiet time will help your child get their thoughts down AND give them a memory journal for years to come!
I hope I could inspire even just one parent to realize that travel really is the best education anyone can have. It's so easy to stop the summer slide with just a few new 'games' on your vacation! It's also a win-win for you too. Everyone leaves with memories that will last them a lifetime!
-Laura Laiche

2021-22 Milken Educator Award recipient
East Feliciana Public Schools
Slaughter Elementary School
English Language Arts
3rd Grade Teacher