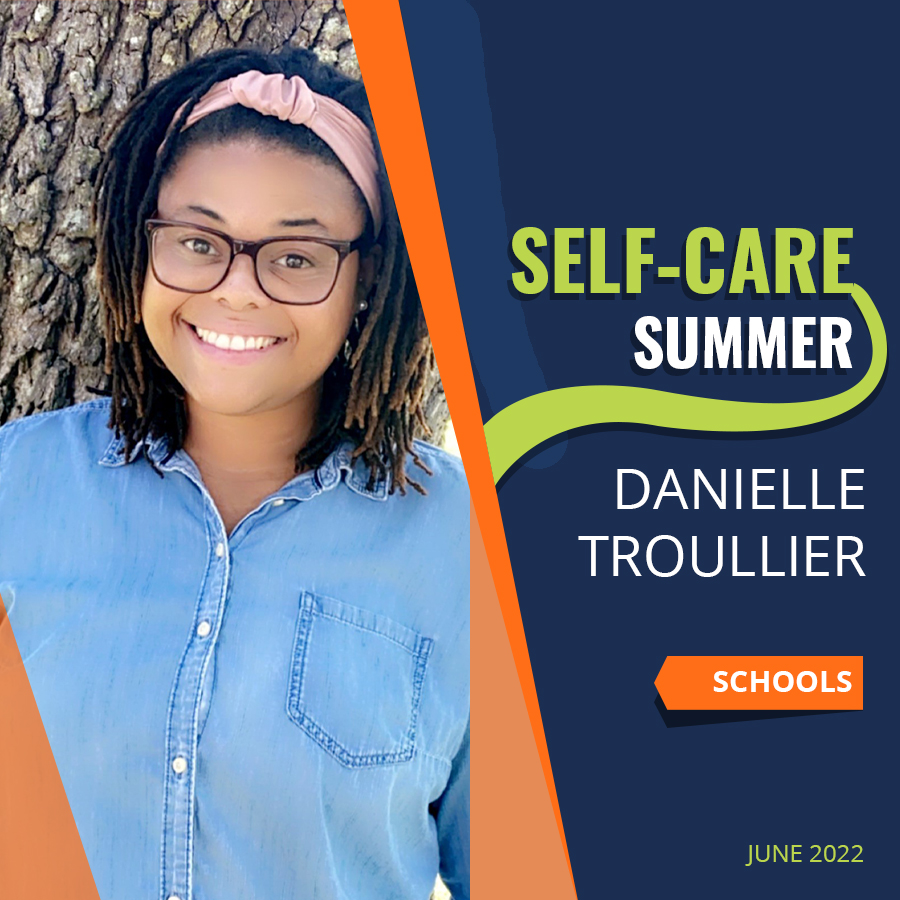 2022 Louisiana Exemplary Educator
St. Tammany Parish
Carolyn Park Middle and Mayfield Elementary Instructional Coach
Facebook-Danielle Troullier
"Self-Care Summer"

If your yearly wrap-up is anything like mine, you probably haven't had a moment to exhale after completing another unprecedented school term. Before the last bulletin board is cleared, our inboxes are typically flooded with information, dates, and tasks for the upcoming school year. As urgent as preparing for next year can feel, I hope you pause and pat yourself on the back for a well-done job. You. Are. Amazing.
What is Self-Care, and Why does it Matter?
Self-care is what we do to promote and protect our well-being. Now that you've reminded yourself that you are genuinely an excellent educator,  I encourage you to maintain those good feelings by prioritizing multiple forms of self-care this summer like:
Physical
Psychological
Emotional
Social
Professional  
I'm speaking from experience when I say this assignment is necessary for you and everyone who depends on you.
Before I honored my own self-care, I literally functioned on caffeine and adrenaline. I worked tirelessly in my classroom, on several committees, doing multiple side-gigs, and in graduate school. And the list goes on. And on. I didn't make time for sleep, exercise, friends, or emotional check-ins. I thought my ability to move like the Roadrunner was my superpower. My focus was productivity, not people.
Until I began to feel sick.
And I mean really, really sick and exhausted and anxious. My throat was always sore. I began to have headaches every day. I had very little energy to come home and help my daughters with homework and extracurricular activities. I was also irritable and easily distracted. My failure to promote and protect my well-being reduced my ability to show up for myself, my family, and my students. At this point, I realized the cliche "you can't pour from an empty cup" was true because I was the empty cup; I had nothing left to pour.
It turns out that many people are feeling what I felt (and sometimes still feel). Maybe you are one of them? According to several recent surveys, over half of educators report feeling stressed and burnt out. So I believe this unknown author may have been talking to us when they wrote: "Self-care is a priority and necessity–not a luxury–in the work that we do."
Different types of Self-Care
When I thought of self-care, I envisioned hours and hours of mediation and expensive luxury spas, activities reserved for people with lots of extra time (not me) and lots of extra money (also, not me). But, I've had the privilege to learn more about Self-Care and Social-Emotional Learning (SEL)  as a member of the American Federation of Teachers (AFT)  Professional Development Design Team. Research in these areas has taught me that Self-Care doesn't always look the same for everyone,
1) Physical Self-Care includes movement and physical health. Relating to this category means that you may feel renewed and refreshed after exercise, dance, yoga, etc. If this is something you'd like to explore, I encourage you to find ways to incorporate movement and physical health into your summer schedule!
2) Psychological Self-Care relates to activities that allow you to clear your mind and process new ideas. Exploring this may look like listening to a cool podcast over the summer. Or diving into journaling!
3) Emotional Self-Care attends to our feelings and emotions. Exploring this area of wellness may look like sharing what makes you proud of yourself or spending time doing fun and exciting things for you.
4) Social Self-Care over the summer may mean building relationships. Maybe it's time to add more conversations and group activities with friends to our schedules.
5) Professional Self-Care is building a network of support through professional development, attendance, and relationships with mentors, which can improve productivity and balance in our work life.
Self-Care Ideas for Students
I became a more responsive teacher, mom, wife, and friend when I prioritized my well-being. In addition, I noticed that honoring my own needs helped me honor my students' needs.
Minute of Movement
I recently got to enjoy wellness moments while I covered a 3rd-grade class. Every hour the students quickly got up, exercised for 60 seconds, and then got back to work as soon as the minute ended. It was part of the classroom culture, and they even invited me to participate! Doing high-knees and jumping jacks with 3rd graders was a hilarious experience for me, and it was fantastic to see how refreshed and refocused these kiddos were after their 60-second reboot. In addition, their teacher built physical self-care into their classroom procedures, allowing her students to practice self-regulation by attending to their well-being.
Super Corny Jokes
Emotional self-care was an area I struggled to prioritize until my colleagues convinced me to attend a comedy show. For two hours, we laughed until we cried. Afterward, I couldn't believe how renewed I felt! I never forgot my comedy show experience, and I began to try to create similar moments for my students. When Covid forced us to meet virtually, I decided to start each online meeting by telling a corny joke. Even though my 7th graders told me I was no comedian, they couldn't hold back their giggles and "lol's" in the chat box, and it wasn't long before they shared their own corny jokes with the class! Beginning class this way created a humorous, virtual community!
Fill up your cup
There are tons of self-care ideas that you can explore, and I hope you find the time to enjoy prioritizing your well-being. Know that when you do, all of the incredible benefits you receive are benefits you will be able to extend to those around you, including your students. So in many ways, our self-care summer plans are the best personal and professional development activities! Remember, YOU. ARE. AMAZING; you deserve to promote and protect your well-being..this summer and beyond!
Have some fantastic self-care ideas for educators and/or students? Share them with me on Facebook! Happy Self-Care Summer!
–Danielle Troullier
Check this link to learn more information about Self-care!
Danielle Troullier
2022 Louisiana Exemplary Educator
District: St. Tammany Parish
School: Carolyn Park Middle and Mayfield Elementary Instructional Coach
Facebook-Danielle Troullier