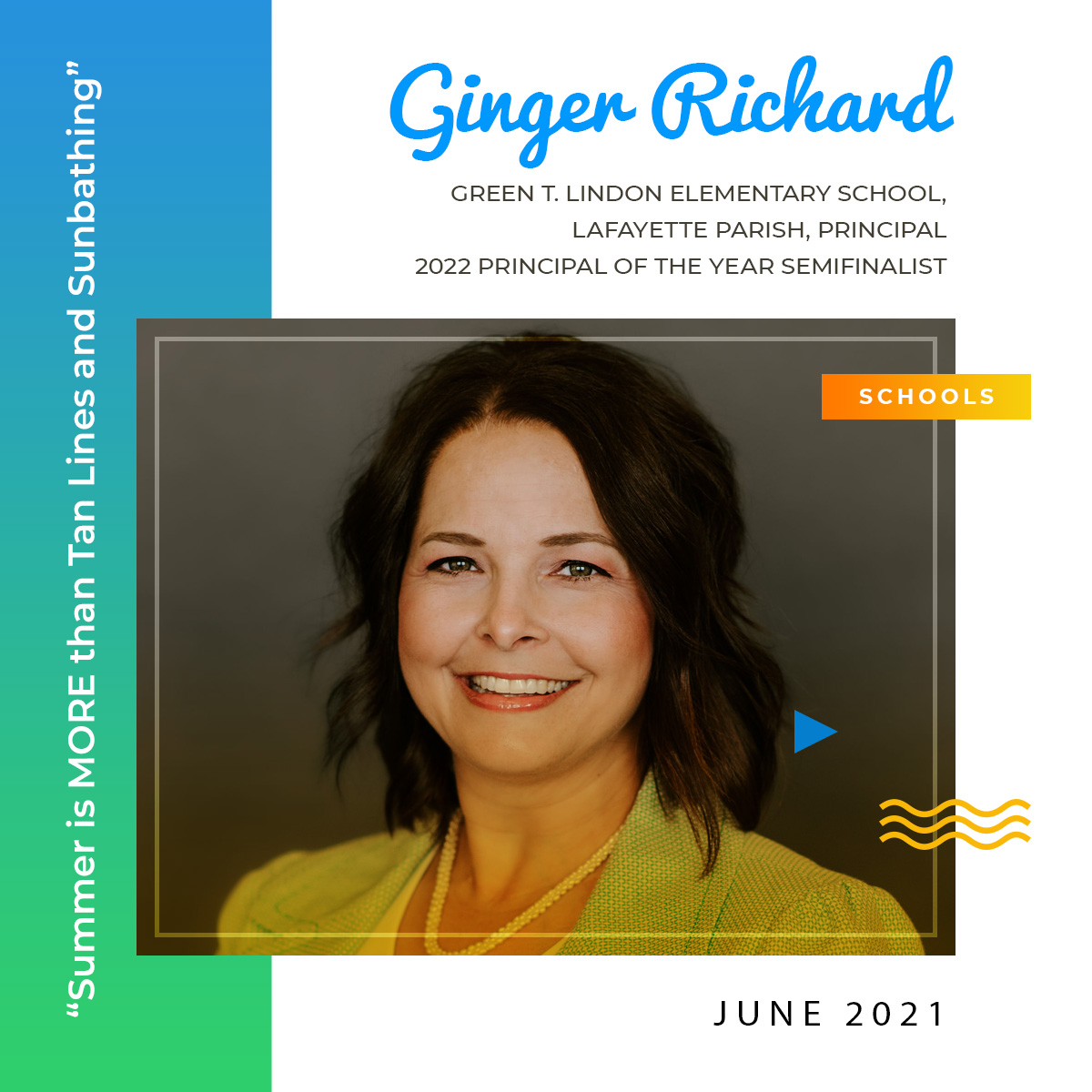 Green T. Lindon Elementary School,
Lafayette Parish, Principal
2022 Principal of the Year Semifinalist
Summer is MORE than Tan Lines and Sunbathing 
Staff and students at Green T. Lindon (GTL) Elementary in Youngsville, Louisiana, are gearing up for a summer filled with more than just tan lines and sunbathing.  Although those things come to mind, our school community is looking forward to an array of activities revolving around one thing – rejuvenation.  This school year has presented itself with many different challenges, from COVID19, quarantines, and significant weather events – to name a few.   
More than ever, we are finding educators and students alike needing a break from the day-to-day grind, helping them to find some joy and balance.  This school year, they participated in duties that stretch far beyond classroom instruction and Louisiana State Standards.  As leaders, honoring their time off is extremely important to the success of the upcoming school year.  The teachers took a poll, and the results are as follows:  
Here is the Top 5 List of what GTL teachers plan to do this summer:
Although most are yearning for a beach trip, others are thinking of different adventures such as:  traveling to new places and simply seeing where the road takes them.  No schedules and no alarm clocks allow for a spontaneous summer getaway!
Spending time with family and friends. GTL's faculty and staff give so much time to the students at school and now it's time to give some time to our loved ones. From being truly present with our kids to enjoying lunch dates with friends – duty free of course.  
Engaging in a hobby. Hobbies do not exist for educators during the school year however – watch out summer!  Free time will be spent on learning to do new things, completing jigsaw puzzles, shopping, gardening, and painting. You may also find some Cool Cubs watching the sunset and enjoying what nature has to offer.  
Whether it is relaxing by the pool with a good book or snuggling on a couch, teachers are excited to binge read!
Complete household tasks/projects. Yes, yes – everyone is making a list and checking it twice. Those cabinets will not clean themselves and why do we have so many Tupperware lids?
Here is the Top 5 List of what GTL students plan to do this summer:
Play with friends/family. Our school family is such an important part of our continued success however GTL Cool Cubs are excited to spend the summer with cousins, grandparents, siblings and friends.  From overnight sleepovers, to play-dates, lots of fun will be had by all. Board games, such as Monopoly, can be used to teach students how to count money while baking cookies can extend a lesson on measurement.
The water is getting warmer and the temperatures are rising. Students are excited to put on a pair of goggles and jump in the water. Waterslides, slip-n-slides, pools – OH MY!  Physical activity is extremely important for our students; swimming is a great way to stay active and stay in shape.  
Like staff, students are dreaming of ocean waves and white sand! Where is your family traveling to? Consider pulling out a roadmap or a map of the United States!  
Video Games.We cannot act surprised about this one. Students have put in the time and effort and now they get to play some video games. Some of the favorite devices include: PS4s, Nintendo Switches, and PlayStations.
Playing Outside.Whether it is chasing the dog, riding a bike, playing a little ball, having a picnic or jumping on the trampoline students are ready for some serious Vitamin D. It is good for the soul.  
As the end of July approaches and everyone starts gearing up for the new year, I am confident as the school leader that my staff and students will come back relaxed and ready to TEACH AND LEARN!