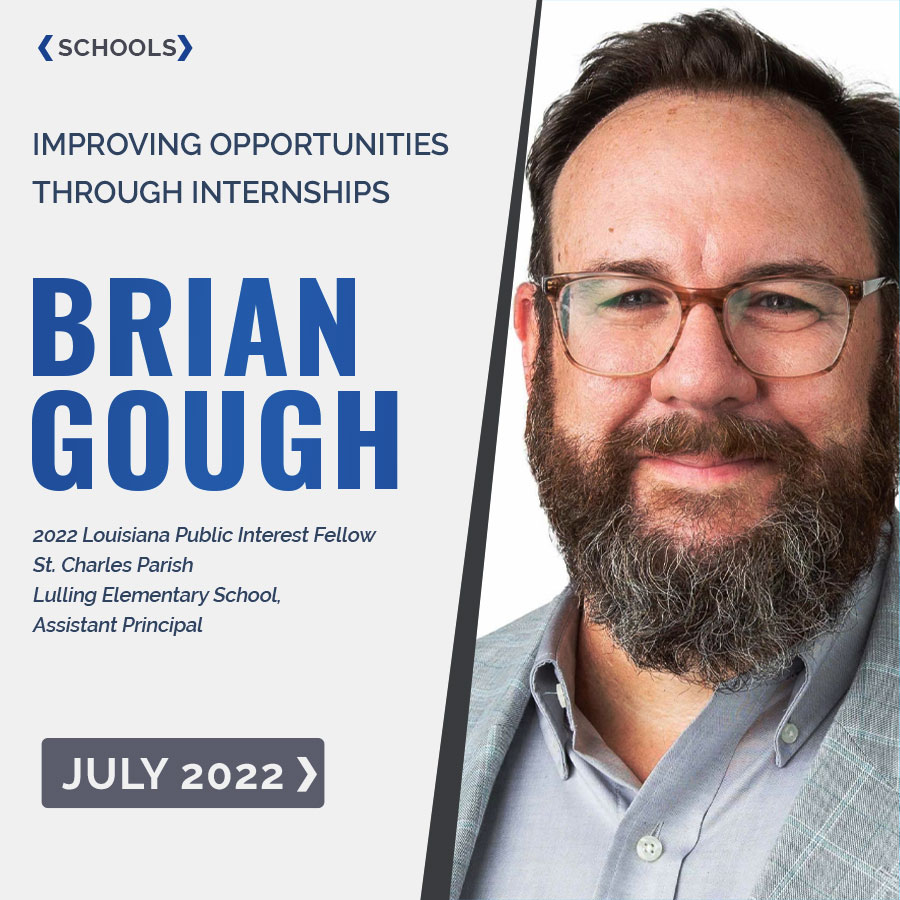 2022 Louisiana Public Interest Fellow
St. Charles Parish
Lulling Elementary School, Assistant Principal
"Improving Opportunities Through Internships"
Brian Gough, an assistant principal in St. Charles Parish, was named a 2021 Louisiana State Teacher of the Year semifinalist and selected as Louisiana's 2022 Public Interest Fellow. Launched by the Department of Education in 2018, the Fellowship allows one educator, chosen from the previous year's list of Louisiana Teacher of the Year semifinalists, to spend a school year advocating for an education initiative of their choosing. 
Gough has dedicated most of his career to advancing career and technical education with an emphasis on advocating for experiential learning at the Satellite Center, a St. Charles Parish Public Schools career center. His pursuit of innovative solutions to prepare students for high-wage, high-demand careers drove Gough to dedicate his fellowship year to researching best practices for industry recruitment for internship programs. This focus area comes from his desire to help others find their path in life, something he struggled with early in his educational career. 
"I did not know what I wanted to do with my life after high school, and my college experience was representative of that struggle. I changed my major multiple times during my time in college and even wondered if I made the right choice attending college while at Louisiana Tech University." Gough says he would have benefited tremendously from a program in high school that allows students to take classes in a chosen career area in conjunction with a work-based experience to learn about a particular occupation or industry. This experience can give a student a head start in life by giving them the necessary training to pursue their desired job and build valuable soft skills transferable to any career. 
A successful internship program will benefit the students involved and give school systems valuable insight into current and future workforce skills needed, which can be integrated into all curriculum at a site. In addition, this partnership can offer employers a way to introduce fresh perspectives and create a pipeline for new hires and mentorship opportunities for existing employees at the organization or business. To build a successful internship program for high school students, strong ties need to be established between businesses and education systems with extra attention to developing a mutually beneficial plan for both parties. These relationships have traditionally been built between higher-ed institutions and businesses. Still, as we have moved to a focus on college and career readiness in K-12 education, the needs are changing. With these changes comes the need for a new approach to relationships between businesses and school districts, which is the basis of Gough's fellowship research. His goal is to use this research to provide schools with tools for promoting internships with industry partners throughout Louisiana to build a strong workforce for our state and give valuable workplace experiences to students.
To build the infrastructure for the internship recruiting plan, Gough will rely on a large team of business and organization contacts across the state. He hopes to build a flexible plan to work in the state's rural, suburban, and urban areas. As a member of a hybrid rural/suburban community himself, Gough knows how hard it can be to recruit businesses into an internship program where proximity to the needed workplace for some career pathways can be challenging at times. This will require an open mind to find innovative approaches to setting up a modern internship program that meets the needs of students and the business community. Gough and his team will approach this challenge with a Design Thinking mindset and ensure that student success is kept at the forefront when any decisions are made throughout the development of the business recruiting plan. 
Throughout his career, Gough has worked with local, regional, and national organizations and companies that he has relied on to stay current with workforce development, hiring trends, workplace environment trends, and the skills needed in an ever-changing work environment. Staying current in these areas is an important part of the internship process and essential to students' success in the program. Building these connections can be hard, so Gough chose this topic for his fellowship year. "If I can help school systems find ways to build workforce-related connections and bring new internship opportunities to their school communities, our students will be more successful, which ultimately means our state is more successful. That is the ultimate goal of this fellowship," says Gough.
Brian Gough has been an educator in St. Charles Parish Public Schools for 25 years, with 17 of those years coming at the Satellite Center. He has taught across all grade levels of K-12 education since earning his bachelor's degree from Louisiana Tech University and his Masters of Education from Southeastern Louisiana University.
Brian's Social Media Info:
Twitter @anagileeducator
Instagram @anagileeducator
LinkedIn @bcgough
2022 Louisiana Public Interest Fellow