BLACK HISTORY MONTH
In the Lafayette Parish School System
Civil rights activist, poet, author, athlete, and inventor are only a few roles of African Americans who left their mark on American history and world history. Since the 1970's Black History Month has been observed in the United States during the month of February to highlight the achievements and contributions of African Americans. The month of February was chosen because it is the birth month of two historical figures- President Abraham Lincoln and Frederick Douglass. Lincoln was born on February 12 and issued the Emancipation Proclamation-a presidential proclamation which freed slaves. Douglass was an African American abolitionist and author who was born on February 14.
Students all around the country observe this important month in so many different ways. In the Lafayette Parish School System, activities have already begun with multiple schools planning programs that include writing contests, trivia, and even musical performances!
 L.J Alleman Middle School is celebrating by highlighting heroes of Black History during morning announcements. Students were asked to write about their hero, and tell what they have learned from them. This gives them an opportunity to share what someone from history has taught them. 
Paul Breaux Middle School is honoring Black History Month by playing a daily trivia game. Student Council President Byron J. Smith, Jr. said, "Hearing daily trivia allows students to learn more about the black culture." The daily trivia that he is sharing all ties in to the 2020 black history month theme, which is "African Americans and the Vote". Smith says, "They [students] gain an appreciation for the contributions of black history figures." Paul Breaux will also have a program later this month, which will include dancing, singing, poetry, and a guest speaker. 
At Woodvale Elementary School, music teacher Jessica Wiltz is commemorating Black History Month by planning the school's first black history program since she has been a teacher there. "This gives students a chance to learn with a hands-on experience," says Wiltz. Her students are giving up their personal time after school to prepare for the program. They will be performing a skit about African American figures who believed in themselves enough to follow their dreams. Ms. Wiltz said, "It's important for students to learn about others who had dreams and followed them". The program titled "Dreams begin with Dreamers" will be held on February 20, 2020 and will feature musical performances and a local guest musician.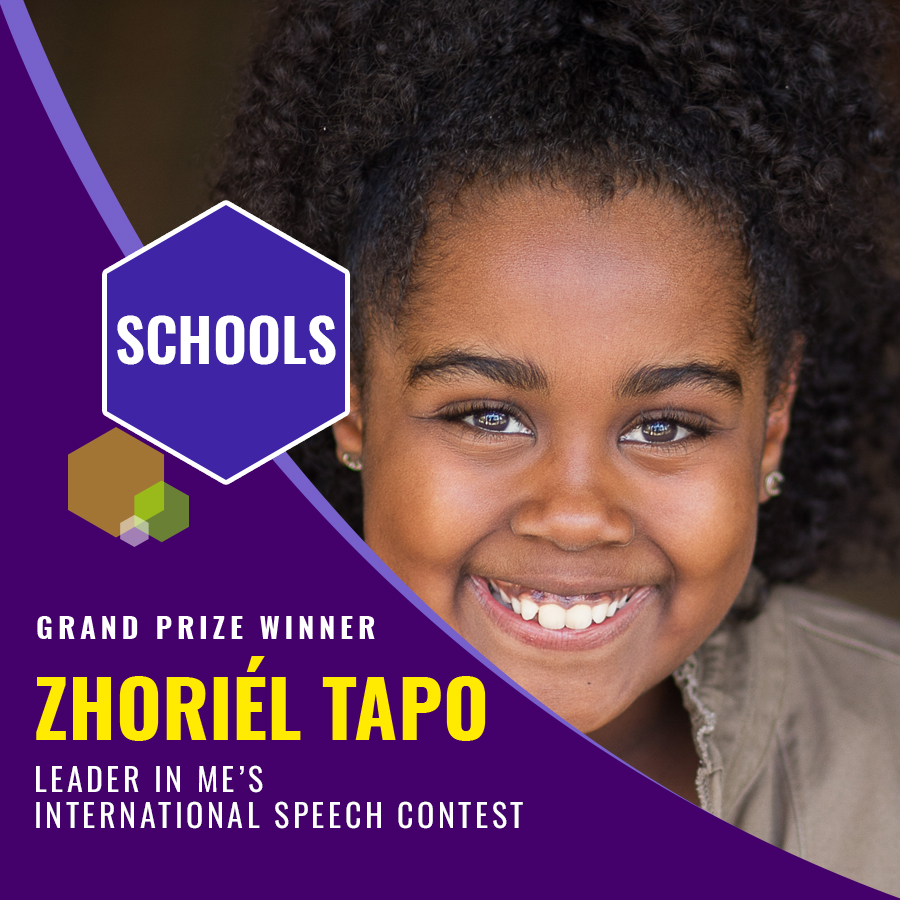 ZHORIÉL TAPO
Grand Prize Winner, Leader in Me's International Speech Contest
Zhoriél Tapo is an 11-year old 5th grade student at LJ Alleman Middle School in Lafayette, LA. In 2016, the Leader in Me's International Speech Contest awarded her the grand prize. Her speech, titled Declaration of Leadership, has been viewed on social media over 5 million times! Zhoriél was highlighted alongside Kid President in the 2016-2017 Leader In Me's symposium welcome video. At the 2017 United Way of Acadiana's Annual Meeting, Zhoriél served as a program presenter and had the honor and privilege of appearing in some UWA's commercials and campaign videos. Zhoriél is a talented theatre student and has a passion for acting. She has been featured in numerous commercials and billboard ads, and has acted in several television and movie projects. Currently, Zhoriél is a student of the year candidate for the Leukemia and Lymphoma Society and is Louisiana's only Scholastic Kid Reporter. When away from school, she enjoys playing volleyball, spending time with her family, acting, and reading.