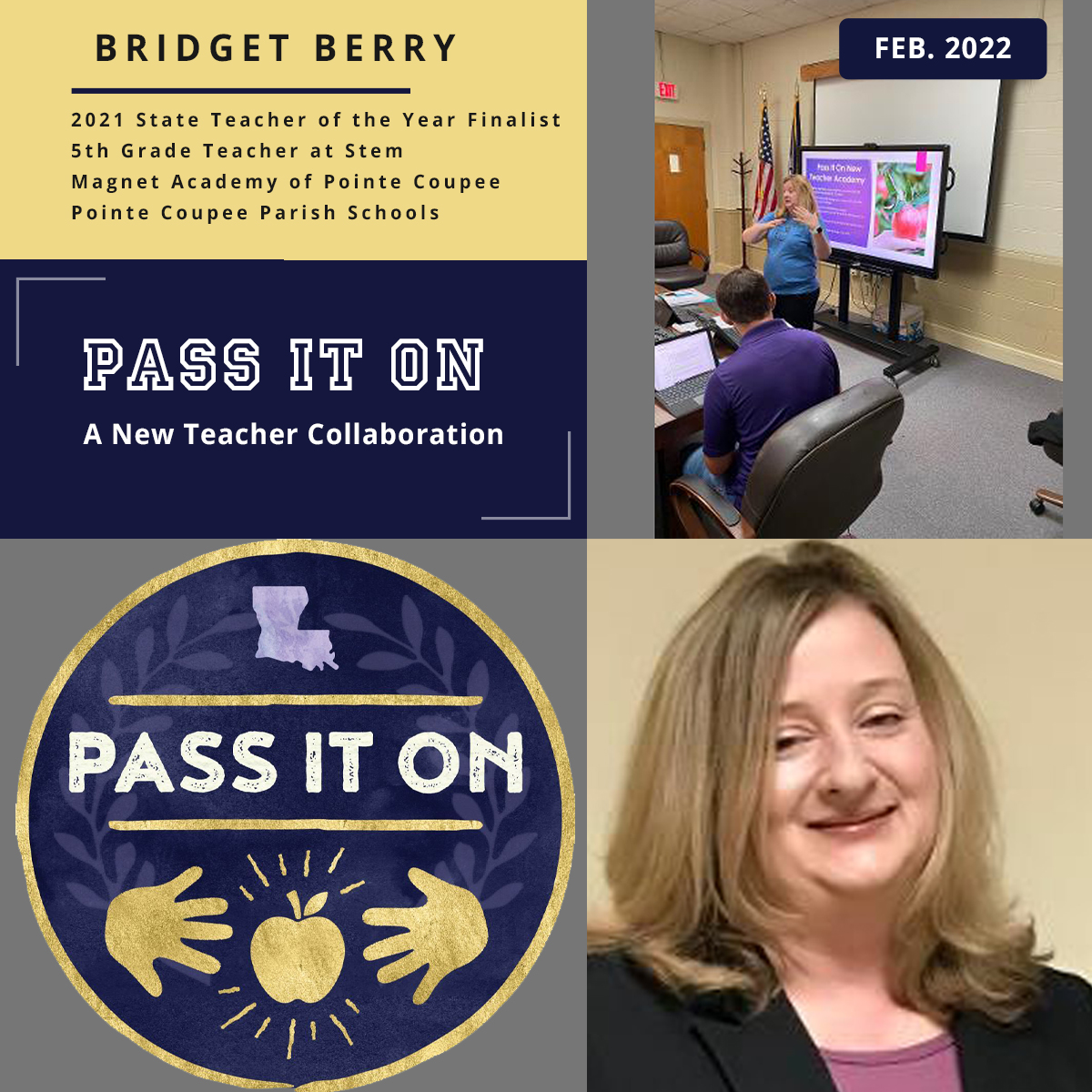 2021 State Teacher of the Year Finalist
5th Grade Teacher at Stem Magnet Academy of Pointe Coupee
Pointe Coupee Parish Schools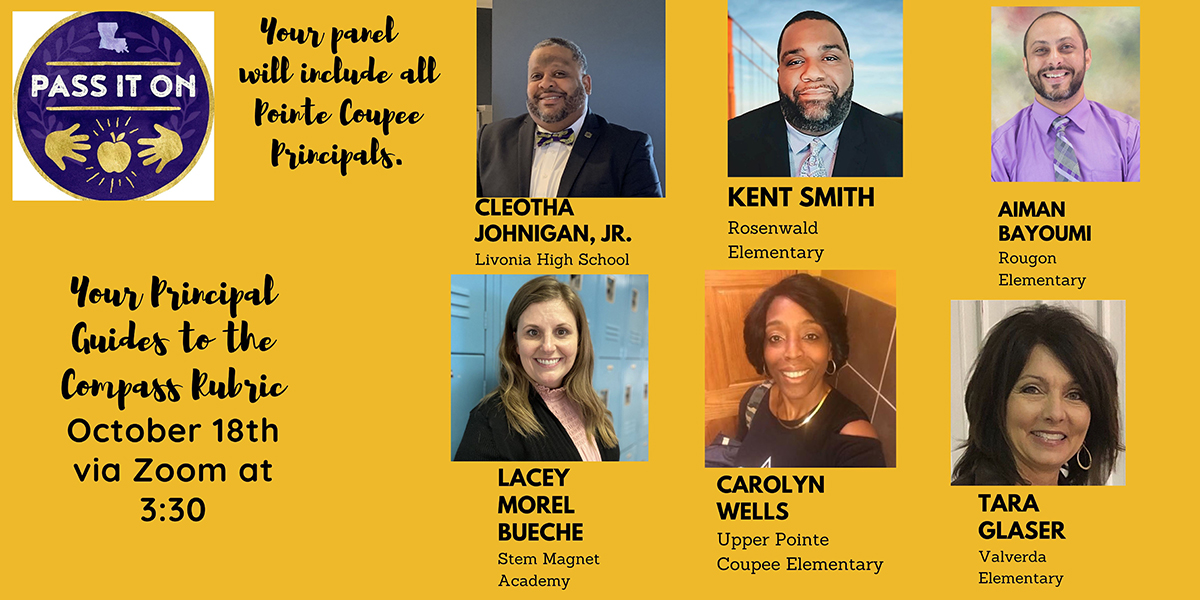 Pass It On – A New Teacher Collaboration


"The most valuable resource that all teachers have is each other. Without collaboration our growth is limited to our own perspectives." -Robert John Meehan  
We, as teachers, are continuously learning from other teachers. Collaboration and mentorship from other teachers are essential for our growth process. During my first year as a teacher, I remember having the power to persevere thanks to having an inspirational mentor teacher, Mrs. Alanna Bradford. Her support, guidance, and encouragement helped me survive and thrive during my first year of teaching. As I reflect on my journey as an educator for almost 28 years, I realize that I have continued to learn from the exceptional teachers at the schools in which I have taught and have been able to build a network of collegial support from them.
These are some of my lessons learned.
Be a Life-long Learner– To be a teacher is to be a life-long learner. Teacher mentoring, teacher coaching, and teacher advice from colleagues is an essential ongoing professional development piece. Continue to listen and learn from others.
Collaborate– Each year brings new challenges and new learning opportunities. Each year, a new classroom awaits us, filled with students with different interests and learning styles. Collaboration with colleagues is essential to our growth as an educator and to meet the ever-changing needs of our students. 
Embrace Your Uniqueness– As we learn from our mentors, instructional coaches, and colleagues, we are always trying to find a balance. This balance includes learning from other teachers while continuing to process our own unique and evolving teaching styles. As we learn from and collaborate with others, we examine how to assimilate what we have learned into our unique classroom using our own unique teaching style.
By reflecting on my own experience, I have utilized my opportunity as the 2021 Louisiana Public Interest Fellow and the support of my district to design a program to support the needs of new teachers in our district. Pass It On started with the need to provide new teachers with various opportunities to learn from and collaborate with other teachers and have mentors throughout the school and district to give advice. We began to Pass It On before the school year started with an in-person induction professional development day. At the beginning of the school year, each teacher was also assigned a school-based mentor teacher who would provide daily support and guidance. In addition, an instructional coach at the district level was assigned to new teachers to provide hands-on instructional support in the classrooms. Finally, Pass It On also provides a virtual collaboration every two weeks. These collaborations discuss a specific education topic. During meetings, our district's veteran teachers share advice and take questions from our new teachers. The Pass It On virtual sessions allows each teacher to learn from various veteran teachers or mentors, examine their perspectives, and assimilate what they have learned into their classroom. As a result, the overall program provides teachers with many learning opportunities.
Some of our favorite meetings involved all of our district's principals and a teacher from each school sharing tips for successful Compass observations. Still, another meeting involved all instructional coaches in the district sharing advice about examining and using student data to drive instruction. In another meeting, veteran teachers shared classroom management tips. Some Pass It On sessions have also hosted special honorary guest presenters such as Grammy Award Winning Educator of the Year, Mickey Smith, Jr; Torrence Williams, 2017 the Louisiana High School Teacher of the Year; Trinette Landry Wallace, the Louisiana 2021 Middle School Teacher of the Year and Louisiana Public Interest Fellow; and Miranda Britt, coauthor of The Tier One Curriculum Trap.  
To sum it up, the collaborations through Pass It On sessions allow teachers to gain a community of mentor teachers and various educational perspectives. Here is what educators from our program have to say:
      "From teaching me how to set up and maintain a classroom structure to knowing when to leave the work at home and take care of myself, this program has been extremely beneficial to me! There's not a single meeting that hasn't given me something to go home and reflect upon:  whether it was something about the classroom or just knowing I wasn't alone in the first year." – Kaelin Maloid, Teacher at Livonia High School.
     "The Pass It On Program is the exact mentorship and more that I wanted when searching for a school district to begin my first year of teaching. This program has equipped me with the skills I needed to become a better educator and connected me with a network of people who are glad to provide advice and assistance to increase my success in the field of education." – Faith McFadden, Teacher at Stem Magnet Academy of Pointe Coupee.
Even though our Pass It On virtual collaborations facilitate and support the growth of new teachers, each session has allowed me to learn and grow as a teacher. I have enjoyed watching the growth and collaboration of our teachers in the program and look forward to continuing Pass It On in the following school years. Our growth potential is unlimited, and collaborating and seeing different perspectives is genuinely a valuable resource.