DESERT STORM
30TH ANNIVERSARY COMMEMORATION
Desert Storm
30th Anniversary Commemoration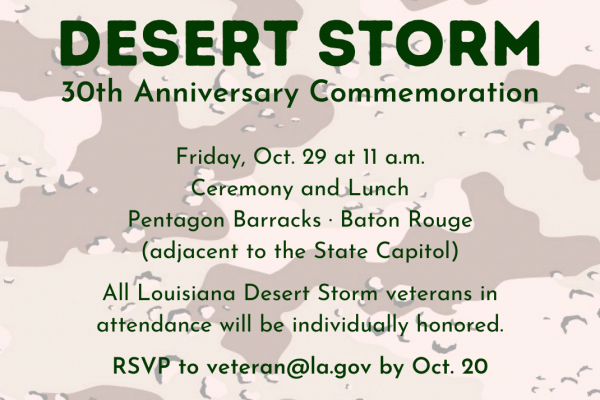 The Louisiana Department of Veterans Affairs will host the Desert Storm 30th Anniversary Commemoration on Friday, Oct. 29, at 11 a.m. in the courtyard of the Pentagon Barracks in Baton Rouge. Louisiana's Desert Storm veterans will be honored individually at a ceremony followed by lunch on the grounds.
Operation Desert Storm was the first major foreign crisis for the United States after the Cold War. Approximately 697,000 U.S. troops took part in the war, with 299 losing their lives. From the Louisiana National Guard, 1,812 soldiers from nine units were deployed, with another 6,600 LANG soldiers federally mobilized. Fortunately, there were no casualties among LANG soldiers.
If you plan to attend the event, RSVP by Wednesday, Oct. 20, to veteran@la.gov. Please feel free to join us via Facebook live on the Louisiana Department of Veterans Affairs' Facebook page if you cannot attend in person. You can also join us via Zoom.
In addition to the summit, LDVA will host the Never Forget Garden Dedication on Veterans Day, Thursday, Nov. 11, at 11 a.m. in the Louisiana Veterans Memorial Park in Baton Rouge. This event is significant as it also commemorates the 100th Anniversary of the Dedication of the Tomb of the Unknown Soldier. Governor John Bel Edwards will join us as the keynote speaker at this event.
The National Society of the Honor Guard, Tomb of the Unknown Soldier, has enlisted the American Rose Society to encourage the creation of Never Forget Gardens to ensure the millions of American service members are forever honored and remembered.
For more information about LDVA, visit vetaffairs.la.gov, email veteran@la.gov, call 225.219.5000 or follow us on Facebook, Instagram, Twitter, and YouTube.