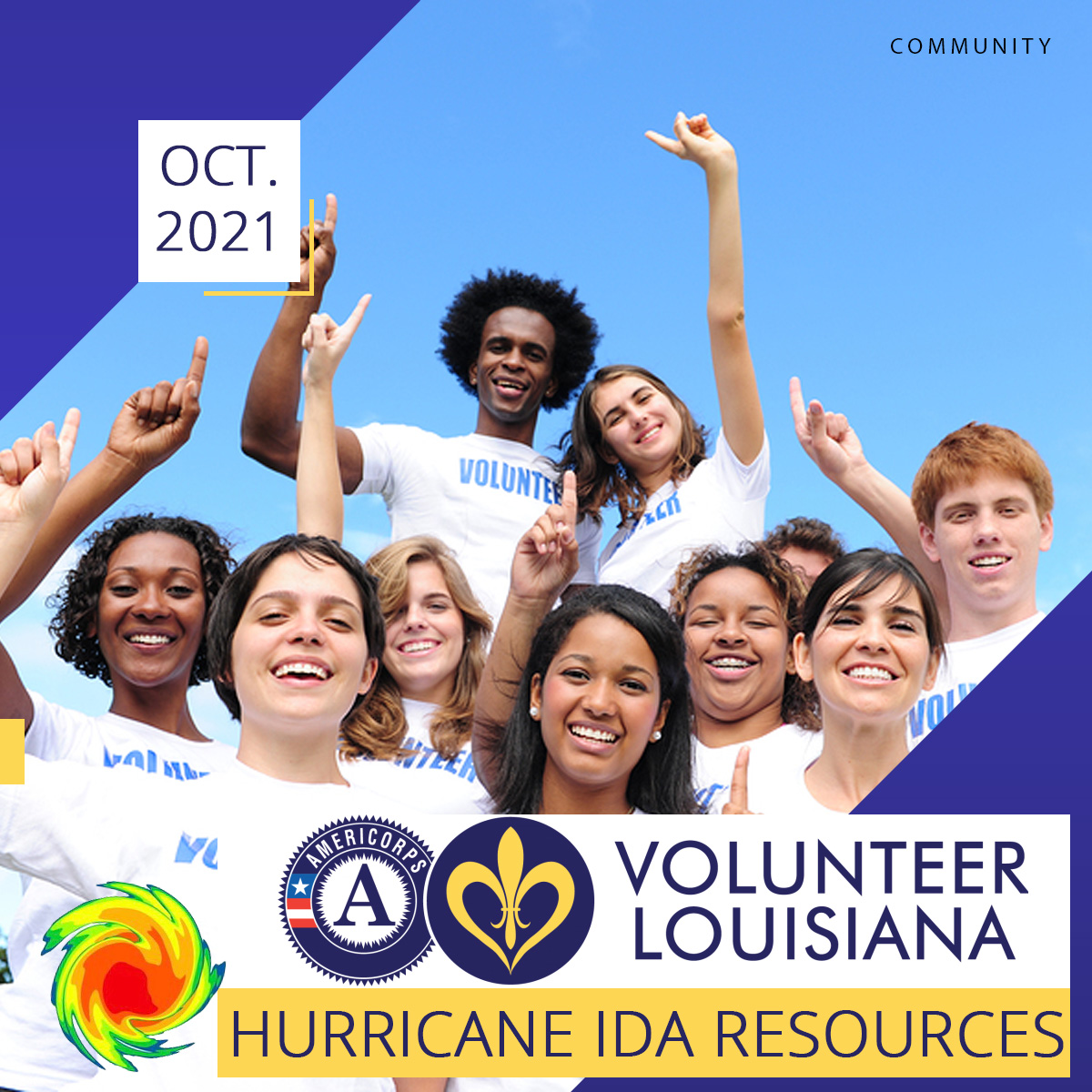 Visit Volunteer Louisiana for HURRICANE IDA SURVIVOR RESOURCES
– A list of Hurricane Ida resources can be found here.
– Mold Remediation is an essential step in the rebuilding process. Check out these tips and guidelines from SBP and LSU Ag Center.
– When disaster strikes, people often need legal help. Free civil legal aid from your local legal aid office may be available. Call the disaster helpline at 1-844-244-7871 or apply online at www.slls.org.
– If you have disaster-related questions, call 211  
– If you're out-of-state and trying to reach Louisiana 211, call 800-755-5175
– For shelter information, text LASHELTER to 898-211
– Register for DSNAP assistance at http://www.dcfs.la.gov/page/dsnap-registration
– To apply for disaster aid, contact FEMA at 1-800-621-FEMA or DisasterAssistance.gov 
– If you need help with tarping, reach out to Operation Blue Roof at www.blueroof.us or call 1-888-766-3258.
– Find a food bank near you here or call 211 or 232 to find a distributor near you. 
– Connect to trained counselors via The Keep Calm hotline. It is available 24/7, and all calls are confidential. Call 1-800-310-7977. 


HURRICANE IDA VOLUNTEER OPPORTUNITIES
– If you are a medical professional who wants to volunteer, you can register with the Louisiana Department of Health at https://www.lava.dhh.louisiana.gov/
– If you are already affiliated with a response organization, please get in touch with them directly. They will let you know when conditions are safe and when they will begin deploying volunteers. 
– If you are not already affiliated with a response organization, you can sign up at https://volunteerlouisiana.galaxydigital.com/user/register/. We will keep you updated on volunteer opportunities and know when response organizations begin accepting additional volunteers.
IMPORTANT: Please do not self-deploy. Connect and affiliate with an organization, then deploy when invited to do so. Unaffiliated, self-deployed volunteers can create additional burdens on affected communities and can pull resources away from survivors.
* Watch a brief video or read some guidelines on how to volunteer safely during the COVID-19 situation 

FOR VOLUNTEER ORGANIZATIONS
Volunteer Toolbox: The Governor's Office of Homeland Security and Emergency Preparedness (GOHSEP) has drafted a Volunteer Toolbox resource for non-profits utilizing volunteers in times of disaster.
Volunteer Hours Tracking: Please see the links below to download GOHSEP forms to track volunteer hours.
Volunteer Forms – Daily
Volunteer Forms – Weekly
Volunteer Forms – Equipment
Volunteer Forms – Materials
Original text from www.volunteerLouisiana.gov