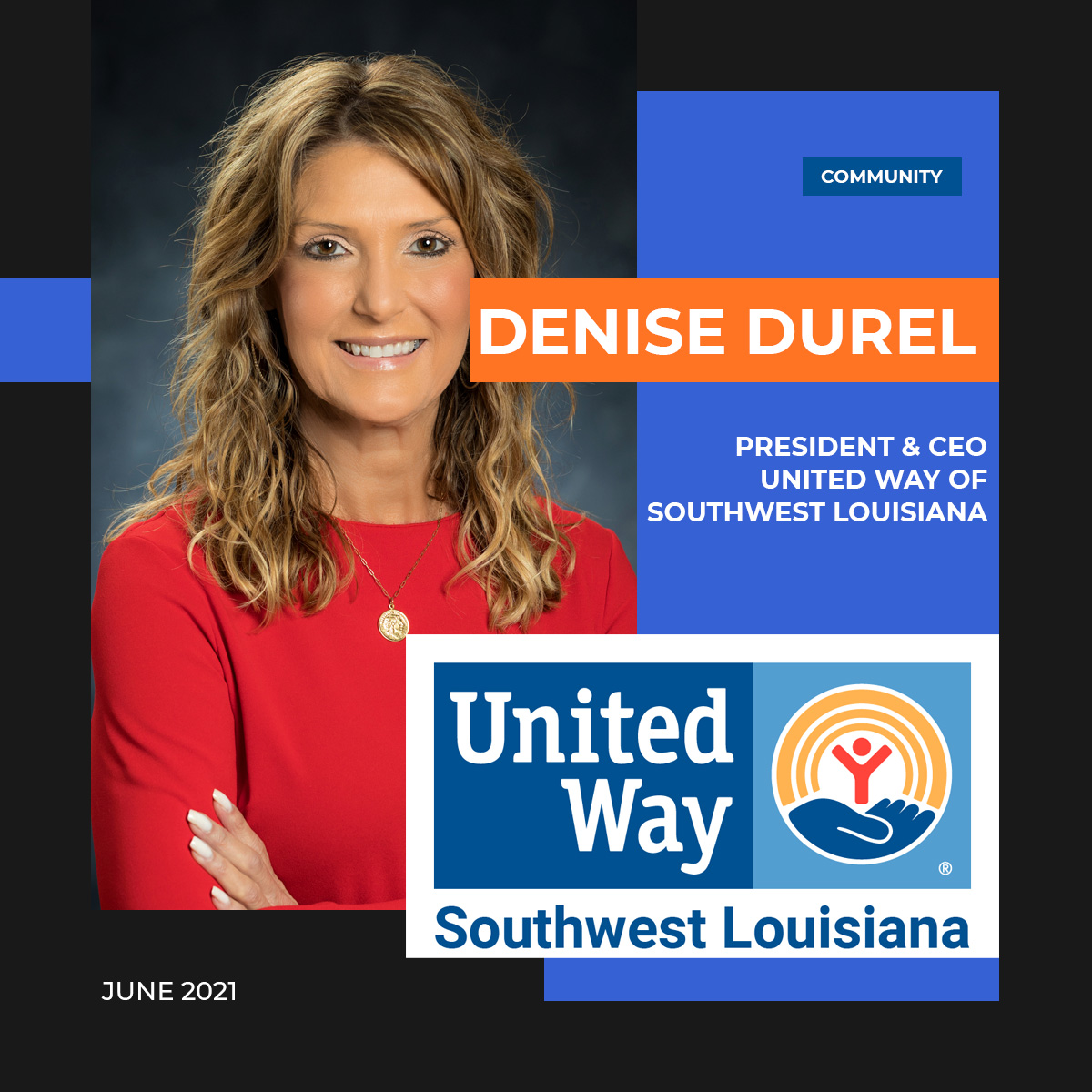 DENISE DUREL
UNITED WAY OF
SOUTHWEST LOUISIANA
United Way of Southwest Louisiana
Denise Durel, President & CEO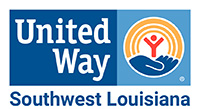 Before the direct hits from Hurricane Laura on August 27 and Hurricane Delta on October 9 devastated the community, United Way of Southwest Louisiana's pandemic response had served over 245,000 community members. Denise Durel, president and CEO, and her experienced team's quick response had allowed families to stay in their homes and keep food on their tables. Still, they all now shared in a new threat.
Fifty percent of Southwest Louisiana lives in a tenuous month-to-month financial situation that makes preparing for hurricane season and even evacuation difficult or impossible. Denise Durel and her team were busy filling buses with evacuees, answering calls, and posting the latest news on social media. By August 28, they had the first relief supply center running. They were distributing donated diesel to fuel vehicles and generators. Their photography was the first many evacuees saw online.
The Hurricane Relief Center, run by Durel's team under a tent in a church parking lot, served 378,114 hurricane victims before closing in November. United Way of Southwest Louisiana served Thanksgiving and Christmas meals by the thousands and gave out over 7,250 toys to children during the holiday season.
The new year brought hope, even without a federal supplemental disaster aid package for Southwest Lousiana. Denise Durel and her team supplied over 180 tons of brand new furniture donated by a major online retailer to working families sleeping on air mattresses. February brought winter storm Uri, and recent storms have exacerbated that damage until some residents are on the third round of gutting their home. Southwest Louisiana has now endured five federally declared natural disasters in ten months.
United Way of Southwest Louisiana is leading the charge to rebuild and recover with multiple avenues of attack. Community members needing assistance use the 211 information and referral line to request help with anything from debris removal, childcare, or utility bills.
United Way of Southwest Louisiana, with Denise Durel at the helm, coordinates incoming volunteer groups, giving them access to case-worked residents needing aid. This professional division of efforts ensures communication between all agencies. The most significant need is the gutting of sheetrock, removing flooring, debris from yards, and hauling of large trees.
The other focus of Durel's team is assisting homeowners with FEMA Appeals. United Way volunteers help respond to an assortment of requests from the federal agency, easing many homeowners' anxiety, some without access to fax or email. Homeowners call 211 to request an appointment.
After all of the trauma, mental health for local community members is something United Way of Southwest Louisiana is pushing to the forefront of every discussion. The storms added a layer to the pandemic, and anxiety or depression has become common. United Way has many ways to offer free help between online Crisis Chat, Teen Texting, 211 call transfers, or a funded partner agency.
As hurricane season kicks off this week, Denise Durel's United Way of Southwest Louisiana prepares once again by prepping the building damaged by hurricanes, winter storms, and recent flooding. All equipment is secured, and air mattresses are on order. The fear is not for themselves but for the unrepaired homes in which local families now live. Many families fear they have been forgotten.
Any individual, group, nonprofit, or business with time, materials, or a financial gift to offer can contact United Way of Southwest Louisiana. There is no gift too small. The collective impact from all of us will drive the rebuilding process and give hope to those struggling.
To engage a United Way of Southwest Louisiana speaker:
Live or Virtual offerings: liveunited@unitedwayswla.org
Denise Durel, president and CEO, is able to give a thorough update on the recovery effort in Southwest Louisiana, nonprofit guidance/capacity building and many other topics.
United Way of Southwest Louisiana Community Impact Numbers 2019-2020
Core work: 142,465 individuals
Pandemic: 245,881 individuals
Hurricanes: 378,114 individuals
TOTAL IMPACT FOR THE YEAR: 766,460 INDIVIDUALS
To download a copy of our Community Impact Report
To get help from United Way of Southwest Louisiana:
Call 211 or Text 898-211 or Online at unitedwayswla.org/help
Counseling: Online Crisis Chat
Teen texting counselors: 833.TXT.TEEN
To support United Way of Southwest Louisiana:
Give to Recovery
or text READYSWLA to 41444
Donate Goods or Services to Recovery
Volunteer
or text VOLUNTEERSWLA to 41444
Sign up for the United Way of Southwest Louisiana newsletter
United Way of Southwest Louisiana operates in the TOP 9% of ALL U.S. United Ways.
– TOP 125 out of 1,300 United Ways!
Maintains a 4-STAR CHARITY RATING with Charity Navigator and a PLATINUM SEAL OF TRANSPARENCY with GuideStar. – Both are the highest ratings available!