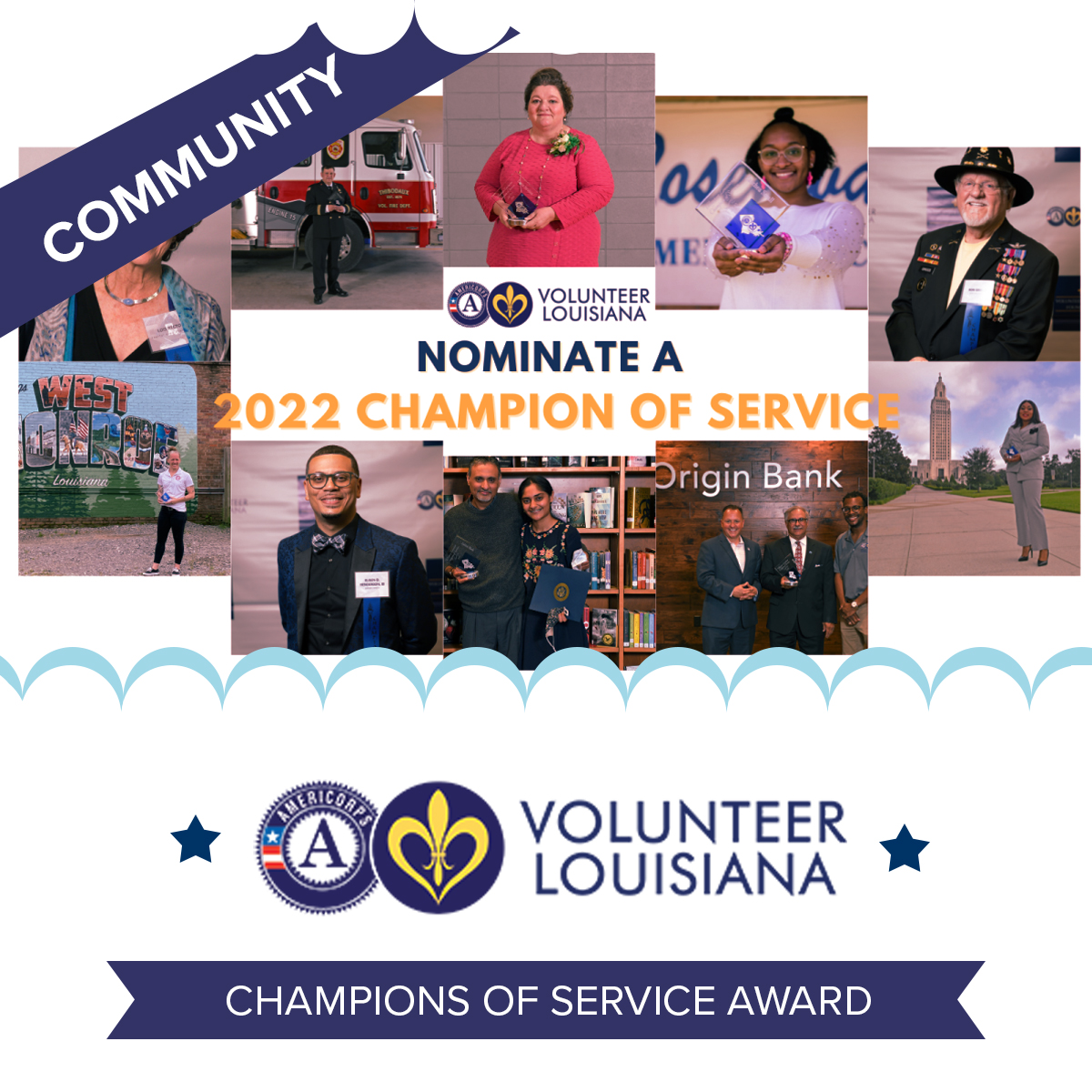 CHAMPIONS OF SERVICE AWARD
Do you know a person or a nonprofit worthy of recognition? Or someone who is committed to making a difference in their community by volunteering?

Please click the link below and fill out this form to let us know! We would like to feature them in the blog!
Champions of Service Award
The annual Champions of Service Award recognizes outstanding volunteers from seven geographic regions across the state, plus outstanding AmeriCorps, Senior Corps and Corporate volunteer programs. Nominations close on January 31, 2022 at 11:59 p.m. Find guidelines for the awards here and a see a sample nomination form here. To nominate a volunteer, fill out the form here. If you have any questions, feel free to reach out to Lori Pilley at lpilley@crt.la.gov.
Louisiana Volunteer Service Award
The Louisiana Volunteer Service Award recognizes groups and individuals who serve with distinction and demonstrate excellence. Volunteers who have contributed 150 or more hours of service in a calendar year can recieve this award along with a volunteer service lapel pin. To nominate a volunteer or for more information, contact Lori Pilley at lpilley@crt.la.gov.
 Community Service Diploma Endorsement
The Community Service Diploma Endorsement is a diploma endorsement that Louisiana high school students may earn upon graduation for volunteering a cumulative 80 or more hours. To learn more about this award, click here.
Additional Volunteer Awards
In addition to the Volunteer Louisiana awards listed above, there are various other national volunteer service awards available to recognize individuals and groups:
Congressional Award
Presidential Volunteer Service Award
Prudential Spirit Award
Jefferson Awards