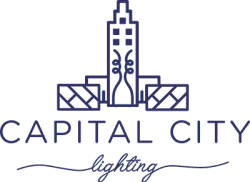 BRIDGET TATE
Owner, Lighting Stylist: CAPITAL CITY LIGHTING
After 14 years as a stay at home mom, Bridget Tate got a part-time job at a small local lighting boutique. She began by working with the occasional walk in to help pick out a fixture from the showroom floor. Within two years, she worked full time and had more than doubled this small boutique's sales. How? She knew that social media was an essential tool for growing a business in an age where everyone has their phone with them at all times. Bridget launched an Instagram account and added some refreshing content to its Facebook page to increase its content and following. She launched a website that she built in her time off, and she networked.
Networking comes naturally to this spunky Cajun with a big smile and a bigger personality. Bridget knew there was a way to sell more than just one or two chandeliers. She began to seek out builders. For four years, Bridget opened accounts with 40 lighting and accessory lines. She researched and learned everything she could about lighting, scale, LEDs, commercial and residential applications. Her objective was to get builders to send in their clients and have a steady stream of referrals and business. Every client had a lighting budget that included everything from floodlights, doorbells, undercabinet lighting to chandeliers. She figured out how to fulfill the entire order by opening with lines that carried all the items she needed. Bridget got referrals from clients she worked with, builders and friends. Her strong work ethic and ability to connect with each client kept the referrals coming. She talked to people while ubering, in the grocery checkout line, and once while getting her tires changed, she connected with a client that worked with her on a gorgeous Highland Road estate. She worked and networked all the time. Evenings and weekends. Vacations, she was answering emails and sending quotes. Every client had her cellphone and became a friend.  She became well known in the community for her work on residential and commercial work. After working with many new homeowners to select lighting for their new homes and several restaurants and commercial projects that praised her input and project management, she was happy and successful. Bridget had found her calling and honed in on her skills and knowledge.
But this isn't where the story ends. It is just the beginning. After five and a half years of running a showroom that was not hers, she wanted to work this hard for herself, her family, and her dream. Bridget realized she needed to separate herself and her brand, so she began a personal lighting blog, "This Lil Light O Mine," where she introduced herself and her feisty, funny, and fabulous personality. Paired with an Instagram account of the same name, @this_lil_light_o_mine became a lighting portfolio of her work and a lifestyle blog.
"After preparing for something that I felt was on the horizon and not knowing what my next step would be, I got an offer I could not refuse," says Tate. Her new business partner, Toby Courville, was moving his flooring store of 30 years and downsizing. Toby owned Best Buy Flooring for over 20 years. The colossal building and overhead was something he wanted to make more manageable. He rebranded into Capital City Design Center and offered to partner with Bridget to bring on Capital City Lighting, and their new slogan, "From Floor to Ceiling," was born. "Toby is a partner and a mentor to me. He connects with people and services the customer in a friendly, no-pressure way, which I always aim to do," remarks Tate. "The way we make sales is on the same path. I adore Toby and his wife, Angie. It just felt right to go into business with them." Toby knew firsthand what Bridget could do in business. He had worked with her on his own home and loved her business savvy and style. Getting her on the team made the new venture complete.
Capital City Lighting just celebrated one year of lighting up the Capital City. They offer Creative Curated Lighting Design, and Bridget describes herself as a Lighting Curator. She says it has been her best year ever, personally and professionally. While working harder than ever, she is happier than ever. She has set personal records that she can not believe and is grateful and humbled by the community's support. She has put her stamp on the city and has become a trusted resource for all things lighting. In a single year, she has opened over 50 lighting and accessory lines, a real feat, and a testament to her perseverance and hard work. She has figured out how to bloom, even when the environment is harsh. She flourished during quarantine and had her biggest sales month in her career in May. "I decided to just up my social media game. I didn't know what business would be like, but I thought I should stay front of mind for my existing and potential customers when everything returned to normal." Little did she know that the construction industry would not slow down, and that, paired with everyone at home, scrolling on their Facebook and Instagram feeds brought in dozens of new clients and projects. She invested in a 12-week business coaching course for social media and business development, thinking she would have plenty of time to work on assignments. When business increased, and there was no time for studies, she stayed up late on weeknights and worked on coursework on the weekends. Bridget launched a fresh new website and continued to engage with her social media followers in a way that endears her to them. This woman is a networking guru, and she cannot tell you how. It's just innate. She is just real. People trust her.  She loves her clients, and they love her.
What is next on the horizon for this self-proclaimed Lighting Goddess? "I'm focusing on growing my team and outsourcing some tasks that will free up my time to work with more clients. I've just added hardware to my selections, and I'm loving learning about all things new and beautiful. I can't wait to go back to Lighting Market and get inspired by the innovations and trends. I'm just loving where I am professionally and letting my light shine!" There is no stopping the momentum of this inspiring BRIGHT woman. Keep smiling, keep shining, keep lighting up lives and homes.
Website: www.capitalcitylighting.com
Check out my portfolio: https://www.capitalcitylighting.com/portfolio
Read my blog: https://www.thislillightomine.com/
Shop my online catalog: https://www.shopcapitalcitylighting.com/catalog
And use code SPARKLE15 for 15% off of your online lighting order.
Bridget will be featured in The May issue of The Scout Guide Baton Rouge and appeared in Southern Flair, featured on the Red Stick Strong Podcast and has been a contributor for In Register Magazine.