Louisiana Honors Its
African-American Heritage

By LouisianaTravel.com Staff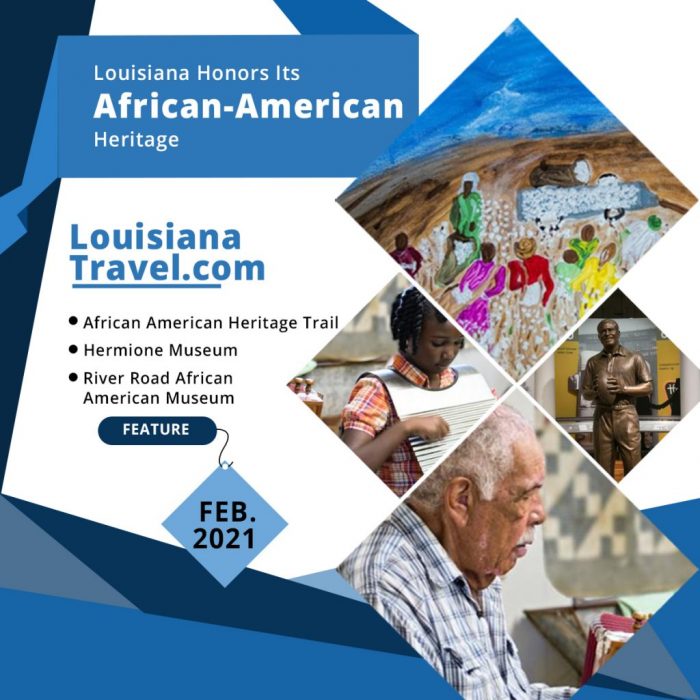 Louisiana Honors Its
African-American Heritage

Get to know the people and places of Louisiana that played important roles in African-American history.
 By LouisianaTravel.com Staff           
A cotton plantation founded by a former slave. The daughter of freed slaves who created a hair-care empire. A New Orleans boy who went from singing on street corners to headlining at Carnegie Hall. These are just a few of the fascinating stories you'll hear as you join us to celebrate the cultural contributions of African-Americans from Louisiana. 
Since 1976, February is designated as African-American History Month. But in Louisiana, we pay tribute to this heritage year-round in places like Melrose, where former slave Marie-Therese Coin-Coin and her family founded what is now known as Melrose Plantation. And at the Hermione Museum in Tallulah, where an exhibit tells the story of Madam C.J. Walker, considered the country's first female self-made millionaire after developing a line of hair-care products. 
And that musician? Well, he just happened to become the one and only Louis "Satchmo" Armstrong, who helped popularize jazz. Each year, Satchmo SummerFest, a three-day festival in New Orleans, celebrates his life and music. 
You can learn more about these Louisiana natives and others as you travel Louisiana's African-American Heritage Trail. Stop in Grambling, a town settled by newly freed slaves. Today, it's home to Grambling State University and the Eddie G. Robinson Museum, honoring the legendary football coach. Learn more about the history of black Creoles at the Creole Heritage Folklife Center in Opelousas. 
Tour the River Road African-American Museum in Donaldsonville, which details what life was like for African-Americans living along the Mississippi River. Nearby, visit Evergreen Plantation in Wallace. It features well-preserved slave quarters and tours emphasizing the importance of slave labor in plantation life. 
From political barrier breakers and brave soldiers to literary leaders and gospel queens, African-Americans have made a tremendous impact on Louisiana history and culture. Join us as we celebrate their many achievements.