Young Adults Benefit from Louisiana's
Extended Foster Care Program
In 2019, Gov. John Bel Edwards signed legislation to extend foster care to age 21 for all youth still in care on their 18th birthday. The voluntary program, Extended Foster Care, enables DCFS to provide intensive services to aid older teens as they transition into adulthood. 
Approximately 200 youth aged 18-21 currently participate in Extended Foster Care in Louisiana. Since Act 400 was signed into law, we've been able to serve over 500 older youth in the program.
Extended Foster Care pairs young adults with specialists who provide on-call support 24/7 and assist with life skills. Specialists use a program called LifeSet to obtain a GED, apply for a job and/or college, find affordable housing, resolve family conflicts, budget, and time management. 
Studies have found that, without additional support, youth who exit the foster care system at age 18 typically experience poor outcomes at a higher rate than their peers. They are less likely to graduate from high school, college or vocational school and are at a greater risk for homelessness, incarceration, substance abuse, unemployment, early pregnancy, and dependence on public assistance.
Extended Foster Care provides critical services and supports Louisiana's young adults, setting them on a path to a successful future. For more information about the program, visit www.dcfs.la.gov/efc. 
Another support DCFS offers to Extended Foster Care participants and any young person in foster care at or after 14 years old is funding for college or technical school through the Chafee Educational Training Voucher (ETV) Program. Young people who spent just one night in foster care after 14 are eligible to participate in the program.
The ETV Program awards up to $5,000 annually to qualified students to pursue a college education or gain technical skills and training to enter the workforce. To be eligible for an ETV, certain requirements must be met, and the student must annually complete the Free Application for Federal Student Aid (FAFSA).
Students have until the middle of the semester (or quarter) to qualify for fall ETV vouchers, and they should reach out to the financial aid department at the school in which they are enrolled. The maximum award is $2,500 per semester, depending on the student's financial needs. More information on eligibility requirements for the ETV program is available here.   
September Adoption Feature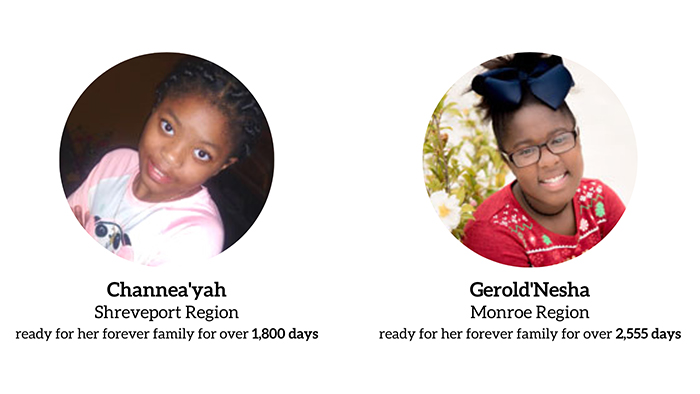 Last month we introduced you to two teenagers from the Alexandria and Covington Regions who we are trying to match with families. This month we'd like you to meet Channea'yah from the Shreveport Region and Gerold'Nesha from the Monroe Region.
Channea'yah has been ready for her forever family since 2017. She has a bubbly personality and is entertaining and outgoing. She loves to dance, sing, and shop; she also loves unicorns, mermaids, and bows. She is a natural leader, enjoys school, and thrives on attention and affection.
Gerold'Nesha has been ready for her forever family since 2015. She has an easygoing personality and is respectful and caring. She enjoys church, spending time with friends, playing video games, and riding her bike or scooter. She would love parents who can enjoy watching horror movies with her!
If you are considering adoption or fostering a child, take that first step by attending a free, virtual orientation session. Check out the current orientation schedule. For more information about becoming a foster/adoptive parent and the training available, visit dcfs.la.gov/foster.