DCFS and Baton Rouge Faith Based Community
Partnering to Certify 40 New Foster Families by Christmas


This October, the Department of Children and Family Services is partnering with several Baton Rouge area faith-based organizations to host a fast-track certification for new foster caregivers. The goal is to certify at least 40 new foster families by Christmas.
Recruitment events are taking place in several churches through October 9, followed by two consecutive weekends of intense training on October 14-16 and October 21-23. Partners in the initiative include Bethany Church, First Presbyterian Church, Healing Place Church, and The Forgotten Initiative, a faith-based non-profit organization.
"Fast-Track" means church partners and DCFS staff will focus on moving families through the process as quickly and smoothly as possible and support them once children are placed in their homes.
There are roughly 420 children in foster care in the Baton Rouge Region. There are 152 foster homes in the Baton Rouge Region, but most of these are full and include homes certified to only care for relatives. There is a tremendous need for safe and loving homes where families encourage and support children as they walk through difficult times in their lives.
Fostering is an opportunity for you to meet an immediate need right here in your community that will impact a child for a lifetime. For more general information on foster parenting, go to http://www.louisianafosters.la.gov/page/foster.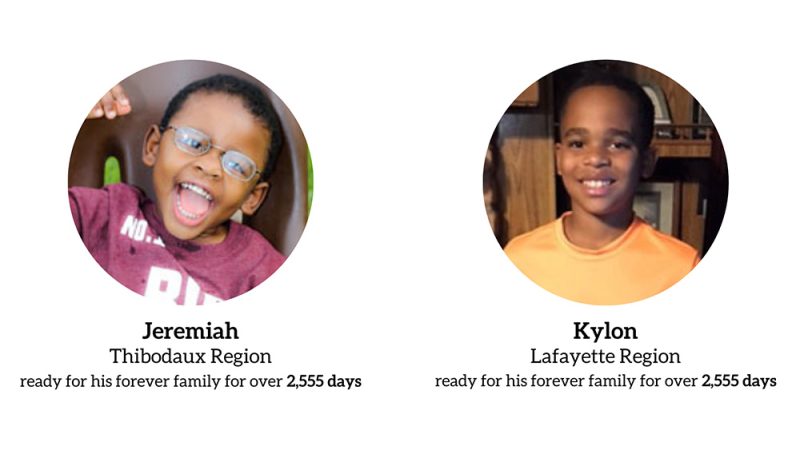 Last month our adoption feature highlighted Channea'yah from the Shreveport Region and Gerold'Nesha from the Monroe Region. This month, we'd like you to meet Jeremiah from the Thibodaux Region and Kylon from the Lafayette Region.
Jeremiah (8) has been ready for his forever family since 2015. He has a beautiful smile and an upbeat spirit. He doesn't use words to communicate but makes sounds and hand gestures and is making progress developmentally and physically. He thrives on positive interaction and lots of affection. His adoptive family will need to provide lifelong support to meet his needs.
Kylon (12) has also been ready for his forever family since 2015. He enjoys playing outdoors, riding his bike, and playing basketball. He loves to sing and dance and is on target with his education. Kylon desires a home that will give him supervision, support, guidance, and unconditional love.
If you are considering adoption or fostering a child, take that first step by attending a free virtual orientation session linked here: Current Orientation Schedule.
For more information about becoming a foster/adoptive parent and the training available, visit dcfs.la.gov/foster.