(
Melissa Shaddock
Libraryy Media Specialist
Today's school libraries are not the same quiet libraries that most of us grew up knowing. The Thibodaux High School Media Center is full of activity where students come to use the computers, read, hang out with friends, and buy a snack or drink from our Starbooks Café. Most importantly, it is a safe spot for our students – a place where they feel welcomed.
Two of my personal goals are to find the right book at the right time and to make lifelong readers out of students. I do this by attending conferences, keeping up with the latest in Young Adult (YA) fiction, and getting students involved in the community.
In May, I received a Donor's Choose grant. The funds allowed me to purchase ten copies of four different books from a list of the latest award-winning YA books. They are all different genres and levels to reach a variety of students. Books from the grant will also be used to start reading groups this September. In September, I will begin student reading groups where I have asked different leaders of the Thibodaux community to facilitate the discussions. The first book is Sadie by Courtney Summers, which is about an 18-year-old girl searching for her younger sister's murderer. Lafourche Parish District Attorney, Kristine Russell, has agreed to lead the group.
I also enjoy introducing my library club members to the arts, whether it is a field trip to a Broadway performance at the Saenger Theater or attending the Louisiana Book Festival each fall.
For the last few years, we have attended the Louisiana Book Festival at the State Capitol in Baton Rouge. The festival is an excellent opportunity for students to meet dozens of YA authors by attending panels, book signings, and take photos. Last year they had the chance to meet Academy Award-winning actress Quvenzhané Wallis. Since many of the students have never seen the capital, we arrive at the festival early, so they get a chance to tour the building and view the state from the top of the Capitol Tower.
Another program I sponsor at THS is the Lafourche Parish Distinguished Service Program which encourages students to volunteer thirty hours each school year. This is an excellent opportunity to teach students the importance of giving back to their community. Students who complete the program are also eligible to receive a Community Volunteer endorsement on their diploma by the LDOE.
One of the most important things I have learned during my 24-year career is that the student who needs the most support is usually the one I would not expect. I try to be there and assist if I can, and if I am unable to do so, I will seek help from others in the community. I have obtained coats & jackets for students, provided assistance for paying for hotel rooms for homeless students, snacks to bring home on weekends, and delivering food baskets. Seven years ago, I was on a community project that started a Cinderella's Closet, which has provided prom dresses for deserving girls.
In 2005, I joined Thibodaux Service League and signed up to play monthly bingo at the Cornerstone Foster Care Group home. I was surprised to learn that most of the students in the home were the ones who came to the library daily and felt like I needed to do extra for them. In 2012, a retired teacher friend started a non-profit group called JOTS Birthdays (http://www.jotsbirthdays.org) which provides birthday parties, aging out showers, and graduation parties for students in the home. Many of the students who reside at the Cornerstone Home feel that our Media Center is a safe place. These students know that I have a genuine concern for their well being and will usually let me know if there is something they need.
I believe it is essential to set an example to students by showing them kindness, compassion, and even a simple smile, which is the only one they might receive that day. My favorite quote is from the book Same Kind of Different at Me ~ "You never know whose eyes God is watching you through."
Melissa Shaddock has been a Library Media Specialist in Lafourche Parish since 1995 and is currently at Thibodaux High School. She is a 1988 graduate of Loreauville High School; and received her Bachelor of Science in Library Science from the University of Southern Mississippi in 1993. Outside of the library, Shaddock is an active member of the Thibodaux community. She completed Leadership Lafourche in 2002 and has volunteered numerous hours through the Thibodaux Service League (2005 – 2013), JOTS, and Thibodaux FUMC. She received the Marie Fletcher Award 2014 from Thibodaux FUMC and the Femmes Natales 2015 Citizenship Award.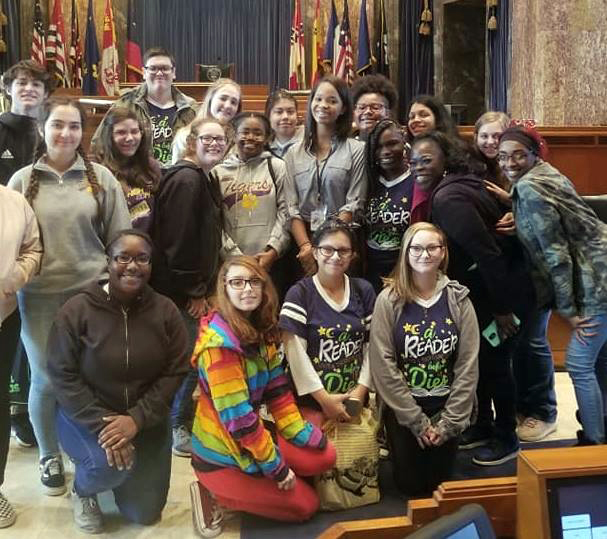 Library Club Members at Thibodaux High School