Governor's Mansion
2020 Ornament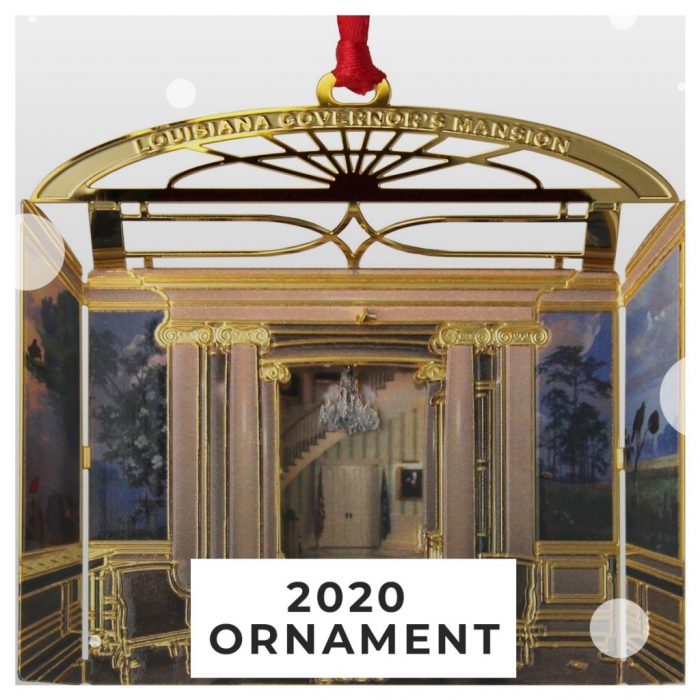 Governor's Mansion
2020 Ornament
The 2020 Ornament represents the Governor's Mansion Mural. The original mural was painted in 2000 by Auseklis Ozols, which took him six months to paint. He painted the four corners of the state and often hides things in his murals. Auseklis painted something for each Governor in service since 1963, which marks the year of the construction of the Mansion. There are also many other historical facts, flowers of the state, produce of the state, different areas of the state highlighted in each corner of the mural.
The Foyer has become the focal point of the Governor's Mansion. School children enjoy it, tourists from other parts of the country and international visitors. It is unique in that it is a one of a kind piece of history. Auseklis has returned during each new administration to add items to the Mansion that are significant to the particular First Family holding office at the time.
At the end of the Foyer, in the Rotunda area, hangs a beautiful Baccarat chandelier that was donated by the Governor's Mansion Preservation Foundation during Governor John Bel Edwards' Administration. Its beauty adorns the Rotunda area and completes the historical significance of the Louisiana Governor's Mansion.