Louisiana Strawberry Shortcake
 Recipe from Chef John Folse
LOUISIANA STRAWBERRY SHORTCAKE


Ponchatoula, Louisiana, is the strawberry capital of the world. It certainly makes sense that Louisianans first created this very English dessert in this area of our state. There is a dispute over the exact shortcake recipe, but most agree with this version.
Ingredients:
4 cups strawberries, sliced
½ cup sugar
½ cup water
2¾ cups flour
2½ tbs sugar
1½ tbs baking powder
1 tsp salt
7 tbs butter
1 cup heavy whipping cream
Method:
Preheat oven to 375 degrees F. In a large mixing bowl, combine strawberries, sugar, and water. Blend thoroughly, cover, and chill for a minimum of 3 hours. In the bowl of a food processor fitted with a metal blade, combine flour, sugar, baking powder, and salt. Pulse to blend thoroughly. Add butter and continue to pulse until consistency of fine meal and it is pale yellow. The tenderness of the shortcake depends on the flour and butter being thoroughly mixed. Slowly pour in cream until the mixture comes together in one mass. Turn dough out onto a floured surface and knead gently 3 to 4 times. Do not over-work. Roll the dough to 3/4-inch thickness and cut into 3-inch circles. Before baking, brush with a bit of cream and sprinkle with sugar—Bake for 20 to 30 minutes or until golden brown. To serve, split the biscuits horizontally and top with strawberry mixture. You may wish to garnish with a spoon of heavy whipping cream and drizzle with strawberry liqueur—dust with powdered sugar before serving. Serve the shortcake while the biscuits are still warm.
(Recipe from Chef John Folse  – http://www.jfolse.com/recipes/desserts/fruits07.htm)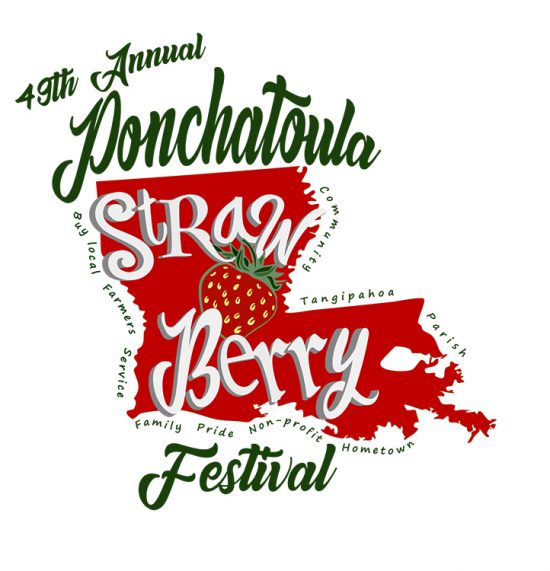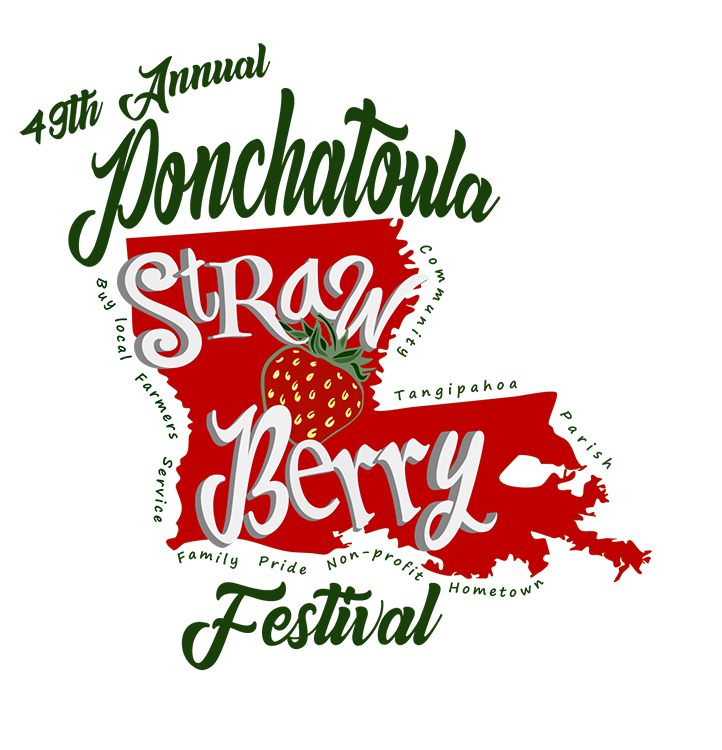 49th Annual Ponchatoula
Strawberry Festival
Over the past year we have had many hard decisions to make. All decisions are made with countless meetings, discussions and prayer. Based on the current guidelines, Ponchatoula Strawberry Festival, Inc. has decided to cancel the 49th Ponchatoula Strawberry Festival scheduled for April 9, 10 & 10, 2022.
We are currently working on reaching out to each vendor and booth organization.
We do still plan to have the FARMER'S AUCTION and the LOUISIANA STRAWBERRY QUEEN'S PAGEANT. More info will be released as plans are made for each event.
-Ponchatoula Strawberry Festival Inc.