Saplings:
Planting the Seeds to
a Happy Head Space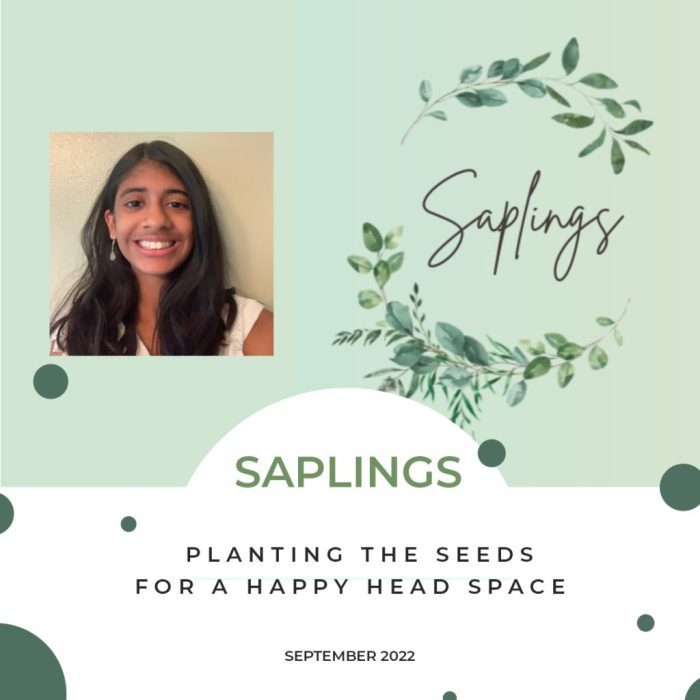 Saplings:
Planting the Seeds for  a Happy Head Space

As the world returns to a new "normal," the hallmarks of the past few years: mass quarantines, social isolation, and the sense of loss and emptiness that emerged for many, have become windows into the long-term effects of the pandemic will have on our society. Among other issues, many of these windows display pictures of confusion, anxiety, and disarray, which are reigning over the world and fueling America's already worsening mental-health crisis. As schools shuttered their doors and Zoom became the new classroom at the onset of COVID-19, student mental health rapidly deteriorated with limited social interaction and stress stemming from the pandemic.
Being isolated at home and learning remotely for a year caused many teenagers to notice the detrimental effects on their stress levels. I was no exception. As someone who rarely used my phone before the pandemic, my devices were becoming some of my closest companions. In search of help, I took to those devices but soon found that many of the online mental health resources were research studies, long books, and self-help guides promising to fix life's problems with motivation and willpower. Furthermore, my friends expressed that online school counseling resources were limited and unreliable, with Zoom calls crashing and computers muffling audio. When I tried learning to meditate, the plethora of mindfulness techniques seemed intimidating without a resource to break the process down into small, digestible steps.
After Hurricane Ida shut down my school for a month and wrecked my hopes for my first "normal" school year, I was again stuck at home during the day. With a newfound interest in mental health advocacy, I decided to address the scarcity of engaging mental health resources by programming Saplings. 
Saplings is a web-based application that provides interactive tools to help manage stress and anxiety, especially with the effects of COVID-19, social isolation, and hurricanes. We all have different interests and needs, so the same resources may not help everyone. With this in mind, the app aims to provide a wide array of activities and resources, ensuring that a broader audience can benefit. Additionally, the features are personalized so that anyone, regardless of age, can utilize them since almost everyone experiences stress at some point.
One of Saplings' features is a guided meditation component, which breaks the process down into small steps sprinkled with interactive breathing exercises, checkpoints, and activities. One problem I faced was searching for music or meditations on YouTube; I kept getting distracted and falling down the rabbit hole of my recommended feed. Saplings combats this problem by already loading music, timers, and meditations onto the app to ensure that users stay focused.
Additionally, Saplings includes a guided journaling component that allows users to express themselves through writing, along with a feature that generates calming music based on the user's genre preferences. Furthermore, the app has a resources page that features helpful books, articles, and hotlines to ensure that there are options that appeal to everyone, in addition to a tool that suggests calming activities to engage in based on the user's current mood.
Last year, Saplings was the winner of the Congressional App Challenge in Louisiana's First District. I was also invited to present my app at #HouseofCode, an event hosted by Congress for App Challenge winners. In addition, Saplings will be showcased at the US Capitol Building and on the House of Representatives' website, which will help expand access to the app. Recently, I created a mobile app version that includes additional features, such as a mindfulness game to help improve concentration and decrease stress levels. This mobile app version is available to download on the App Store, and the web-based version is also available on all devices, including smartphones, tablets, and computers.
As I look ahead, my goal is to continue adding resources to the app and broaden Saplings' reach to more students across Louisiana and other parts of the country. Last year, my school counselor shared the app with 6th, 7th, and 8th graders at my school, along with counselors at other schools. I aim to continue expanding access to Saplings in schools across the state, possibly using QR code posters in counselors' offices that link users to the app.
–Vaishnavi Kumbala
Twitter: @VaiK365
App Store Download Link: 
https://apps.apple.com/app/saplings-cultivate-happiness/id1645006912
Link to Web-Based Version: 
https://saplings.vai13.repl.co/index.html